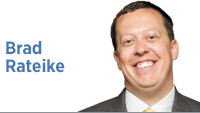 I'm a firm believer that everyone needs a mentor or a champion—preferably both.
This was a piece of advice I used to give younger people who were starting their career or making a career change. But as I get older, I believe it is relevant for all ages—from entrepreneurs to executives at the top of an organizational pyramid to those who feel anonymous at work when it seems no one knows or cares.
Each day, whether your performance is exceptional or not, having someone who cares about your personal life and career is an important and overlooked component of the human experience.
It's easy to understand the need for a mentor. No matter what you're dealing with personally or professionally, someone else smarter than you has been through it before. Someone has probably done it better, cheaper and more effectively. Conversely, someone has likely screwed up a similar situation in historic fashion and learned from his or her failure in the process.
We confide in our friends and want to believe that is enough, but sometimes it's necessary to have a sounding board who listens and advises based on experience and wisdom, not just friendship. That's especially because mentors need to be well-versed in bursting bubbles and administering tough love.
The need to have a "champion" is a little more nuanced. You want to have someone who is both supportive of you and what you are doing personally and professionally and who will spend some of their time, political capital and, in some cases, risk their reputation to promote you. True champions do this because it's the right thing to do.
We all know we could do a better job each day being more complimentary of one another. A champion is there to help your small victories feel like bigger victories and your big victories become public. A champion helps promote your brand because then you don't have to. A lot of people do good things for good reasons without taking a curtain call because they have class and demonstrate humility. I appreciate that, but I also appreciate those same accomplishments being recognized. Simply put, it's the best way to recognize good behavior and discourage the alternative.
You can serve as a professional reference or pass along a resume or recommendation on someone's behalf. Those are the signs of a good friend. Being someone's champion is much more than that. A champion actively seeks opportunities to benefit you, initiates introductions with helpful people and promotes your reputation as someone others should want to have on their team. A champion is someone who is rooting for you to succeed every day.
I've seen disingenuous "mutual admiration societies" form in order to game the system, but those eventually are found out or collapse under their own weight. The true champion model is meant to encourage, support and reward authentic virtue, competence and accomplishment.
Just because an action is targeted or strategic doesn't make it insincere. I advise my clients and friends that, if they don't tell their story, no one will read their minds and tell it for them. Having a mentor to help you shape and create your story and a champion who cares enough about you to share that story on your behalf can and will profoundly change your life. I've seen it happen.
Don't believe me? Why not give it a try? Better yet, find someone in your life who needs a mentor or champion and get to work.•
__________
Rateike is founder and owner of BAR Communications and served as director of cabinet communications for President Donald Trump. Send comments to ibjedit@ibj.com.

Click here for more Forefront columns.
Please enable JavaScript to view this content.