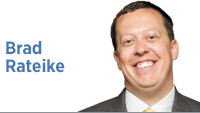 You must appreciate a "no drama" leader. I can understand all different types of governing and communicating styles, but sometimes it is nice to have someone who keeps his hands at "10 and 2" on the steering wheel and takes care of business.
Of course, keeping your hands at 10 and 2 does not happen automatically, nor by accident. Many of us take that for granted because we do not feel as many bumps in the road, but that does not mean our elected officials have it easy.
When things go wrong, our elected officials, starting at the top, are usually the first to receive criticism. In fact, when a problem arises, many people shoot their proverbial gun in the direction of an elected official and then contemplate later whether that was proper/necessary/effective—or actually counterproductive. Others just "fire away," consequences or outcomes be damned.
I might suggest exercising some caution because of the adverse effects some overreactions can have. But in the Wild West society we live in now, that likely falls on deaf ears. Sadly, receiving criticism—constructive or otherwise—is part of what these elected officials signed up for when they decided to run for office. However, what they also signed up for is the opportunity to lead.
We are fortunate here in Indiana to have a leader like Gov. Eric Holcomb. He is the personification of "no drama," and I believe he is the right person at the right time for Indiana.
Many Hoosiers have gotten to know him over the past six months through the press conferences and his transparent approach to COVID-19. There is something to be said about talking to Hoosiers every day and inviting questions and scrutiny of how the state is handling the response. He has taken hundreds of questions from reporters around the state live on camera and given the unvarnished truth, even when the news was not the best.
Believe it or not, there was life before COVID-19. And if you remember, Indiana was in great shape then. Our infrastructure needs are being addressed (if you don't believe me, drive down State Road 37 and see what has happened the past six months), our pipeline of jobs and economic development activity continues to be full (I'm told there are plenty more announcements in the coming weeks), the battle against opioid addiction is being tackled head on, infant mortality rates are going down, and broadband is being expanded so Hoosiers everywhere can start a business or receive an education.
And those are just a few of the wins we have had while we were all taking things for granted.
I know reporters would like a little more controversy from this governor, maybe a few big "mistakes" here and there, because that is what attracts readers and sells newspapers. I do not begrudge them that; it is the nature of the business.
Others might want a "sexier" list of accomplishments. To that I would say, sexy is in the eye of the beholder, and I would also suggest that you stay tuned the next four years. If you do, you will be able to see the first Indiana governor in a long time who has no political expectations being placed on him to be concerned about. He can pursue the big ideas and try things we have not seen before. Bring it on.
I believe a second Eric Holcomb term is for certain. He has vanquished his political opponent without even throwing a punch. When you are a "no drama" governor who delivers results and is a genuinely kind human being, people have a hard time looking elsewhere for leadership, because they see how fortunate they already are.•
__________
Rateike is founder and owner of BAR Communications and served as director of cabinet communications for President Donald Trump. Send comments to ibjedit@ibj.com.

Click here for more Forefront columns.
Please enable JavaScript to view this content.