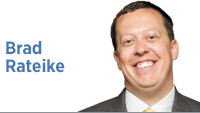 On the rare occasion that my wife is wrong on an issue and I am right, I sometimes use the opportunity to chide her by extending my hand toward her and saying (in a spirit of humor), "I'm prepared to accept your apology."
To no one's surprise (especially those who know my wife), the response I receive is a slap of my extended hand, accompanied by an eyeroll.
After four months of most of my friends and family "working from home"—what I'm going to call WFH—I'm prepared to extend my hand (or elbow) in a proverbial sense to those who unfairly or harshly judged the concept of working from home, especially those with contempt before investigation. I have heard enough positive comments from people I respect who have embraced WFH that I am retroactively declaring victory.
When I started my communications consulting practice in 2010, I worked onsite at my client's office or I worked at home. I did not have a physical office with a Bar Communications sign on display. It did not seem like I needed one. Business was good, I had a strong client list, and I was enjoying my work. When I had meetings, I went to the client (or potential client) or we met at a restaurant or coffee shop.
Despite all of that, I would find myself in conversations with people who had a hard time grasping the fact that I did not have "my own" office. I was sometimes the recipient of a sympathetic tone that seemed to say, "Hang in there, I'm sure things will get better." These people didn't care if I was successful; they equated a "real" office with "real" clients and revenue. The office was a prerequisite. That was their perception.
In all fairness, it was largely a generational opinion, though some of my peers also had questions. Most of the younger skeptics cut me a break when I joined The Speak Easy, a "hip" coworking space in Broad Ripple for startups, just as I was hiring my first employee.
The time had come for my practice to have a larger footprint, plus the cat would have looked upon daily visitors with contempt. People who understood the coworking concept and knew The Speak Easy suddenly turned their sympathetic tone to one of, "Congratulations. It sounds like business is really taking off."
They were right; the business was growing. However, suddenly, for the price of two coworking memberships (about $100 per month at the time), I had gained new respect as a professional. This further reinforced the point that perception matters.
Because I work in the field of public relations, I often tell clients to focus less on what an issue/challenge/opportunity actually "is" as opposed to what it "looks like." The same logic applies here. Anytime someone refers to someone having "the corner office," most of us form a similar opinion. However, now that many of us have spent the better part of this year working from home, has this, too, changed? Will we look upon the physical location where work is being done with the same reverence?
The irony is, last year, I moved into a wonderful office space in a building in Broad Ripple, and I do not plan to give it up anytime soon. Sure, it is functional and convenient, but the fact that I get a positive reaction when I say, "I have an office," means the perception still justifies the monthly rent check.
Despite all that, I am still declaring victory on the newfound respect many have developed toward working from home, though I do not expect any firm handshakes or elbow bumps in lieu of an apology.•
__________
Rateike is founder and owner of BAR Communications and served as director of cabinet communications for President Donald Trump. Send comments to ibjedit@ibj.com.

Click here for more Forefront columns.
Please enable JavaScript to view this content.