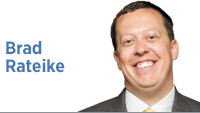 My wife and I are pet owners. We have two cats, Oscar and Emmy. We love them both, but they are nothing if not unique. Oscar makes himself scarce most of the time, while Emmy tries to star in every virtual meeting I have.
While these are cats and not human beings, we have an attachment to both and therefore would decline to choose between them if asked, despite their mix of adorable and eccentric qualities.
Political candidates might or might not always possess the charm or neuroses of our four-legged friends, and we are generally not in charge of their care and feeding, but in May of every election year, we all must pick favorites among "friends" within our political party of choice when we cast our primary ballot.
Deliberating the pros and cons of candidates within the political party you support should be easy, but it rarely is. You want to believe these candidates share your values and beliefs, though the 2016 election cycle should have taught us to remove conventional wisdom from our vocabulary.
In primary elections, the conversation often focuses on who is more conservative or more liberal on an issue. In some races, those labels are all that matters. However, sometimes lightning does strike, and you find multiple candidates who transcend all labels, and one party or another has multiple "right" candidates running for the right office at the right time and for the right reasons. Therein lies the dilemma.
While a reasonable reaction would be to give thanks for the wealth of options that have been presented, the more likely reaction from those who work in and around government and politics is one of frustration. We lament that we were not able to spread out the maturation of candidates so that we could have one succeed the other instead of talent running against talent. We are reminded that politics is not like a deli counter. You are not guaranteed your turn when you think your number should be called. The days of political bosses clearing the field are a thing of the past, which cuts both ways, depending on where you sit.
The other part of the frustration is that, during primary season, friends are often forced to go "on record" picking sides among friends, whether that is through donations, yard signs, volunteering or even endorsements. Despite the potential discomfort, there can be a strategy employed in this process. Picking sides in politics could be personal, it could be business, it could be ideological, or it could be a combination of the three. You must accept that all three are acceptable reasons, and, if you are the candidate, try not to take it personally, or you will drive yourself crazy.
Primary elections when you have relationships with multiple candidates are hard for those of us who care about "the cause" and care about our friends. We believe we can all band together to defeat the other political party in November. But we hate that, in May, we have to see some of our own lose, despite possessing qualities we admire and which we believe will help them win in a future November. A great problem to have, but, for at least one of the candidates, it is a real problem.
As I get older and more friends I grew up with in politics decide to run for office, I fear uncomfortable choices ahead. Or I can choose a different hobby. Assuming I do not, I can only hope that these decisions will be made more difficult because I think as highly of future candidates as I do of Oscar and Emmy, although hopefully they're a little less neurotic.•
__________
Rateike is founder and owner of BAR Communications and served as director of cabinet communications for President Donald Trump. Send comments to ibjedit@ibj.com.

Click here for more Forefront columns.
Please enable JavaScript to view this content.