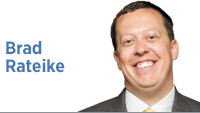 In a recent conversation about the post-COVID work environment, a friend asked me whether I intend to keep carrying business cards.
When I was a kid, I loved the concept of business cards. My grandparents had a cork board near their kitchen phone where they displayed the business cards of their children and/or their children's spouses. It was likely just a practical way to keep the contact information of their loved ones in an accessible location, but it always caught my eye.
It is not that I viewed the business card as a status symbol; I was a kid and had no idea which adults had business cards and which did not. I viewed them then as an extension of a person—as if what they spent 40 hours of their week doing defined them (not that I knew what that meant at the time).
Regardless, I will never forget how "important" I felt when an adult handed me his or her business card. The quality of the card stock, the color of the logo, the detail of the printing all just seemed special.
My first "real" job out of college included a sales component, so, when I went to a professional conference for work, I was encouraged to accumulate cards. Despite the transactional nature of the position, I still felt appreciated when someone asked for my card. As a young professional, the idea that another person cared enough to want to know my name longer than the extent of our likely brief interaction (even if they were just being polite) meant something.
Though my professional detour into the Peace Corps did not necessarily align with the need for business cards, I believe they would have been a useful tool. Practically speaking, I never really lived anywhere longer than three months at a time, I never had a consistently working phone (neither did anyone else), and everyone in town already knew the whereabouts of the 6-foot-4-inch American.
That said, I do think business cards could have been helpful as a simple gesture of goodwill, and I think that would have been appreciated.
When I began working for then-Gov. Mitch Daniels, I had to buy my own business cards. It was part of his early reforms of state government. I embraced this (not that I had a choice), because I felt the cards would be an asset to my ability to do my job.
Sure enough, I went through many cards over the next five years. In some instances, Daniels would ask for my card to give to someone, either because he needed me to triage a situation or because it was my turn to play janitor. Either way, giving people in need of assistance the contact information of someone who could help showed that he cared. Buying those cards was money well spent.
Today, despite the ease of texting contact information or looking up your social media profile, I still believe business cards have a purpose for those accustomed to using them.
Though we are fed a dialogue of limiting physical contact and discouraged from sharing things, I hope the practice of exchanging cards lives on in perpetuity. Letting people know you are interested in them matters, and technology is no substitute.
Remember that the next time someone hits you up on LinkedIn wanting to manage your retirement account. No thanks, pal; send me a business card.•

Click here for more Forefront columns.
Please enable JavaScript to view this content.