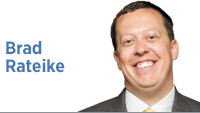 Indianapolis lost a legend this month. Actually, I am sure Indianapolis lost many legends this month, but one person in particular means a lot to me because, 20 years ago, he forever altered my life by showing me what it meant to be a professional.
Gene Henderson is a man who held many titles, including husband, father, grandfather, great-grandfather, preeminent business attorney, World War II veteran and founding partner of the law firm Henderson Daily Withrow & Devoe. He was an esteemed graduate of Franklin College ('50) and Harvard Law School ('53).
He was also one of my first bosses. In January 2002, Gene agreed to let me shadow him for a month as part of a Franklin College leadership internship. The internship turned out to be just as advertised, because I witnessed every day countless examples of what it meant to be a leader.
Gene taught me that having your name on the building or stationery does not mean you need to have the corner office. He was in his late 70s when I met him. He came into work every day, but he did not just occupy a chair. He had built a firm (along with the help of many others, he would note), but, though it was flourishing on its own, he still felt responsible for contributing to its daily success.
He walked me around their floor and introduced me to the team. We then went into his modest, non-corner office, and he told me how the firm worked. He talked about who brought in the business, who grinded out the most hours, who the brilliant litigators were and what staff members made the trains run on time. Though I never pursued law school, I still base anything I think I know about law firms on the conversations he and I had.
Gene set me up in an office that had been vacated by a former associate. We had lunch together most days, usually in the break room, where Gene would tuck his tie into his shirt (I followed suit) and chat with whoever else was in there, too, regardless of their position. They all respected him. They all liked him.
One of the highlights of my time with Gene was when we had lunch at the Indianapolis Athletic Club with former federal Judge S. Hugh Dillin. Gene downplayed most of what he did, and what many of the people he introduced me to did, but before taking me to that lunch, he made sure I knew who Judge Dillin was and that he oversaw the desegregation of Indianapolis Public Schools. Afterward, we went across the street to the judge's chambers, and I saw his presidential-appointment document signed by JFK and RFK.
Gene had no reason to be so generous with his time, but he cared about Franklin College, and when they asked him for a favor, he stepped up, even more than he realized. It is also not an accident that the classroom at Franklin College where leadership classes are taught bears his name.
I realize now that I hit the lottery when it came to internships. He made me want to be part of the Indianapolis business community, he inspired me to be successful, he motivated me to become an entrepreneur and maybe one day receive a similar phone call from Franklin College to mentor a young student.
Rest in peace, Gene. I will think of you when I tuck in my tie the next time I eat a sandwich in the break room.•
__________
Rateike is founder and owner of BAR Communications and served as director of cabinet communications for President Donald Trump. Send comments to ibjedit@ibj.com.

Click here for more Forefront columns.
Please enable JavaScript to view this content.