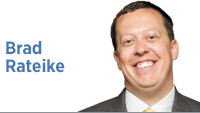 The 1983 comedy "Mr. Mom" has become one of my favorites. Though the movie is almost as old as I am, I love the clever and entertaining story of Jack and Caroline Butler (played by Michael Keaton and Teri Garr) raising three kids during a 1980s-era recession in suburban Detroit.
When Jack loses his job at a struggling auto plant, he transitions to staying home with the kids while Caroline rejoins the workforce. As the movie transpires, we see Jack and Caroline deal with the role reversals as they learn and ultimately grow to appreciate the challenges the other has experienced in the workplace and at home.
Caroline encounters snooty co-workers who do not respect or value her life experience, while she also dodges unwanted physical advances from her boss. Meanwhile, Jack deals with the challenges of running a household and spending all day with children under the age of 10. It is a delightful and hilarious movie.
When I watched "Mr. Mom" recently, I enjoyed it for different reasons. I found myself more focused on the subtext of spouses gaining appreciation of the other's work and ultimately each other. The storyline does not translate exactly to what I experienced spending several months working under the same roof as my wife, but I think some of the takeaways are equally valid.
We both have paying jobs, but we got to see each other do our jobs, up close and personal. We work in tangentially related, but mostly different, fields. She is a lawyer and lobbyist at a big law firm; I run my own communications and public relations consulting practice. We met while working together, but that was 13 years ago, when we were both in different places, personally and professionally.
When you are not able to leave work at work because you work at home, it does not matter how large your domicile is; your professional world is going to be worn on your sleeve around the house in some way. That said, I have really enjoyed watching my wife work. She is a star (I realize my bias). I knew how many hours she worked, but I had no appreciation for how much she accomplished in those hours.
Over the past few months, many of my friends, both men and women, have made similar comments about finding a new appreciation of the work their spouses do after seeing it up close. Whether you are managing a career or running a household, the results do not happen by accident. Some of us, if we are honest with ourselves, probably took that for granted, at least a little.
Recent times have given many of us the opportunity to walk a mile in different shoes, and I do not mean house slippers. In "Mr. Mom," Jack learned how to operate an iron and shop for groceries. Caroline learned how to manage a needy client and succeed in a boardroom. They were both reminded, as many of us have been this year, how fortunate they were to be married to talented and caring people.
Despite our frustrations of having an altered personal and professional existence in 2020, I take solace in some of these lessons learned by experiencing life "up close and personal." It sure beats the view from the standard cruising altitude where many of us sometimes operate.•
__________
Rateike is founder and owner of BAR Communications and served as director of cabinet communications for President Donald Trump. Send comments to ibjedit@ibj.com.

Click here for more Forefront columns.
Please enable JavaScript to view this content.