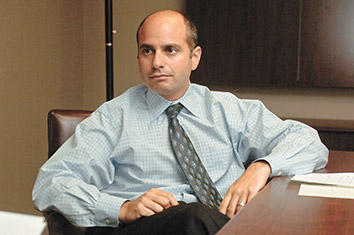 Former Marion County prosecutor Carl Brizzi is joining the crowded field of Republicans seeking nomination to run for Indiana's 5th Congressional District.
Brizzi, now a private attorney, told IBJ on Thursday that he plans to file paperwork making his campaign official on Friday morning. He said he's been thinking about tossing his hat in the ring for a while, but just recently made his decision.
He's one of 15 Republicans who have joined the race since Rep. Susan Brooks announced in June that she would not seek re-election.
Brizzi served as Marion County Prosecutor for two terms, from 2002 until 2010, before going back into private practice. He was known as a political up-and-comer who had a high conviction rate, especially for narcotics and sex-crimes cases.
For years, Brizzi was embattled in controversy stemming from accusations he accepted bribes while in office. He was investigated by the FBI for accepting $25,000 in campaign contributions from the father of a woman who was seeking a modification to a murder sentence and for arranging a lenient plea bargain for a business partner's client. He was never charged with a crime.
Then in 2017, he was suspended from practicing law in Indiana for 30 days after the Indiana Supreme Court Disciplinary Commission found he violated prohibitions against representing a client in a case in which he had a personal interest. The commission took issue with the lenient plea deal.
Brizzi also once agreed to pay Fair Finance Co.'s bankruptcy trustee $195,881 for campaign contributions Brizzi received from the company's CEO, Indianapolis financier Tim Durham, who was sentenced to prison for bilking 5,000 investors out of more than $200 million. He was one of several prominent politicians who had received contributions from Durham.
When asked how his past might impact his chances in the race, Brizzi said he doesn't think it will hurt him, saying most of what he went through was politically motivated.
"I've been through the trenches," he said. "I don't think anyone has been more investigated or vetted than I have been, so I see it as a plus."
For the past few years, Brizzi has been a political commentator on social media and his website carlbrizzi.com, where he produces a podcast on local and national political news events.
"I've been reading, thinking, writing, and podcasting about what I think are important issues facing our country for years," he said. "Watching everything that's going on across the county and especially in Washington, D.C., I believe now more than ever with the nation being so divided that I should do more than think, read, write and podcast about it."
He told IBJ he has a fundamental understanding of the issues facing the country, including the economy, dissent, immigration and attacks on the First and Second amendments. He said the country needs representatives who will fight against folks trying to shred the fundamental tenants of what the country was founded on.
"We need people with strength and courage to fight every day for the values and ideals we believe in and hold dear," he said.
At least 14 other Republicans have entered the race to replace Susan Brooks, who has represented the district since 2013 and announced in June that she would not seek re-election in 2020.
Former Bureau of Motor Vehicles Commissioner Kent Abernathy, retired Riley Hospital for Children doctor Chuck Dietzen, Indiana State Treasurer Kelly Mitchell, Noblesville pastor Micah Beckwith, Concise Capital Management fund accountant Danny Niederberger and farmer Beth Henderson are among those running.
Please enable JavaScript to view this content.