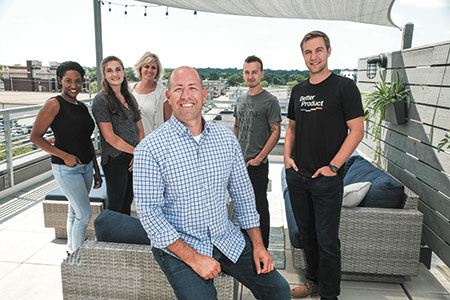 Long known as a hot spot for nightlife, Broad Ripple is fast becoming a home of choice for tech companies.
In the last 18 months, more than a half-dozen tech companies—including Encamp and Olio, along with venture fund Allos Ventures—have opened up shop in the village or decided to do so. In addition, Innovatemap, Boardable and PactSafe all have expanded their Broad Ripple offices in the last year.
Though there's no official head count, 10 or more tech companies operate in Broad Ripple, tech insiders said.
"The number of tech companies in Broad Ripple has tripled in just the last year," said Mike Reynolds, CEO of Innovatemap, a digital products development agency in 5,000 square feet at 1002 Broad Ripple Ave. "It's just exploded."
While there appears to be no organized effort to make Broad Ripple a tech hub, Colleen Fanning, the city-county councilor representing the area as well as the executive director of the Broad Ripple Village Association, called the growth "exciting and good for Broad Ripple."
Much of the tech presence is in Broad Ripple proper, but a handful of tech companies or tech not-for-profits are south of Kessler Boulevard in South Broad Ripple, or SoBro. Those include DeveloperTown, The Speak Easy and TechPoint Foundation for Youth.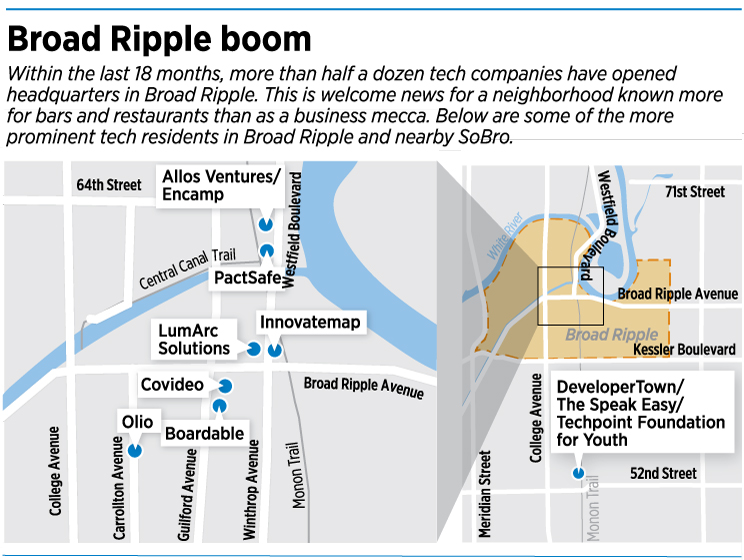 Reynolds credited several factors for the Broad Ripple influx.
Besides benefiting from the synergy of the growing number of tech neighbors, he said he appreciates the village's arts offerings and its "urban vibe with a neighborhood feel."
"My employees like it here so much, 13 out of 21 of them live in Broad Ripple. The cultural assets of your place of employment are just so important today. These are the criteria the next generation of employees are really starting to value.
"I believe in Broad Ripple as a place for tech companies to do business so much, that I've become a bit of an ambassador," Reynolds added.
This month, he hosted a gathering of about 150 tech-related guests at Innovatemap's Broad Ripple office, which occupies two floors and has a rooftop party area.
"A lot of people in tech I've talked to said, 'I never thought of Broad Ripple.' But when you get them thinking about this area, it makes a lot of sense for them," he said.
Of course, the bars, restaurants and coffee houses are big attractions, Reynolds said, "but there's a lot more to it."
Ben Forrest, CEO of Olio, said his firm was drawn to Broad Ripple in part because of the Monon Trail and compact nature of the village.
The company opted to buy an old church at 6202 Carrollton Ave. It's now building out the space and will move in in October.
"The walkability was a big factor for us," Forrest said. "We wanted to be able to step out the door and have that feel of connectivity."
Olio, whose software helps health care providers communicate, had been in downtown Carmel since its founding in late 2017.
When Forrest was planning for his company's long-term future, he asked his employees where they would like to have the company located.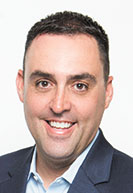 "We took a straw poll," Forrest said. "Overwhelmingly, Broad Ripple was the choice. Broad Ripple really fit the bill as the best destination for us for a number of reasons."
Forrest wasn't concerned just about pleasing his current 16 employees. Olio aims to double its workforce within a year, and Forrest is convinced being in Broad Ripple will help his company attract top talent.
The former church has space to accommodate 80 workers.
"I wouldn't be moving to Broad Ripple if I didn't think this move would help me recruit the absolute best talent for this company," said Forrest, 40. "The culture here, plus the physical location, is key."
For years, downtown has been a tech hotbed, for many of the same reasons tech firms have begun flocking to Broad Ripple, including walkability and a wealth of dining and entertainment options.
However, Reynolds and Forrest believe Broad Ripple beats downtown from a convenience standpoint, since it is within about a 20-minute drive of downtown and 20 minutes from north-side locales such as Fishers and Carmel.
"Broad Ripple is as good as it gets for bringing everyone together in one spot," Forrest said.
It's also convenient to have so many other tech firms close by, he said.
"I have channel partners, product partners and even our legal counsel right here in Broad Ripple," Forrest said. "This new location really represents where we want to go."
A shortage of quality office space and parking are concerns, however.
"If there's a call to action, it's that we need more authentic office space," Reynolds said.
Converting the former Broad Ripple High School into a tech-minded co-working space would be "a great idea," he said, like The Union 525—at the old Wood High School—on the south side of downtown.
"I think the demand for that would be very strong and would spur a lot of growth here," Reynolds said. "And while Broad Ripple has a lot of weekend and nighttime activity, this would be a big boost to businesses in the 9-to-5 time frame."
Reynolds has begun bringing together Broad Ripple tech leaders for informal gatherings and collaboration sessions.
"Tech companies want to be around other tech companies," he said. "It's a wild ride running a tech company, and the connections, exchange of ideas and camaraderie are so very important."
Olio's Forrest agreed.
"The proximity to a growing number of tech companies in this area is certainly a big added benefit to being here," he said. "We're really hopeful this trend continues because, as that tide rises, we think it will help all boats harbored here to rise."•
Please enable JavaScript to view this content.