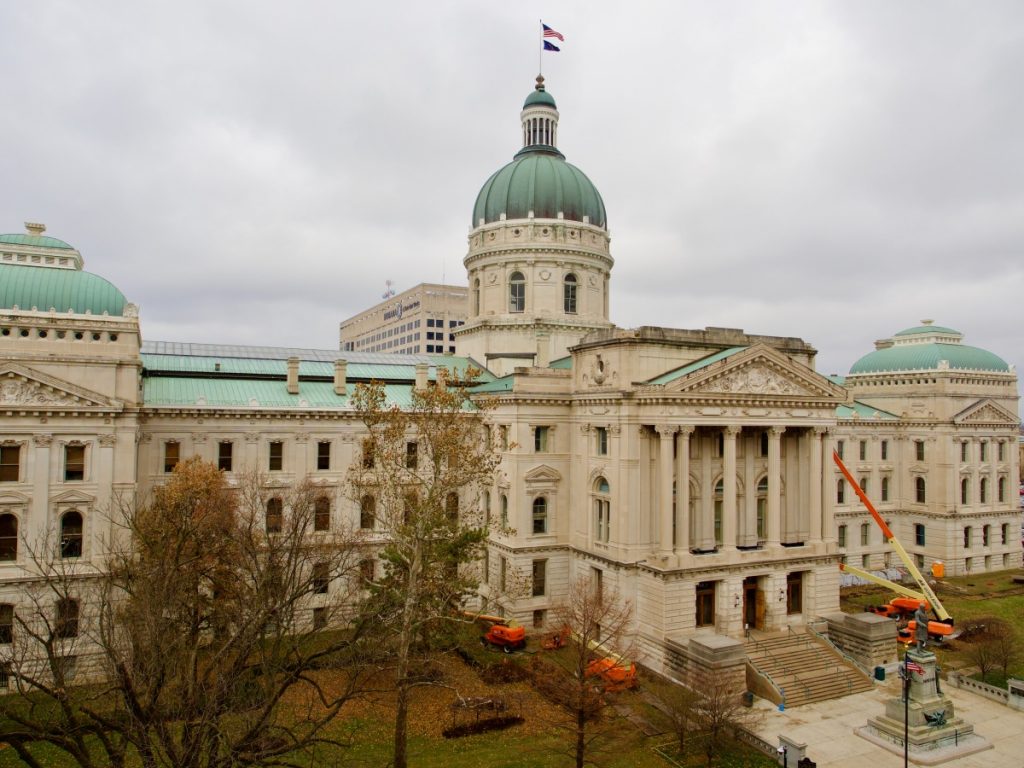 State lawmakers came through in big ways for business and manufacturing interests this year by protecting employers from COVID-19 liability lawsuits, creating a $500 million regional grant program, providing $60 million in pandemic relief for small businesses and maintaining healthy state reserves.
That's not to say some business leaders aren't bemoaning a few losses in the legislative session that ended last week. Among them were calls for a cigarette tax hike and other health-care cost-control measures, state standards for wind and solar projects, a work-share unemployment benefits plan, more career and technical education funding, and stronger pregnancy accommodations in the workplace.
But for the most part, business interests are applauding strong steps they say were taken to move Indiana beyond the pandemic by capitalizing on federal relief funds and an unexpected rise in state revenue to make significant short-term outlays for infrastructure and other needs and long-term investments to create a healthier economy.
About $3 billion in federal stimulus funds and an extra $2.4 billion in state revenue helped lawmakers craft a two-year, $37.4 billion budget that eased almost any misgivings. Lawmakers overwhelmingly approved the budget with "no" votes from only three Democrats and two Republicans—quite a feat in a polarized political atmosphere.
"Obviously, when you get money you weren't expecting, lawmakers had the opportunity to make almost everyone happy," said Kevin Brinegar, president and CEO of the Indiana Chamber of Commerce. "We've had lots and lots of victories to celebrate."
One of the most popular initiatives is a $500 million investment of federal stimulus funds in the Regional Economic Acceleration and Development Initiative (READI), up from the initial $150 million proposal.
"It's significant dollars and the [Indiana Economic Development Corp.] is recognizing that economies are regional and really pushing for that regional collaboration and regional planning," said Mark Fisher, chief policy officer for the Indy Chamber.
He said it differs from the 2016 Regional Cities Initiative because READI's focus is on economic resilience, workforce training programs and industry partnership to foster innovation, and public-private and philanthropic partnerships. It is also more encompassing than "brick and mortar" projects, he said.
Calling READI a "wow" initiative, Brinegar said it will encourage local governments to focus on quality-of-life and quality-of-place solutions. "We want to be a preferred location for people with skills and talent," he said. "We need to bolster our quality-of-place and -life for people who want to move here and to make people stay here."
Fisher praised the $60 million investment of federal stimulus funds in the Hoosier Hospitality Small Business Restart Grant Program, designed to help small businesses get back on their feet after the pandemic. Signed by Gov. Eric Holcomb, the law helps businesses with fewer than 100 employees, gross revenue of less than $10 million in 2019 and a monthly gross revenue loss of at least 30%. They can qualify for grants up to $50,000.
Early victory
For the state chamber, Brinegar said its top priority was the civil lawsuit and liability measure, Senate Bill 1. The law, which Holcomb signed in February, protects employers from being sued for damages resulting from someone's exposure to COVID-19 on the premises of a business, including nursing homes. The measure also was supported by the Indy Chamber, Indiana Manufacturers Association and the Indiana division of the National Federation of Independent Businesses.
"That was an early and very important victory," Brinegar said. "It certainly had the potential to be a very big issue," he added, mentioning that, at one point, 1,200 lawsuits were filed nationally against employers, including some in Indiana.
The companion House bill offers additional liability protection to health care providers and universities. Supporters say protections are necessary to help health care facilities remain financially viable, but opponents say the bill allows nursing homes not to be held liable for deaths and injuries due to problems that preceded the pandemic.
Other measures applauded by business and manufacturing leaders:
◗ $75 million to jump-start a Career Accelerator Fund to promote short-term education and training programs leading to high-wage, high-demand jobs. The program focuses on one- to two-year degrees and certificates.
◗ An additional $10 million per year in the budget for Manufacturing Readiness Grants. In partnership with Conexus Indiana, an initiative of the not-for-profit Central Indiana Corporate Partnership, the state provides matching grants to companies committing to modernizing their operations, integrating smart technologies, expanding health care manufacturing technology or supporting COVID-19 response efforts.
◗ $250 million for broadband internet expansion grants.
◗ $160 million for statewide water and wastewater infrastructure grants.
◗ Increasing funding for the 21st Century Research and Technology Fund to $32.8 million a year.
Rick Wajda, CEO of the Indiana Builders Association, said legislators did a good job of spreading out the additional federal funds to cover major priorities of broad interest.
"We're fortunate in Indiana that, because we've done a good job with budgets in the last 10 years, we don't have to use that money to pay the bills and can be proactive in using it in the future," he said.
Wajda highlighted investments in education, infrastructure, the South Shore railroad double-tracking project in northern Indiana and the new Regional Economic Acceleration and Development Initiative. "That should spur some great projects all across Indiana," he said.
Manufacturing boost
IEDC officials, in a statement, pointed to the benefits of the higher appropriation for Manufacturing Readiness Grants that will result in stimulating private-sector investments to modernize Indiana's manufacturing sector.
The state, which launched the grant program in 2020, has already awarded $6.7 million in matching grants to 87 manufacturers planning to invest more than $46.8 million in their operations. The additional $10 million in matching grants will encourage more manufacturers to make long-term investments in equipment, machinery and smart technologies, the IEDC said.
Andrew Berger, senior vice president for governmental affairs of the Indiana Manufacturers Association, said IMA is pleased with the Legislature's decision to increase weight limits for large trucks, a measure awaiting the governor's signature.
He said the bill will allow Indiana businesses to move more products more quickly and put Indiana's weight limits more in line with other states'.
Under the bill, the maximum weight for trucks increases to 120,000 pounds from 80,000 pounds, provided a permit is acquired.
While Berger said the legislative session was positive overall for his association, he wished lawmakers would have put more funding in career and technical education. He said Indiana manufacturers have 15,000 job openings, and technical training would help more students land those jobs.
Brinegar said it was "frustrating and disappointing" when the work-share unemployment benefits proposal in Senate Bill 44 was denied a vote in the Senate Pensions and Labor Committee. Committee Chairman Phil Boots declined to call the measure for a vote, at the time saying he had concerns about creating a government program when it's uncertain how many companies would use it.
Under the bill, employers would have had the option of reducing employees' hours, instead of laying some people off entirely and having them become unemployed and losing benefits. Employers would have had to continue to provide benefits and the worker would have received partial unemployment benefits to make up for a salary loss.
The federal government pays the work-share benefits, if a state adopts the legislation. Brinegar said as many as 35,000 Hoosiers lost jobs that could have been retained under work-share legislation. Indiana also lost $200 million in federal funds, which would have supplemented the Unemployment Insurance Trust Fund, he said.
"It is unconscionable that the General Assembly did not take up and pass this legislation," he said, saying it had strong support.
On the flip side, though, one of the chamber's key priorities outside the budget, doubling the personal property tax exemption to $80,000 from $40,000, did pass and is awaiting action by Holcomb.•
Please enable JavaScript to view this content.