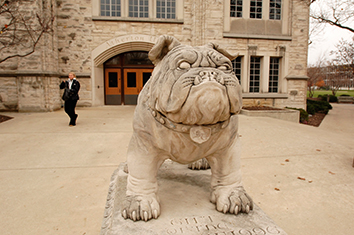 Butler University has named its new sciences expansion building Levinson Family Hall after receiving a $10 million commitment from 1975 graduate Frank Levinson and his wife, Kristin.
The gift was announced during an event Saturday at Hinkle Fieldhouse to celebrate lengthy fundraising campaign "Butler Beyond: The Campaign for Butler University," which began in June 2015 and  concludes May 31. The campaign has raised more than $263.5 million from 34,804 donors.
The Levinsons initially gave $5 million in 2018, jumpstarting fundraising efforts for the sciences building project. They committed another $5 million to the university in the past month, earning naming rights for the building.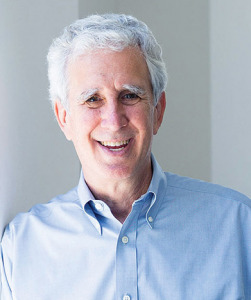 Levinson Family Hall, which opened to the public in summer 2021, connects existing science building Gallahue Hall to the Holcomb Building, which previously housed the Andre B. Lacy School of Business. As part of a three-phase $100 million science facilities project, Gallahue Hall and the Holcomb Building are being renovated and linked by Levinson Family Hall.
The 44,000-square-foot connector building contains new classrooms, labs, work spaces and a 13,145-square-foot glass atrium.
"Frank and Kristin Levinson are incredible champions for the sciences at Butler University," Butler President James Danko said in written remarks. "The generous gift they have provided reflects a deep commitment to Butler students and faculty, and to the education of future leaders in science, innovation, business, and technology. I am profoundly grateful to Frank and Kristin for their generosity and investment in our university."
Frank Levinson grew up in Indianapolis and earned his undergraduate degree in physics and mathematics from Butler. He went on to receive a master's degree and PhD in astronomy from the University of Virginia. He received an honorary doctorate from Butler in 2006.
Levinson's father, Alan "Buzz" Levinson received a master's degree from Butler in 1953, during which time he helped install and align the
telescope at Holcomb Observatory. His mother and brother also earned Butler degrees
In 2008, Frank Levinson made a major gift that helped Butler to join the Southeastern Association for Research in Astronomy, a consortium of universities with remote access to telescopes in some of the darkest locations in the world. Some of his other donations allowed Butler to purchase its first supercomputer and to establish a partnership with the Smithsonian Tropical Research Institute in Panama.
The Levinsons reside in the San Francisco Bay area where Frank is an entrepreneur and investor with a venture capital firm that funds renewable energy businesses.
"This gift is not about me, but is a testament to all those who invested in me and my education, including my family and a number of excellent Butler faculty members," Levinson said in written remarks.
Please enable JavaScript to view this content.