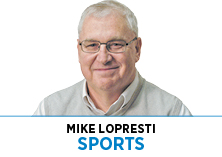 The banners, reminders of two striking moments in Butler history, now hang on the west end of Hinkle Fieldhouse, presumably to be up there as long as the old lady stands on 49th Street. One marks the trip to the national championship game in 2010, the other the return in 2011. It was a remarkable double dip of magic that brought the school trophies, glory, fame and …
Well, what else? That's the question, as the 10th anniversary of the Bulldogs' March to end all Marches nears—the Final Four, six miles from campus. A decade later, what did it mean? The excruciating loss to Duke in the championship game might suggest the 2010 fairy tale didn't have a happy ending. But look at the changes, and maybe it did.
The $50 million business school, the $100 million investment in a science complex, the acquisition of 35 more acres at the Christian Theological Seminary. New dorms. The massive change of landscape. The 20% jump in enrollment.
What's all that have to do with beating Kansas State to get to the Final Four? Well, it takes financial support, increased stature, a sense of can-do upward mobility. Butler was swimming in that stuff post-2010.
Consider Hinkle Fieldhouse. The $36 million worth of renovation in 2014 and $10 million more in 2018. Air-conditioning and renovated restrooms. Also, the Bulldogs now play in the Big East, an esteemed neighborhood to call home. How much of that happens without 2010? Are the donors so quick to their checkbooks, the students so interested to enroll, the Big East so eager to include Butler? There are two guys to ask.
The man sitting in his office is Barry Collier, now as then, the Butler athletic director. He ponders what 2010 meant.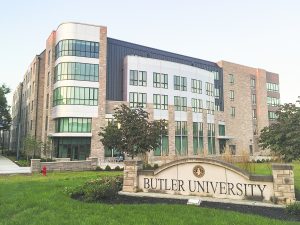 "There are probably a number of things. There's the intangible of, 'Yes, we can.' There's the attitude and belief that we can do really good things, and that's outside of athletics. I think there's a little bit of ethos or attitude or something that is different. And then beyond that, the tangible, is that we're bigger, we're on a growth pattern, we're on a successful run as a university with higher rankings, more graduates, a very accomplished faculty."
Collier mentions a number.
"Tom Weede was our enrollment vice president at the time and had told me that a good year in improvement for applications would be 3% or 4%. After [2010], it went up 43%. And it's not like we've had a bubble that has gone back down. We've built that up.
"It still is obvious today. I was at an event last night and we had a speaker on campus from California and a bunch of people here that aren't necessarily Butler folks. And one of them shared with me that, when she is out on the road on her business travels and mentions Indianapolis and mentions Butler, basketball is the thing [people] identify with.
"I can remember when I was coaching here, we would be out on the summer recruiting, you'd have 'Butler' on your shirts, then we realized we kept getting the question, 'Where is that?' So we had 'Butler University Indianapolis' put on the T-shirts. We don't have to do that anymore."
The Hinkle renovations, the Big East membership … what about them if 2010 doesn't happen?
"I think it would have been 10 times harder."
So much came from Butler's national profile exploding in one month, lovable Blue II the bulldog and all.
"I remember one very noticeable difference," Collier says. "Brad [Stevens] shortly thereafter had invitations to speak at almost 500 different events, and he was trying to manage it initially, just him and [wife] Tracy. Eventually, he signed on with a speakers' bureau.
"I said to him, 'One thing I want you to know is, I'll fire you if you take 500 speaking engagements, because there's no way you can do your job if you do.' He had no intention of taking on 500."
But it put Stevens on the path to the Boston Celtics and a fat contract. Meant millions of dollars for Butler, too, right?
"I wouldn't be able to quantify it. But if anything, you're shooting short on that statement."
The man in Hinkle waiting for a recent game to start is James Danko, president of the university. The March night in 2011 when he was being interviewed for the Butler job in Chicago—he was dean at Villanova—the Bulldogs were playing Florida to return to the Final Four. He still remembers Matt Howard scoring 14 points, and the vibes he got from the Butler folks interviewing him.
"I knew they were preoccupied. I like to kid now, 'Thank God they were preoccupied. Maybe I slipped through the cracks.'"
He also remembers the discussion that night being about what Butler as a university could get out of this basketball joy ride. He understood something about that from his Villanova days.
"The trustees and myself were very much aligned that this was a significant moment, and we were going to take full advantage of it.
"There is absolutely no question that the reputation, the awareness, the knowledge of Butler is much more. For any president who says, 'Hey, we want to invest in basketball and do what you did,' that was lightning in a bottle. It's not a strategy you'd ever want to invest millions of dollars in. It worked for Butler because they quietly built it.
"It also energized the campus and allowed … the leadership team to have the courage to invest big. Invest big or go home, and that's exactly what we've done. I don't think there's a day that goes by I don't have alumni who come back to campus and go, 'I don't recognize it.'"
Is Butler in the Big East without 2010-2011? "There's no question that put us over the top."
Danko mentions the single anecdote that did so much.
"The story that takes on a little bit of a life of its own is that whole thing back in 2010 when Brad Stevens said, 'My kids are going to class today.' So the day of that championship game, they were in the classroom. That underscored it wasn't just basketball. The other side of that story, most other students weren't in class that day. They were out there having a good time."
They were all sharing in a Final Four that, in many ways, lives on today.•
__________
Lopresti is a lifelong resident of Richmond and a graduate of Ball State University. He was a columnist for USA Today and Gannett newspapers for 31 years; he covered 34 Final Fours, 30 Super Bowls, 32 World Series and 16 Olympics. He can be reached at mjl5853@aol.com.
Please enable JavaScript to view this content.