Dr. Woody Myers says he's not going to relax his campaign for Indiana governor during the primary season, even though fellow Democrat Josh Owens announced Wednesday he was dropping out of the race.
Myers, who planned to officially file for the race Friday morning, now becomes the presumed Democratic nominee, which means he won't need to spend time or resources on a divisive primary and can begin building a war chest for November.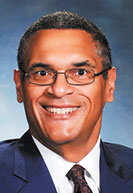 That's a bonus for the Indiana Democratic Party, which will face an uphill battle if it's going to seriously challenge Republican Gov. Eric Holcomb, who has already raised more than $8 million—a record for this point in an Indiana gubernatorial campaign—and has a strong approval rating.
Myers, who would be the first person of color to be a major-party nominee for governor, had raised just $180,000 as of Dec. 31. He had spent more than $178,000 of it, leaving him with about $1,800 on hand, according to January campaign finance filings.
Early on, the Democratic primary for governor was crowded, with state Sen. Eddie Melton and Owens both campaigning. Melton dropped out last month. And in Owens' announcement this week, the Supply Kick CEO endorsed Myers and said his decision to drop out would allow the party to be unified.
Myers, who was the first candidate to announce he was seeking the Democratic nomination, said he initially thought Owens' announcement would be a stress reliever.
"Then you realize the enormity of the task that's ahead of you—and of course, it's a very different race when you don't have a primary challenger," he told IBJ. "It just means you have to double down on your efforts in order to make sure you get the resources you need, the votes that you need, on and on."
His campaign is already beefing up resources and looking to book speaking engagements for Myers past May, steps he was hesitant to take with a primary in front of him.
"I've got 270 days left in my job interview. I consider a campaign to be a very long job interview," he added. "I'm going to continue to work to earn every single vote that I can get. I know we need between 1 million and 1.3 million Hoosiers to see things our way and to give me this opportunity to serve, and I'm going to give them every reason to say yes between now and November."
Myers is a former state health commissioner and former Anthem Inc. chief medical officer. In 2008, he unsuccessfully ran for Indiana's 7th Congressional District seat in a crowded primary.
Indiana Democratic Party Chair John Zody said that with the November ballot set, Myers can continue to focus on building the infrastructure to take on Holcomb.
"On education and health care, there's little doubt Eric Holcomb is vulnerable," Zody said in written comments.
Please enable JavaScript to view this content.