The idea of "seeing is believing" resonates with artist C.W. Mundy.
Whether Mundy is painting in a loose impressionistic style or he's dialed in for vivid realism, he wants to connect with people who see his work.
The 77-year-old Indianapolis native assesses a painting's "believability factor," a term he picked up from Derek Penix, a California-based artist who studied under Mundy.
"I think that's an important aspect for artists to come to: How believable do you want it?" Mundy said during an interview at Hilbert Circle Theatre, where his work is on display as part of a Hoosier Art Salon exhibition. "What are you trying to tell the audience, and what do you want people to see?"
The public has seen Mundy's art for decades. His participation in the Hoosier Salon's annual competition dates to 1990, and he's collected the "Best of Show" award five times. He ranks third among artists with "Best of Show" honors in the event's 98-year history, trailing Harry A. Smith (10 wins) and Edmund Brucker (six).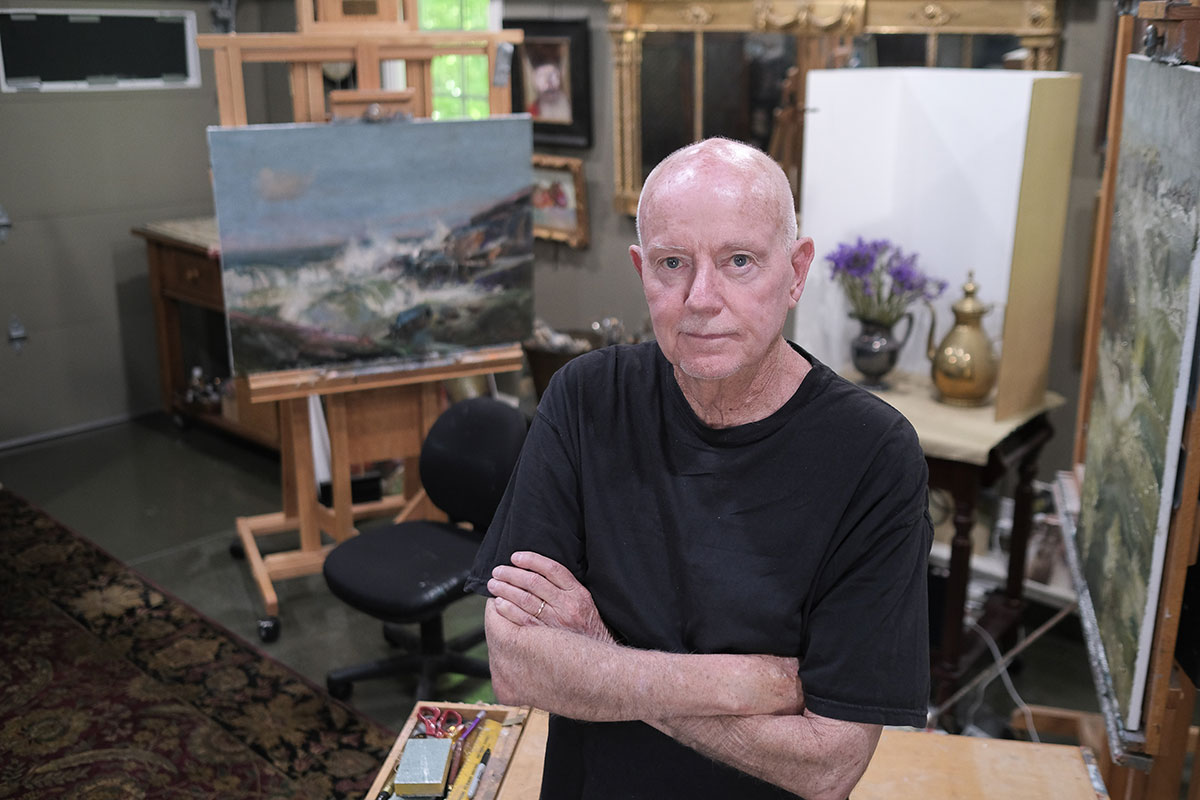 This weekend, Mundy will receive the lifetime achievement award from PleinAir Magazine at Denver's Plein Air Convention & Expo. "Plein air" refers to painting outdoors, a method used by Mundy when capturing a scene of a harbor, creek or beach with oil colors on a linen canvas.
But Mundy's life isn't restricted to painting landscapes and studio still lifes. He's an accomplished banjo player and once worked for Bob Knight in the role of illustrator for Indiana University men's basketball teams. Mundy was a standout basketball player at Howe High School before he made the roster of Ball State University's team.
Born two months after the end of World War II, Charles Warren Mundy grew up near the intersection of East 21st Street and Emerson Avenue.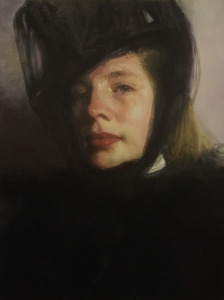 He recalls neighbors asking, "Chuckie, what are you going to do when you grow up?"
His answer—"I want to be an artist"—didn't satisfy adults who told him that grown-ups need to punch a clock.
Nevertheless, Mundy found a way to do his own thing.
At Hilbert Circle Theatre, an exhibition titled the Clowes Collaborative is on display through June 4. Presented by the Indianapolis Symphony Orchestra, Hoosier Art Salon and the Allen Whitehill Clowes Charitable Foundation Inc., the show on the second-floor oval promenade features work by 18 Indiana artists.
Participating artists have either won best of show or collected significant awards in the Hoosier Art Salon's annual competition. Mundy's contribution is a painting titled "Monet's Garden Lily Pond."
Meanwhile, a separate exhibition of Mundy's artwork is on display in the theater's Wood Room, also on the second floor. This collection showcases "Raku & Copper with Onions," a painting of two vases and three onions that could be mistaken for a photograph. In contrast, "Winter Sledding" depicts three youngsters in the snow through short, coarse applications of paint and minimal attention to detail.
"Some are much more realistic, and some are much more aloof," Mundy said of his paintings in the Wood Room. "Of course, the subject is important in representational art, but for me the whole thing is about the paint quality. It's the variety of paint manipulation you can get on one canvas and still have unity."
The Hoosier Art Salon's 99th annual juried exhibition is scheduled for Aug. 26-Oct. 22 at the Indiana State Museum.
Michael Quinn, board chair of the not-for-profit, said Mundy is held in high regard by the group's 300 artist members.
"C.W. represents a level of skill and quality in his work that is few and far between," Quinn said. "He's on a pedestal among just about every artist I speak to."
Mundy isn't eager to talk about the lifetime achievement award, which he describes as an overwhelming accolade.
"I don't feel like I need to be honored," he said. "This is just who I am."
He's enthusiastic, however, when discussing his creative process. Mundy, who's fond of saying he's a child trapped in an adult body, relishes being able to paint in different styles.
"I want to see what I can get away with," he said. "When you're a child, everything you see is so new and exciting to you. That's the same excitement that I have in creating."
Game-changing idea
During his days as an illustrator focused on sports art, Mundy visited the homes of clients and saw paintings by members of the Hoosier Group.
Made up of impressionist artists T.C. Steele, J. Ottis Adams, William Forsyth, Otto Stark and Richard Gruelle, the Hoosier Group dominated the Indiana art scene from 1880 into the early decades of the 1900s. The quintet studied in Europe during the era when Claude Monet and his contemporaries in Paris transformed what was considered fine art.
"The Hoosier Group was the reason I decided I wanted to become a fine artist and leave illustration," said Mundy, who altered his career path in the early 1990s.
Mundy, who says his faith is closely intertwined with his work, said God spoke to him about making the change in artistic direction.
"If I could come up with what I thought was an authentic turn-of-the-century look, like those guys, then I would be able to have a fine art career," Mundy said. "People who collected the Hoosier Group stuff would start buying mine because all the 'A' and 'B' paintings were already in collections by the 1990s. The only things circulating were 'C' and 'D' paintings."
George Kirtley, a cosmetic dentist in Indianapolis, has a long-running friendship with Mundy that's included countless pickup basketball games. Music is another shared interest between banjo-playing Mundy and harmonica specialist Kirtley.
"I remember going up to his apartment when he lived up in Carmel," Kirtley said. "I walked in, and there was no room for much except for all the paintings he had. I remember vividly seeing a change in where he was going with art."
Mundy had reached his 40s when fine art became his calling.
"He was stuck, and he knew there was something more that he had to give," Kirtley said.
Mundy married Rebecca Habegger in 1989, and the couple's discussions about Monet and the Hoosier Group influenced the move away from sports illustration.
"After 25 years of people telling you what you had to paint, I wanted the chance to try my hand at impressionism," Mundy said.
Bob Knight and bands
From 1983 to 1991, Mundy painted images used on the covers of game-day programs for IU basketball as well as artwork for the team's media guides. He was hired for similar tasks by the Indiana Pacers and the NBA.
In 1985, basketball Hall of Famer Rick Barry was one of Mundy's associates who encouraged the artist to create a poster to commemorate Knight's infamous toss of a chair across the court at Bloomington's Assembly Hall in protest of the officiating during a game against Purdue University.
Mundy came up with "The Chair Hurled Around the World," an image that showed a red plastic chair in orbit around Earth.
Likely to the surprise of no one, Knight wasn't fond of the poster.
Even as Mundy put sports art in his past, he didn't put down his banjo.
From learning "The Ballad of Jed Clampett," otherwise known as the theme song of "The Beverly Hillbillies" in 1966, Mundy went on to play in bands such as the Tarzan Swing Band and the Disco Mountain Boys.
"I'm trying to bring the music up to the mileage that I have in my art," Mundy said. "But I have a long way to go."
In April, Mundy and Indiana-based drummer and bass player Dion Wickliff posted a playful and dissonant instrumental song, "5th Ave Strut," on YouTube.
With luck, Mundy will release an album to follow his 2021 solo effort, "The Impressionists."
"The banjo gets put on the sideline because I can't stop painting," he said.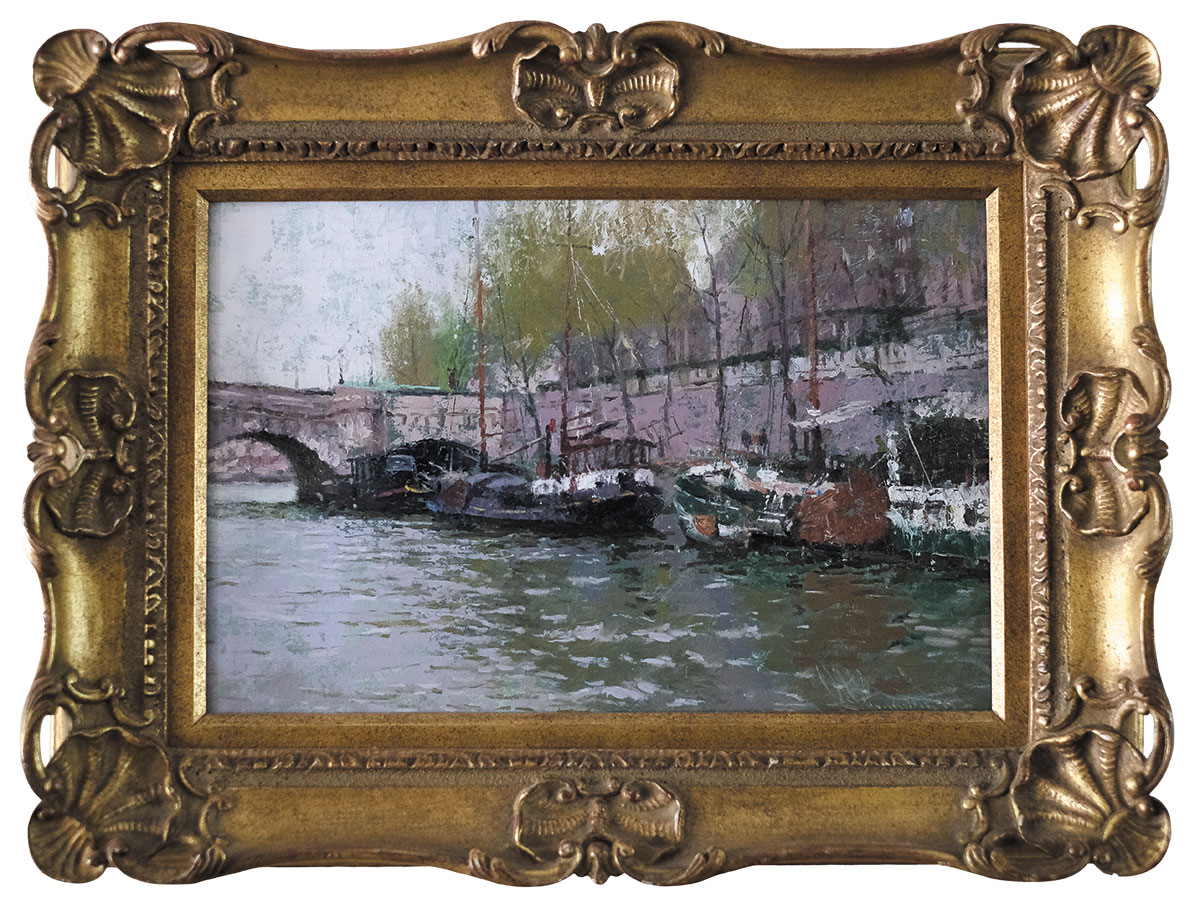 Art and commerce
Although he's based in landlocked Indiana, Mundy is a signature member of the American Society of Marine Artists. Time spent pursuing a master's of fine art degree at Long Beach State University allowed Mundy to explore the Pacific coast, and he's since traveled to paint outdoors near bodies of water.
"You give me an old workingman's harbor, and I'm in," he said. "I'm painting plein air, and then my wife, Rebecca, and I go and have fresh fish. They don't even have a chance to put it on ice."
In 2001, the California-based Traditional Fine Arts Organization praised Mundy's painting technique of using a "palette knife that scumbles and livens the surface with slashes and sweeps creating a distinctive textured veil over the image."
Quinn, the Hoosier Art Salon chair, said Mundy is a master of "manipulating the light" in his paintings.
One of Mundy's top paintings, "Emily in the Black Hat," was created in 2005 when he and Rebecca traveled to Florida for a vacation with relatives.
Mundy had one of his nieces, Emily, sit for a timeless portrait suggestive of the 19th-century work of artist John Singer Sargent.
"I always wanted to paint her in sort of that Sargent-esque way, where the darkest darks were very flat because they wouldn't draw any attention," Mundy said. "All the attention would be on her face."
Kirtley, the harmonica-playing dentist, said he owns several Mundy paintings.
"It's a cool thing to know you have something of that caliber and beauty hanging on your wall, and it's someone you know personally," Kirtley said.
In addition to saying he's a child trapped in an adult's body, Mundy has a favorite phrase related to making money as an artist: You can paint the piggy, but you have to take it to market.
Mundy said self-promotion launched his career on a national level.
By purchasing full-page ads in American Art Review, a magazine for art collectors, Mundy guaranteed exposure for his work in the early 1990s.
He spent $25,000 a year on the ads. Today, it's not uncommon for single C.W. Mundy paintings to be priced in the $10,000 to $25,000 range.
"That's how we were able to get the attention of people," Mundy said of his advertising strategy. "If you're not out in front of the public, the public doesn't know anything about you."•
Please enable JavaScript to view this content.