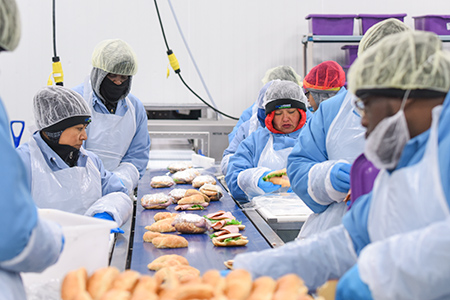 Produce company Caito Foods LLC is set to close its Fresh Kitchen operations in Indianapolis—less than three years after opening the $32 million facility—and eliminate 53 jobs in the process.
Grand Rapids, Michigan-based SpartanNash Co., the parent of Caito Foods, disclosed its decision to close the division Aug. 12, the same day it announced the departure of its CEO amid disappointing financial results.
In a letter to the Indiana Department of Workforce Development, Caito said it would begin discontinuing Fresh Kitchen operations beginning Oct. 15. The company said it would eliminate employees during a two-week period starting the same day.
Caito, a produce wholesaler founded in 1965, opened the Fresh Kitchen operations in January 2017 in about 120,000 square feet of production space at the firm's North Post Road campus. The facility was designed to cook and package meals and side dishes such as salads, pasta, deli meats and pinwheel sandwich wraps.
The idea was to capitalize on a rising trend in the food industry: takeout prepared foods sold at grocery stores, convenience stores and other outlets.
The job eliminations include 29 cooks or chefs, at least 10 supervisors and various warehousing, engineering, manufacturing, sales and inventory personnel.
"SpartanNash is announcing that it has made the decision to exit its Indianapolis-based Fresh Kitchen operations to improve [earnings] within the Food Distribution segment," the company said in a public filing. "The company will shift its focus and expertise to its produce distribution and Fresh Cut operations, which have been the hallmark of the Caito business."
An official for Caito, which has about 1,300 employees companywide, could not be reached for comment Monday morning.
SpartanNash said it would see an annual sales loss of $20 million due to exiting the Fresh Kitchen business. It also included a $14.6 million restructuring and asset-impairment charge on its second-quarter financial results.
Overall, the company reported a $6.8 million loss in the second quarter ended July 13 on almost $2 billion in sales.
About half of SpartanNash's sales come from food distribution with the other half split between military commissary distribution and retail operations of 160 grocery stores.
SpartanNash, which acquired Caito Foods for $218 million at about the same time Fresh Kitchen launched, said earlier this year that the Fresh Kitchen operations were not performing up to expectations.
In its first-quarter report, SpartanNash said it was receiving "less contribution from the Fresh Kitchen operations than initially anticipated and [had] engaged outside consultants to work with the SpartanNash team to generate profitability in this business."
SpartanNash later said it didn't expect Fresh Kitchen to "be profitable in the short-term, and there is no guarantee it will be profitable in the long-term."
Last week, SpartanNash replaced President and CEO Dave Staples, a 16-year veteran of the company who took the top job in 2017, with Chairman Dennis Eidson, who'll serve as interim president and CEO. Eidson was CEO of the company from 2008 to 2017.
"The board remains confident in the company's strategic direction and its ability to generate top-line growth; however, execution has fallen short of our expectations and we believe that now is the time for a leadership change," Douglas Hacker, lead independent director of the board, said in written comments.
Please enable JavaScript to view this content.