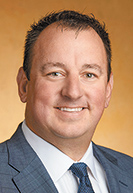 Calumet Specialty Products Partners LP has named Lewis Todd Borgmann as its chief financial officer.
Borgmann, 38, had been serving as interim CFO since September, following the departure of former CFO Keith Jennings. Borgmann moved into the role permanently on Jan. 1.
Based in Indianapolis, Calumet makes specialty hydrocarbon and fuels products.
Borgmann previously served as Calumet's vice president of supply from May 2016 to September 2020. Before that, he had served as vice president of business development.•
Please enable JavaScript to view this content.