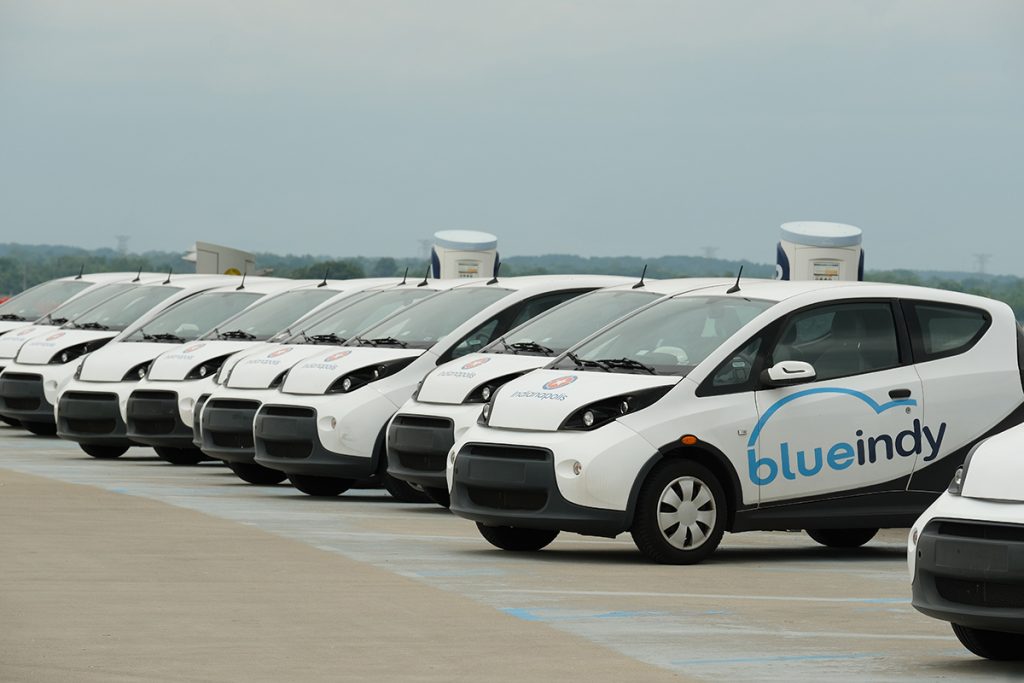 BlueIndy might be shutting down in May, but it could leave its mark all over the city.
The question for Mayor Joe Hogsett's administration is what to do about it.
The electric-car-sharing service has 92 stations scattered throughout Indianapolis—concentrated downtown as well as in neighborhoods, on college campuses and at the airport—that have enough ports to charge 455 vehicles at once.
Those stations are powered by Indianapolis Power & Light Co., which invested more than $3 million to extend electric and communication lines to the chargers—infrastructure that will remain long after the little white vehicles disappear.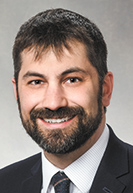 It appears a decision about what to do with BlueIndy's assets might be months away. But stakeholders tell IBJ they'd like to see the infrastructure continue to be used in some fashion—especially as Indianapolis seeks to expand its transit options and embrace greener policies laid out in its year-old Thrive Indianapolis sustainability plan, which includes goals of amping up electric-vehicle charging.
"We have this opportunity that not a lot of other cities have but a lot of them would like to have," said Ron Gifford, project manager for the Central Indiana Personal Mobility Network. "That's why it's important for us to be thoughtful in how best to use those existing resources."
Gifford and others say returning the spots to public metered parking—which would generate income for the city and might appease BlueIndy critics—would waste an opportunity.
Thanks to the BlueIndy effort—which was funded in part with taxpayer dollars—Indianapolis has a public electric-vehicle charging infrastructure that is the most widespread of any large U.S. city. Gifford said when he goes to mobility conferences, people from other cities are envious of what Indianapolis has.
But taking advantage of that infrastructure could take some creativity.
Ideas are already emerging; they include using the stations and infrastructure to create a not-for-profit car-sharing service, using some of the stations to charge and dock scooters, and creating an electric shuttle service to and from neighborhoods.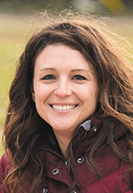 The Hogsett administration is committed to exploring financially sustainable options that help increase mobility for residents and build on the city's existing transportation and connectivity options. Next steps could include a request for feedback or proposals from the private sector, said Hogsett's deputy chief of staff, Taylor Schaffer.
Leaving in place BlueIndy's charging stations could boost Thrive Indianapolis—which calls for increasing electric vehicle ownership 300%, to 3,040, by 2025.
To achieve that goal, the city plans to create a community-wide EV/autonomous-vehicle readiness plan and pilot low-cost EV parking downtown, identify downtown fast-charging locations and launch an EV corporate fleet.
Jesse Kharbanda, executive director of the Hoosier Environmental Council, said the transportation sector is beginning to surpass the electric power sector as a leading source of carbon emissions. To address that problem, he said, it's imperative that Hoosiers move to electric cars and that the city develop the charging infrastructure to support them.
"Maintaining that infrastructure will allow Indianapolis to meet the Thrive plan goals and help facilitate Indianapolis being a national leader in electric vehicle use," he said in an email. "That will not only help with carbon reduction goals, but lead to cleaner air in our community."
Never caught on
City officials say they aren't aware of anyone that wants to purchase all the assets and continue the service, which launched in September 2015 in a deal arranged by former Mayor Greg Ballard's administration.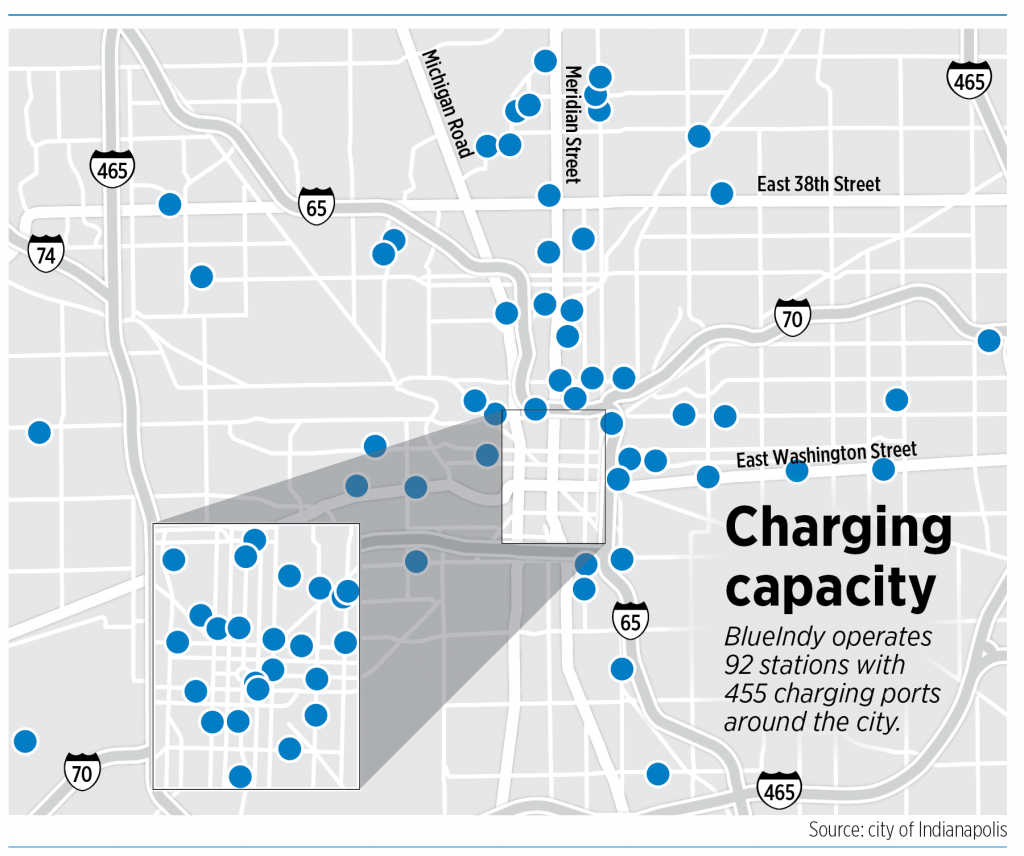 BlueIndy is based in Paris and backed by French logistics company Bollore and billionaire Vincent Bollore. The company initially predicted it would be operating profitably by this year, with at least 15,000 members, 200 stations and 500 cars.
But the service never caught on in a meaningful way.
As of August, the company's numbers were far from its initial goal. BlueIndy told IBJ then it had 3,000 active members—a fifth of the total it had projected it needed for profitability. It had 92 stations and 200 cars—80 fewer cars than in 2017.
Company officials said then that they didn't expect BlueIndy to make a profit for at least another year but they were committed to their investment in Indianapolis long term.
Just four months later, on Dec. 21, with little warning, BlueIndy announced it was ceasing operations, telling customers, "We did not reach the level of activity required to be economically viable."
BlueIndy has said it spent $41 million to get the service launched. The city kicked in $6 million, and IPL contributed $3 million, bringing the initial investment of $50 million. The city and IPL expected to recoup their investments through profit-share agreements with BlueIndy. That never happened.
Contracts penned between the city and BlueIndy give the city 90 days after operations cease—or mid-August—to exercise a purchase option for station fixtures, including the chargers.
Thomas Cook, Hogsett's chief of staff, told reporters Jan. 22 the city is focused on meeting with stakeholders—including personal mobility advocates, neighbors and corporate partners—before determining how to proceed.
If Indianapolis passes on pursuing its purchase option, BlueIndy would be required to remove all the fixtures.
If the city chooses to buy the assets, the contract requires it to pay fair market value, which would likely be determined through two or more appraisals. The city is currently trying to determine the assets' value.
There are other factors to consider, too. The charging stations were designed to slowly charge the BlueIndy vehicles, which means they might not be that useful to people with personal electric vehicles looking for a place to juice up downtown.
In November 2018, the last year for which data is available, BlueIndy had just 294 members who used the service to charge their own vehicles, according to a company filing with the Indiana Utility Regulatory Commission. Those members had connected their personal vehicles to the BlueIndy charging network for 7,927 hours in total, the filing states.
Another concern is whether the charging stations are already outdated.
Cook said while BlueIndy's decision to cease operations didn't shock city officials, it did come with little warning. City leaders are being "thoughtful and deliberate" about what comes next, he said.
He added that BlueIndy, whose representatives didn't respond to requests for comment, seems to want to be collaborative.
Important option
One aspect of BlueIndy almost everyone can agree on is that the service enhanced the city's personal mobility network and filled a market niche.
For Indianapolis residents who can't afford a personal vehicle or who choose not to have one, BlueIndy has provided transportation to work or for short trips around town. One of the more popular stations was at Indianapolis International Airport.
Gifford told IBJ a shared car service is an important piece of a mobility network, just like scooters, buses, and Uber and Lyft. The more options for personal transportation the city can offer, the better off its residents will be.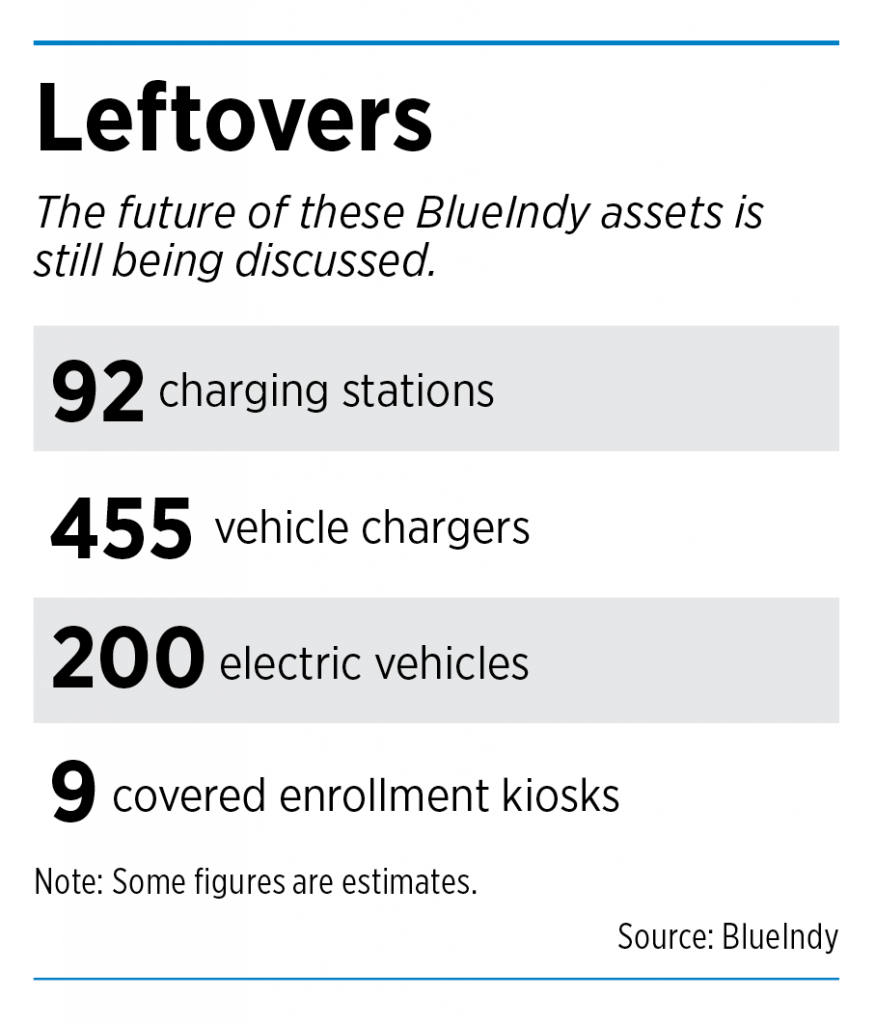 "It didn't work for everyone, and the business model may not have been exactly what folks might have been looking for and the like, but having a car-share service is really important," Gifford said. "The fact that it was all-electric really speaks to the issue of sustainability."
City officials agree. Deputy Mayor Jeff Bennett told reporters the transportation BlueIndy provides to residents with limited access to a car can't be ignored.
Gifford said he hopes the community takes advantage of the infrastructure that's already been laid to beef up transportation options. BlueIndy's departure provides an opportunity for stakeholders to explore alternative uses for the infrastructure.
IPL appears committed to helping the city maintain and even extend its EV infrastructure.
The company "is focused on accelerating cleaner, efficient and cost-effective energy solutions for our 500,000 customers, and that includes maintaining and extending electric vehicle infrastructure," spokeswoman Courtney Arango said in an email to IBJ.
Adam Ternet, an Indianapolis resident who used the service two to four times a month, said he'd hate to see the BlueIndy spaces returned to public parking. He's already started meeting with stakeholders to share his concerns and ideas, which include a not-for-profit car-share service.
"My biggest fear is, the parking spots and infrastructure don't get utilized and aren't maintained," he said. "Then to continue the service down the road would take significantly more investment. I feel like now is the time to try and take advantage of this."
Early on and throughout BlueIndy's 4-1/2-year run, some residents and business owners have criticized the service's taking up what they deemed to be premium street parking downtown and in neighborhoods like Fountain Square and Fletcher Place and on Massachusetts Avenue. The reality, city officials have said, is that the city has no dire parking shortage, and returning all the BlueIndy spaces to public parking might be foolish.
"I think the city will have the chance to look at multiple options. Some things are going to work better for some locations than others," Gifford said. "I do not think there is one solution that makes the most sense for every BlueIndy station throughout the city."
As for the neighborhoods where BlueIndy is present, leaders say they just want to be involved in the decision-making.
Laura Giffel, president of the Bates-Hendricks Neighborhood Association, which has two BlueIndy stations, said residents wouldn't mind having the charging stations stay—to be used to charge personal vehicles or for other purposes—as long as the city ensures they're maintained.
"We would love to see it live on in some iteration," she said. "We just want to be part of the process. If we have that infrastructure and we have these services, involve us."•
Please enable JavaScript to view this content.