Three Indiana House districts—new or heavily redrawn by the Legislature in 2020 because of population growth north of Indianapolis—are being contested for the first time. Districts 25, 32 and 41 cover at least parts of Boone and Hamilton counties.
Six candidates—some of them new to politics—are competing for the three seats and talking to voters about the economy, education, abortion and, in District 41, the state's proposed economic development district in Boone County.
Democrat Jen Bass-Patino and Republican Becky Cash are running in the new House District 25, which spans southeastern and some of central Boone County and the northeastern corner of Hendricks County. It includes Zionsville, Whitestown and part of Brownsburg.
Democrat Victoria Garcia Wilburn will face Republican Fred Glynn in House District 32, which encompasses Hamilton County's Clay and Delaware townships and extends south into Marion County.
And in House District 41, Democrat Greg Woods is competing against Republican Mark Genda. The new District 41 includes northern and western Boone County; western, southern and southwestern Clinton County; northeastern Montgomery County; and eastern Tippecanoe County.
Early in-person voting in Indiana's midterm election began this week and continues through Nov. 7. Election Day is Nov. 8.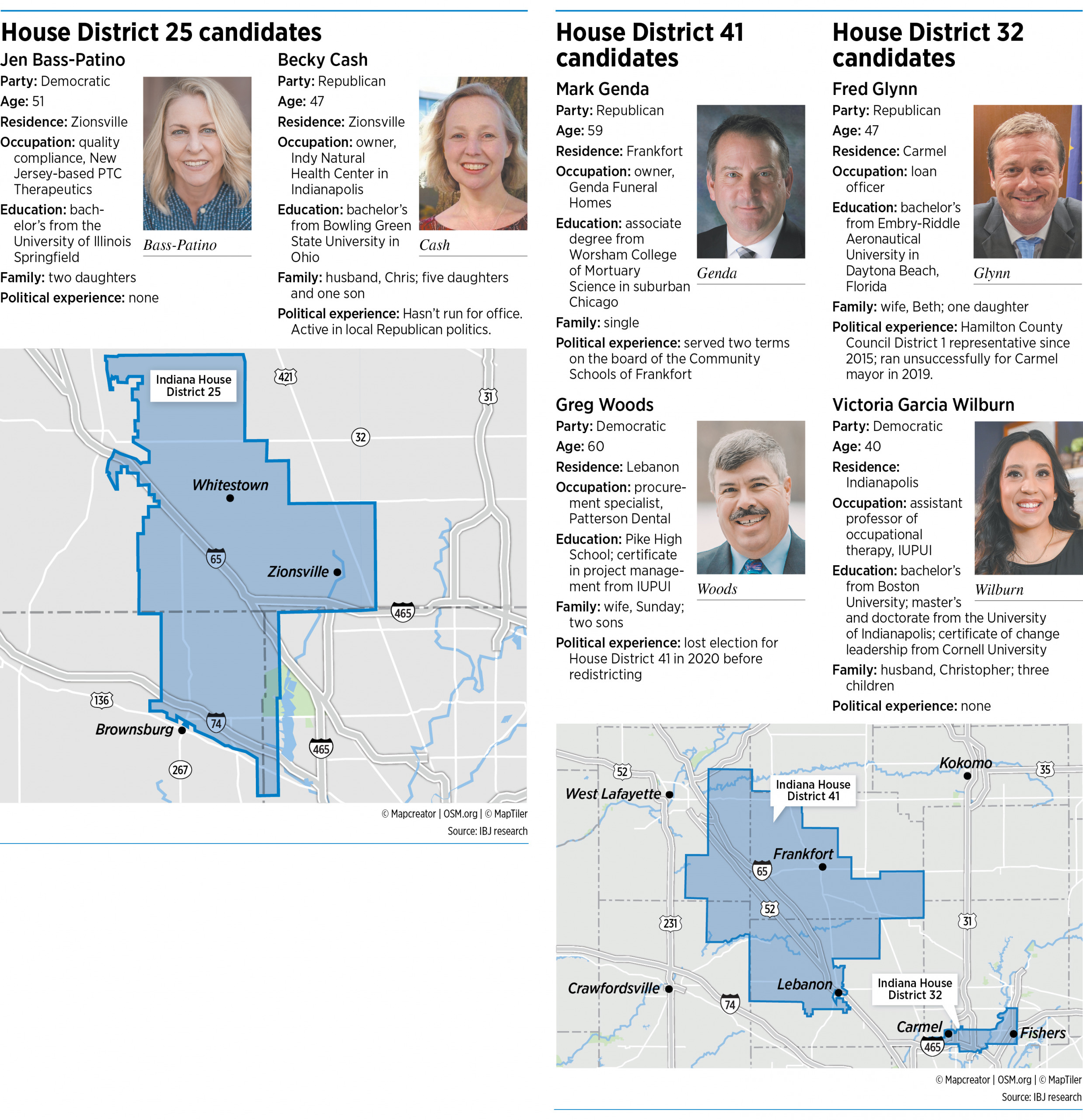 Here is a look at the candidates in all three races.
District 25
Jen Bass-Patino, Democrat
Bass-Patino lives in Zionsville with her two daughters, one who is in eighth grade and another who is a senior in high school.
She considers herself a moderate Democrat who decided to run for public office for the first time after she became disheartened with the division she saw across the country.
"I feel like I couldn't look at my two daughters and tell them that I have this great opportunity to try to make some impactful positive changes, and I let it slip past," Bass-Patino said.
Bass-Patino has worked in the fields of forensic biology and medical research; she currently works in quality compliance for New Jersey-based pharmacy company PTC Therapeutics.
She was a conservative Republican before changing parties shortly after she moved in 2014 to Indiana from Illinois, she said. The Republican Party no longer aligned with her values, she said.
Bass-Patino is focused on strong public schools, safe communities, environmental issues, health care and helping small businesses.
She said she is not opposed to parents having the opportunity to send their children to private schools, but she is against pulling tax dollars away from public schools to support private schools.
The decision by lawmakers to include a debate on Senate Bill 1, which enacted a near-total ban on abortion in Indiana, in this summer's special legislative session was wrong, she added. Legislators should have focused on combating inflation, she said, managing Indiana's budget surplus and addressing the state's teacher shortage.
Abortion, she said, is a private, individual decision that is not one-size-fits-all. She said women's health care decisions should be made "with her doctor and within her own family and her faith."
"I'm hearing a lot of people are quite upset by the process and the outcome," Bass-Patino said. "I don't agree with SB 1. I think that needs to be changed."
Bass-Patino added that she is a gun owner who supports the Second Amendment but also believes in gun safety, education and responsible gun ownership.
She said her moderate beliefs and her ability to understand the thought process that goes into both parties makes her the best candidate to represent House District 25.
Becky Cash, Republican
Cash, a first-time candidate for public office, saw an opportunity when legislators drew House District 25 and "jumped in with two feet."
"We love raising our children here, but like all states right now, Indiana has a lot to do," said Cash, who lives in Zionsville with her husband and six children.
She participates in the Boone County Republican Women's Club, and she often goes to the Statehouse to testify on bills.
Cash defeated opponents Kent Abernathy, Douglas Rapp and Matt Whetstone in the Republican primary election in May.
Outside of politics, Cash is a naturopathic practitioner—meaning she provides education and access to natural-medicine remedies to her clients—and she owns Indy Natural Health Center.
Cash's priorities include addressing the mental health crisis, improving Indiana's foster care system and education issues.
She would like to see legislation focus on adolescent and pediatric mental health and incentives for people to go into mental health careers or to bring professionals to Indiana.
"I hate to take them from other states, but I am running for the Indiana Legislature, and so I might selfishly just want to bring them to Indiana," Cash said.
She said children in the state's foster care system are not getting adequate care, and she wants to address the shortage in foster care parents. Cash also sees concerns with the Indiana Department of Children and Family Services.
"I don't want to throw them under the bus, but I don't honestly care about the past," she said. "I just know that we need to fix things for the future."
Cash also supports parental rights in education and said she wants to see legislation passed to address school curriculum transparency. She said she wants teachers to be able to focus on academics and coursework rather than having to be "teacher-therapists" overburdened with testing.
"People say there's a war on teachers. It's not the teachers that the war is on. It's the whole administrative process," she said.
Cash said she supported SB 1 but wishes higher tax credits for adoptive families had been included in the bill. She said people are using the threat of lawmakers going after birth control and contraceptives as a scare tactic.
"In the last two months as I've been knocking on doors, I have literally had three people bring [SB 1] up," Cash said. Rather, she said, voters are concerned with parental rights, fiscal responsibility, and crime and safety issues.
District 32
Victoria Garcia Wilburn, Democrat
Wilburn, an assistant professor in occupational therapy at IUPUI, said her major focus if elected would be to improve health care access and quality in Indiana.
Wilburn's work as a researcher led her to "uncover how unhealthy our state is." She first looked at mental and behavioral health access and continued examining health outcomes across the board, including women's reproductive health and respiratory function health.
"I noticed that we were one of the lowest-performing states in the country," she said. "I felt like it was my ethical responsibility when this new district came about to use my expertise and knowledge to help the betterment of all of us for our state."
Wilburn moved to Indiana from Massachusetts 17 years ago and lives on the north side of Indianapolis in Nora with her husband, Christopher, who is a retired Indianapolis Metropolitan Police Department sergeant, and their three children.
She said her three priorities at the Statehouse would be public education, public health and public safety.
Wilburn said the passage of SB 1 was a "complete overstep" and that it represents a slippery slope that could lead to intrusions in other forms of health care.
"This issue is not just about abortion," she said. "It's about access to health care in general, particularly among our most marginalized communities, like our rural communities," she said. "And when we continue to limit these health care choices, it does a detriment to us all."
She also said Indiana's new law allowing concealed carry of guns has already had "disastrous effects."
And she would advocate for increased funding for special-education students and teachers.
Indiana voters are concerned about the current Republican supermajority, and they miss when bills are debated, she added. Wilburn said she is reaching areas of Hamilton County that have not had a Democrat on the ballot in recent years.
"I know that there was much trepidation with the gerrymandering that occurred, but this is quite an opportunity for Hamilton and Marion counties to be united on several fronts, and I am the person to do that," she said.
Fred Glynn, Republican
Glynn, a two-term Hamilton County councilor and a 2019 Carmel mayoral candidate, defeated challenger Suzie Jaworowski in an ultra-close May primary that was decided by fewer than a dozen votes and went into a recount.
He decided to not seek another term on the council after the House District 32 seat became available.
Glynn, who works as a loan officer, said his experience on the council taught him how to work collaboratively to get things accomplished and serve constituents.
"Through this type of leadership, we have been able to get things done, like an efficiency study to trim waste, a AAA bond rating and a land purchase to build the county's first-ever domestic violence shelter," Glynn said.
He said Indiana needs laws that "empower parents when it comes to their children's education," prevent out-of-control property tax assessments and provide support for law enforcement.
The topics he has heard about most from voters are inflation, rising crime and education, he added.
Glynn said he is the best candidate to represent House District 32 because of his leadership skills and experience.
"I have always done what is best for constituents, even under immense pressure, and will do the same at the Statehouse," he said.
District 41
Greg Woods, Democrat
Woods said he is "a working-class guy" who has worked one job or another since he was 13 years old. He is a procurement specialist for Indianapolis-based Patterson Dental.
"I've been in the people business pretty much my whole life," he said. "It's something that I think has helped me become the kind of candidate that people are looking for. Someone that people can relate to more than anything else."
Woods, a Lebanon resident, unsuccessfully ran for House District 41 in 2020 against longtime Republican Rep. Tim Brown. However, Woods believes he has a better chance at victory following redistricting and Brown's decision to not seek reelection.
Woods has focused his campaign on support for public education, clean water issues, access to workforce and transitional housing, and protection for women's bodily autonomy.
"By passing SB 1, 3 million women and girls in this state were made second-class citizens, and that I can't stand," he said.
He got involved with the Boone County Democratic Party due to what he believes is a lack of respect for teachers. His wife, Sunday, taught at Zionsville West Middle School.
"You go to college, you get a master's degree, you come back and do something you love, and then some guy in a building downtown starts to dictate how you do your job," Woods said. "It doesn't usually go very well."
Woods said Indiana should decriminalize and legalize marijuana and use the tax revenue gained from it to fund the state's school systems and eventually give Hoosier students the ability to go to college for free.
"Education shouldn't be something that breaks the bank," he said.
As a candidate for House District 41, Woods has heard from Boone County residents who are concerned about the state's plans for the LEAP Lebanon Innovation and Research District.
The Indiana Economic Development Corp. is looking to purchase up to 10,000 acres in rural Boone County northwest of Lebanon, where it hopes to attract companies in the advanced manufacturing, research and development, life sciences, technology, and microelectronics and semiconductor industries.
"More than anything, [residents] are feeling run over, and they fear there's been a lack of transparency," Woods said.
Mark Genda, Republican
Genda, the director of a funeral home with locations in Frankfort, Mulberry, Rossville and Flora, said his professional life prepared him to run for the open House District 41 seat.
"This is a people-forward profession, and … all I've known for 39 years is listening and working with people," he said. "So, for me, I'm just taking off one people hat and putting on another people hat."
Genda previously served two terms on the Community Schools of Frankfort board, but this is his first campaign for a state office. He defeated two challengers, Richard Bagsby and Shane Weist, in the Republican primary.
Genda listed education, housing, the state's worker shortage and fixing Indiana's brain drain as areas of focus in his campaign. He also hopes to use his professional experience to develop ways to fix the state's lack of funeral home directors.
The worker shortage "seems to be a predominant issue among those of us in the business world," Genda said. "It goes right across the board. Everybody's looking for qualified help."
As Genda has met with residents around Lebanon, he has found a 50-50 split between people who are for and against the LEAP district.
He also stressed that, if he wins, he'd be a freshman legislator in a new district with no political background, which could make it difficult to push through some of his own legislation. And he still has plenty of research and learning to do.
"I didn't run because I'm angry about something. I didn't run for a cause," Genda said. "I ran because [there are] 65,200-and-some people that want a representative."•
Please enable JavaScript to view this content.