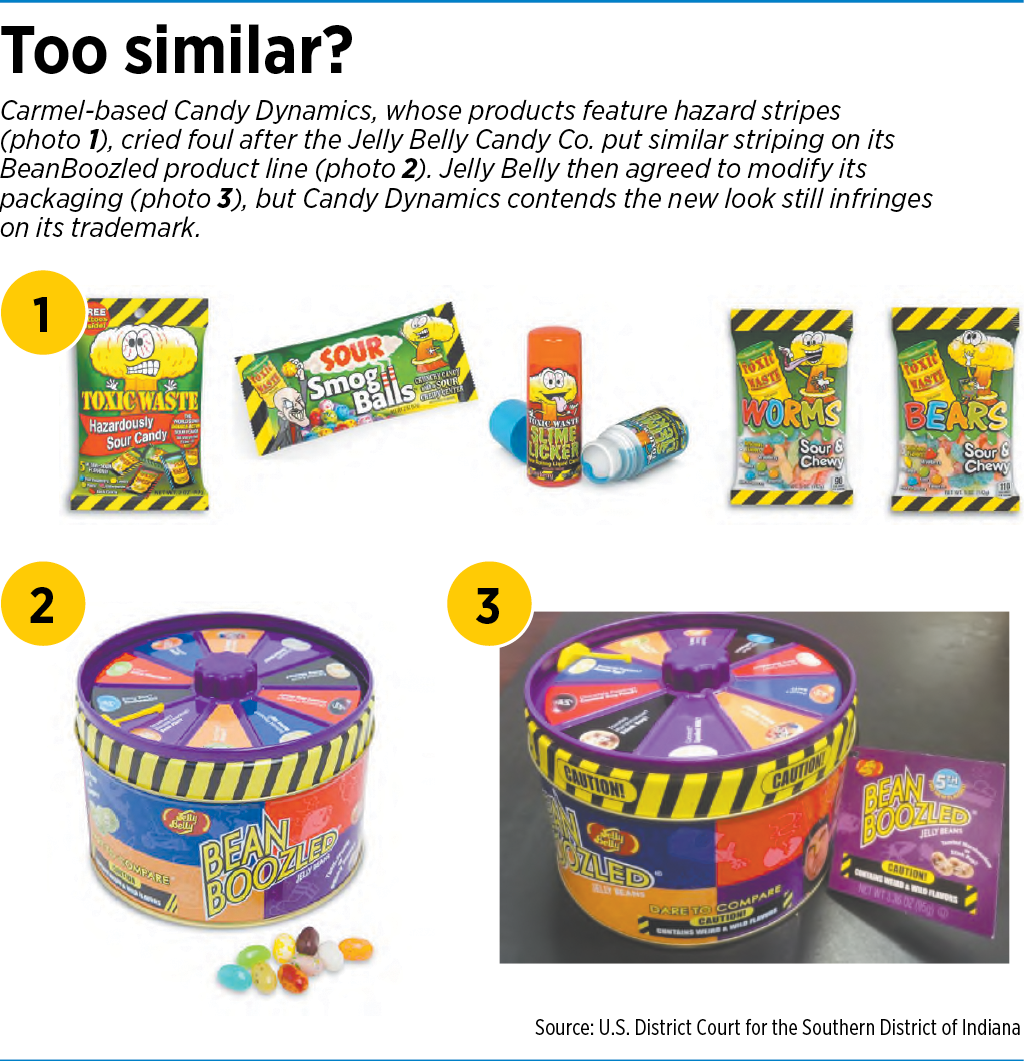 The Carmel-based company that sells Toxic Waste, Smog Balls and other sour candies is suing the Jelly Belly Candy Co. because it says the jelly bean maker's packaging is too similar to its own and could cause customer confusion.
Circle City Marketing & Distributing Inc., which does business as Candy Dynamics, filed a trademark-infringement suit Jan. 29 in U.S. District Court in Indianapolis against Jelly Belly, which is based in Fairfield, California, between San Francisco and Sacramento.
Candy Dynamics is asking the court to, among other actions, force Jelly Belly to hand over the profits from its sale of products that use the disputed packaging. That figure, Candy Dynamics' attorney says, could be in the millions of dollars.
In its complaint, Candy Dynamics says it has used what it calls a hazard stripe mark—alternating bars of angled black and yellow stripes—as part of its packaging since at least 2001, and it obtained federal trademark protection for the design in 2015.
Jelly Belly also uses yellow and black striping on the packaging for its BeanBoozled brand, which offers jelly beans in both spicy pepper flavors and gross-out flavors such as "canned dog food," "dirty dishwater" and "booger."
Jelly Belly's use of the striping "is likely to cause confusion or mistake or deceive customers" into thinking the Jelly Belly products are associated with Candy Dynamics, the complaint says.
The Jelly Belly striping is "in our view, identical to ours," said Indianapolis attorney Spiro Bereveskos, who is representing Candy Dynamics in the case. "My client does very well with this product and wants to maintain its distinctive position in the marketplace—doesn't want to have it infringed upon or otherwise watered down."
Bereveskos said the two parties are attempting to reach a settlement, but Candy Dynamics decided to file a suit because progress on an agreement has slowed.
Candy Dynamics alleges that it brought the issue to Jelly Belly's attention in a March 2017 letter, and Jelly Belly agreed to phase out its use of the design.
But instead of doing this, Candy Dynamics said, Jelly Belly made "trivial and insignificant" changes to the design, adding the word "CAUTION!" on top of the stripes and modifying the width of the stripes.
Candy Dynamics is asking the court to find that Jelly Belly's stripe design infringes on Candy Dynamics' trademarked hazard stripe mark, and to permanently enjoin Jelly Belly from using the design.
Candy Dynamics is also asking for damages and costs in an unspecified amount, including Jelly Belly's profits from the sale of products that used the stripe design.
Court records do not indicate that Jelly Belly has selected legal counsel yet, and the company has not yet filed its legal response to the allegations.
A Jelly Belly spokesperson said the company does not comment on pending litigation.•
Please enable JavaScript to view this content.