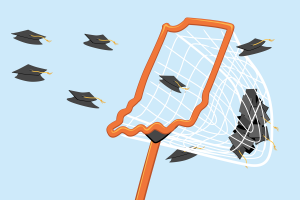 Back in 2020, Andy Ngo was a sophomore accounting major at IUPUI who was slowly realizing he didn't like accounting. So, he tried the online job network created by Ascend Indiana, a not-for-profit established to stem the brain drain of Indiana university graduates who leave the state as soon as they get their diplomas.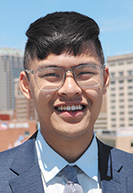 Ngo used Ascend Network, a job platform that includes lists of in-state internships and full-time positions. He opted for a human resources internship at none other than Ascend itself.
"It was such a fantastic internship, it motivated me to change my major to human resources," he said.
It also motivated Ascend to bring him on board full time as a talent recruiter after he graduated. Which meant that, instead of heading out of state for his first job, he stayed in Indiana. It was quite a change of heart. Before tapping into the program, Ngo, who grew up in Terre Haute, pretty much assumed he'd look for greener pastures after graduation.
"I'd always thought about moving to Florida, California or Texas—the biggest states, with more diversity and more job opportunities," Ngo said. "But through Ascend, and through living in Indianapolis for the past few years, I've been thinking that this is a place I want to consider as home."
Founded in 2017, Ascend Indiana's goal has always been to encourage kids like Ngo to think about finding work in their home state rather than decamping to someplace else as soon as they earn their sheepskins. It also encourages Indiana university graduates who hail from other states or countries to do the same.
The plan seems to be working—though on a fairly small scale so far. Currently, Ngo is one of about 2,300 Hoosier students and grads who have found an internship, a job, or both, using Ascend's online resources.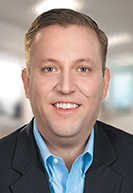 "We like to think of it as an eHarmony for jobs," said Jason Kloth, Ascend Indiana's president and CEO. "We use the eHarmony name very intentionally, because we're trying to gather a lot of data so that we can make good matches."
The program, developed under the auspices of the Central Indiana Corporate Partnership, recently raised $23.8 million that will be used to add staff, expand the program's reach and hone its capabilities. The updated program will be more accessible to students with disabilities and will make a greater effort to serve people of color, first-generation college students and people with lower economic status.
The Ascend Network allows both job seekers and employers to create online profiles, with the help of student mentors and Ascend team members. The updated system will make it easier for students to look for jobs that match their skills, and for employers to actively sift through online profiles for solid candidates and work with Ascend to locate the right applicants.
"In an ideal state, we would have every employer that had internships or jobs available listed," Kloth said. "That's an aspirational goal, but we plan to have several thousand more [employers listed] in the next few years. That's a central part of our growth trajectory—making sure that all of those employers and all of their opportunities are on the network."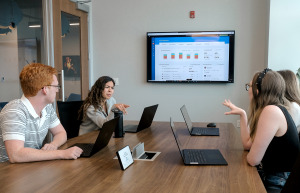 Making the most of data
One of the biggest uses for all those funds the organization recently raised is to use the data Ascend gathers to develop ways to make, say, specific university degrees more enticing to employers, among other possibilities.
"We want to bridge the connectivity gap between employers and talent in our state," Kloth said. "The Ascend Network is the technology platform that addresses connectivity between the job seeker and the employer. The second platform is Ascend Services, which brings together employers, education providers and elected officials to build new programmatic content. The third is Ascend Insights, which is all about research and public policy."
About 600 Indiana-based companies, or companies with a strong Indiana presence, have signed up so far to be a part of the Ascend Network. It also has relationships with every state university except for Vincennes University, along with many of Indiana's private institutions. However, about one-third of the students who've so far found jobs and/or internships came from Indiana University or Purdue University—two schools that were "early adopters."
Those schools recently decided to up their participation by working together to expand their Ascend Network presence.
"It's hard for Purdue to have its finger on the pulse of all the opportunities that might exist throughout the state, and to make those understood by our students," said Steve Able, associate provost for engagement at Purdue. "But Ascend represents the entire state. We feel like this affiliation gives us an infrastructure where communication can be pushed out to our students through channels other than mine, at least at Purdue."
On both the Purdue and IU campuses, the Ascend Network will be offered via the schools' career services offices at no cost to students.
"Even though we already have pretty robust career service offices and placement offices, I think we saw an opportunity through Ascend to really try to ensure that we were doing everything we could to help our students connect with Indiana employers," said Bill Stephan, vice president for government relations and economic management at IU. "Particularly at an earlier point in time, when they're looking at internships or experiential learning opportunities. We saw this as a very helpful addition to the work that was occurring through our core services offices."
The Ascend Network is also planning to increase the lineup of Indiana businesses with a presence on its site. It has room for thousands, of every size—from multinationals to mom-and-pop operations.
Kloth said smaller companies could get a real boost from listing themselves on Ascend, because they could be matched with in-state job prospects who, if left to their own devices, might never know those companies exist.
"Any company can participate at no cost to the employer," he said. "That's a unique value-add, because, if you're a small employer, you're not going to have brand awareness on college campuses. Nor will you have expensive recruiting tools and an extensive talent acquisition team."
Case in point: Copper Mountain Technologies, a small radio-frequency engineering firm in downtown Indianapolis. At the time Ascend first contacted it, the company had fewer than 20 employees and no internship program. In fairly short order, Ascend was able to place several interns, who eventually became full-time employees.
Boosting usage
Ascend Network's biggest potential might be its rivers of data. Already, several universities and large firms have developed specialty programs to either create or locate graduates with highly specific, valuable skill sets.
"For example, we learned by having [the multinational health care company] Roche on the Ascend Network that they need biomedical equipment technicians," Kloth said. "So, we sat down with their team and determined why the problem existed and how it could be solved."
It was solved by creating a custom talent pipeline at the University of Indianapolis called Roche Academy. Students who participate complete a Roche-customized curriculum, do paid internships with the company, receive financial and educational incentives, and get a job offer from Roche upon graduation.
On an even grander scale, the information Ascend collects can be used to influence decisions by communities, institutions of higher education, and politicians about how to attract and retain skilled employees. Or even to help solve seemingly intractable societal problems, such as opioid abuse.
Indiana has a shortage of appropriately trained social workers and counselors who can help opioid abusers. In addition to the job's being very stressful, receiving a license to practice it requires a bachelor's degree, master's degree, and then a practicum.
Ascend built a specialized program that offsets the cost of obtaining the appropriate licensing.
"We built a curriculum with IU and the University of Indianapolis that's focused specifically on treating individuals suffering from substance abuse disorder," Kloth said. "More than 200 people have completed it or are participating in it. What this means for people is very, very real. If you're suffering from an addiction and want help but you can't get an appointment, this could create hundreds of thousands of additional appointment opportunities on an annual basis."
Seeking more partners
Ascend Indiana's employee headcount has grown from three at launch to 45 today, and will go north of 70 in the next couple of years. Of course, that sort of expansion isn't cheap, and the millions the company recently gathered won't last forever. Ascend hopes to bolster its funding via contributions from companies that use its service.
Ascend Network perks include everything from offering students meetings with staffers who can help punch up their resumes to assistance for companies putting together their own pages and job posts.
"This has been the result of a tremendous amount of product research, and focus groups of employers, students and higher education," Kloth said. "To my knowledge, this program is completely unique to the state of Indiana. And we are now at a stage where we're getting a lot of requests from other parts of the country to talk about what we're doing and how we do it."
While IU and Purdue signed on early with Ascend Indiana, other state schools have followed suit.
"Within the last three years, Ball State has increased our level of engagement with Ascend, which shares our focus on helping employers and communities across the state by attracting students to live and work in Indiana upon graduation," said Becca Polcz Rice, vice president for governmental affairs at Ball State University.
Indeed, retaining more of Indiana's college graduates could be of paramount importance in the coming decades, as the number of college-age students begins to decline.
"As our state's college-going rate declines, we must work together as never before to help Hoosiers understand the value of a college education," Rice said. "Our partners, including Ascend, help us to align in a way that helps to more clearly demonstrate that value."•
Please enable JavaScript to view this content.