Carl Fisher joined with other businessmen to create the Indianapolis Motor Speedway in 1909. (Photo courtesy of the Bretzman Collection, Indiana Historical Society)
What Indianapolis resident once supplied virtually every automobile headlight in America, operated the first U.S. car dealership, conceived of what is now the largest sports venue in the world (the Indianapolis Motor Speedway), developed both the Lincoln and Dixie highways, and made multiple fortunes over his life, yet died nearly broke?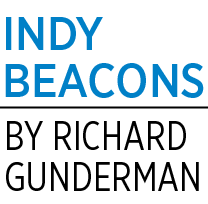 His name was Carl Fisher, and he was born in Greensburg, in 1874. His father left the family when he was young, and Fisher left school at the age of 12 to help pay the family's bills. He sold items on railroad cars, opened a bicycle repair shop, and later became involved in bicycle racing. In 1904, he entered the automobile parts business with partner James Allison, founder of what later became Allison Transmission. They made a fortune manufacturing acetylene headlights.
Partnering with racer Barney Oldfield, Fisher then founded the Fisher Automobile Co., likely the country's first dealership, which sold such makes as Oldsmobile, Packard and Stutz. A master promoter, Fisher moved his merchandise through a variety of stunts. In 1908, he tied one of his cars to a hot-air balloon and floated at 2,800 feet across the city. He landed in Southport, where he was greeted by a crowd that had followed him below on 300 bicycles and 250 automobiles.
In 1909, Fisher joined with other businessmen to create the Indianapolis Motor Speedway. After an early race resulted in numerous crashes, Fisher and his partners installed over 3 million paving bricks to provide a smoother racing service, spawning the nickname "the Brickyard." On Memorial Day 1911, the first Indy 500 was staged, featuring auto racing's first rolling start. Fisher served as IMS president until 1923, when Allison assumed the office.
In 1913, Fisher began promoting the Lincoln Highway, which would stretch 3,400 miles across the continent, connecting New York City to San Francisco. With Fisher chairing the commission, the project signaled a cultural shift from railroads to automobiles as the preferred means of passenger transport. Early motorists required 30 days at an average speed of 18 miles per hour to traverse the route. Fisher also promoted the Dixie Highway, connecting Michigan to Florida.
Fisher is recognized as one of the most important figures in the history of Florida's Miami Beach, transforming what was once swampland into one of the most desirable destinations for the rich and famous. He helped build a bridge across the Biscayne Bay, erected luxury hotels, and ensured that Miami Beach was connected to both the Dixie Highway and Florida's East Coast Railway. Soon, people from all over the country were flocking to South Florida in hopes of getting rich.
Some estimates put Fisher's wealth in the mid-1920s at $100 million ($1.4 billion in today's dollars), but it would soon evaporate. He set about building a "Miami Beach of the North" on Long Island, buying up thousands of acres of land and building luxury hotels. But his properties in Miami Beach were devastated by a hurricane, and the 1929 stock market crash doomed his Long Island project. Fisher was wiped out. His last project was a fisherman's club on Key Largo.
During his salad days, Fisher built an Indianapolis estate on Cold Spring Road, which was completed in 1913. Boasting 12 bedrooms, a five-car garage, an indoor swimming pool and vast gardens, Fisher dubbed it "Blossom Heath." Fisher permanently moved to Miami Beach in the 1920s. The estate was later purchased by the Park School for Boys, then in the 1960s by Marian College.
Fisher died in 1939 in Miami Beach at the age of 65, likely from complications of alcoholism, and he is buried at Crown Hill Cemetery. He was inducted into the Speedway Hall of Fame in 1971 and the Motorsports Hall of Fame in 2018. His ex-wife, Jane, who urged Fisher to retire when he was still riding high in the '20s, later recalled his reply: "I don't have time to take time." He had always said he did not care about the money, but just wanted "to see the dirt fly."•
__________
Indy Beacons celebrates the history of Indianapolis in the year leading up to its May 2021 bicentennial by telling the stories of famous city residents. It appears the second and fourth issues of every month. Gunderman is chancellor's professor at Indiana University.
Please enable JavaScript to view this content.