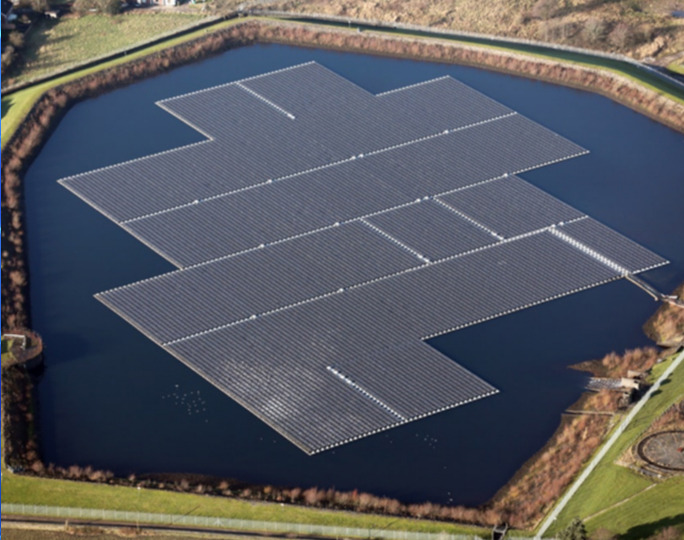 Carmel-based Solential Energy Solutions LLC is looking to be the first to bring a unique form of solar power generation developed in Europe to the Midwest. The solar generation and storage company is partnering with France-based Ciel & Terre to secure floatovoltaic systems, which are solar arrays engineered to float on the surface of reservoirs and treatment lagoons.
Solential President Jim Shaw said the systems are beneficial for municipalities, as well as water and wastewater treatment facilities looking to lower energy costs.
The floatovoltaic systems also are attractive to potential customers who don't have space for a traditional array, he said.
"There were areas that we could not use, ground-wise," he said. "There wasn't enough roof space. So, this presented an opportunity to use an area that they look to as only expense. So now, just like a roof or a parking lot, we're converting these [water] areas into energy cost reductions."
In the Midwest, wastewater treatment facilities have shown the most interest in implementing floatovoltaic systems, Shaw said. Solential is currently in final negotiations with a major Midwestern city to install the region's first system, but that city cannot be named until the deal is finalized.
"There is a lot of usage when it comes to consumption of power, when it comes to all the necessary things to clean water. So, absolutely, there's a good mix of need and solution," Shaw said.
The floatovoltaic system uses a pontoon-type structure made of polycarbonate plastic filled with air with racks of solar panels sitting on top.
Solential says solar energy can save water and wastewater treatment facilities up to 50% on their energy bills, but by having solar panels installed over water, the savings could be as much as 10% more because the water cools the solar panels, which leads to increased energy production.
Additionally, the company said the shade caused by the solar panels helps the water by slowing evaporation and inhibiting the growth of algae.
Shaw said the decision to partner with Ciel & Terre was an easy one. The company commercialized the floatovoltaic technology in 2011 and has since installed more than 240 systems in 30 countries.
"We felt like they had a good product. We vetted them through our knowledge of the industry, of deployment and warranty and ease of use, time to install and so, we have a criteria that we went through," he said. "They really worked with us on coming up with both an anchoring system to the pond and the float/racking system that we felt would be best for the client."
Weather permitting, Solential aims to begin deploying the first Midwest system around April.
Please enable JavaScript to view this content.