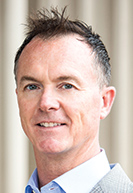 Carmel-based enVista plans to sell a portion of its business to Hamburg, Germany-based technology company Körber, a deal that will shift 400 of enVista's 850 employees—including its cofounder and CEO Jim Barnes—to Körber.
The companies made the announcement Thursday, and the deal is expected to close Sept. 1. Financial terms were not disclosed.
Körber has signed an agreement to purchase enVista's Enspire Commerce retail platform and its global freight audit and payment services business.
In a prepared statement, enVista said the divestiture will allow it to "strategically focus on fast-tracking growth plans for its global supply chain consulting, IT managed services, Microsoft, robotics and automation solutions, while giving enVista's commerce and transportation offerings a broader software platform and ecosystem for accelerated growth at Körber."
Currently 168 of enVista's 850 employees are assigned to the company's Carmel headquarters. Of those 168, 78 will become Körber employees once the deal closes.
EnVista has experienced significant growth since Barnes and John Stitz started the firm in 2002 as a two-person operation with first-year revenue of $1.4 million.
When IBJ profiled enVista in 2018, about half of the company's $100 million in annual revenue came from retail customers, who used the company's technology to manage their in-store point-of-sale systems, e-commerce, inventory and customer information from a single platform.
By 2018, enVista had more than 1,000 customers, revenue of $100 million and 535 global employees. The company now has more than 2,600 global clients and is targeting $185 million in annual revenue this year.
In both 2015 and 2018, enVista made it on IBJ's Fast 25 list, which recognizes some of the area's fastest-growing privately held companies.
"It has been one of the biggest joys and privileges of my life to grow enVista alongside some of the most talented and innovative associates and clients in the industry," Barnes said in a written statement. "I am immensely proud of the global software and consulting enterprise we have built and the exceptional results we have consistently delivered together over the last 20 years."
After the deal closes, Barnes will be among the 400 enVista employees who will transition over to Körber. He will also remain an owner of enVista and will be a member of enVista's board of directors.
Stitz, who currently serves as enVista's chief revenue officer, will become the company's CEO.
Körber, which was founded in 1946, has some 12,000 employees at more than 100 locations around the world. The company will acquire enVista's offices in India, Canada, the United Kingdom, Singapore and Australia, as well as a portion of its Carmel headquarters. EnVista will retain a development and operations presence in India.
Please enable JavaScript to view this content.