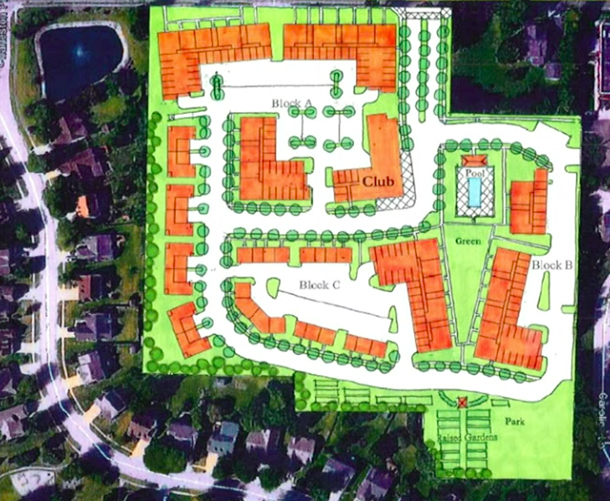 Carmel-based developers Hageman Group and J.C. Hart Co. are hoping to redevelop a neighborhood near downtown Fishers with a $36 million multifamily real estate project called Maple Del.
Hageman and J.C. Hart on Monday introduced plans to the Fishers City Council to replace 16 single-family homes near Maple Drive and East 115th Street with a 190-unit neighborhood made up of three-story apartments, three-story town houses and two-story duplexes.
Council members weren't immediately convinced by the large number of proposed rental units and the developers' request for $6.1 million in tax increment financing, so a majority voted to reconsider the proposal in 30 days.
"One of the things I think we need more of in our community is smaller homes," Council member Celina Coble said. "We've put in a lot of rental product recently. I'd rather see a smaller home-ownership (project) that could fit there, instead of a rental project."
Megan Baumgartner, director of economic development for Fishers, said the 10-acre area just west of the Fishers Town Commons commercial strip along 116th Street has been slated for redevelopment for years due to the homes' larger lot sizes. The developers have been putting homes in the 17-lot neighborhood under contract for more than a year.
Tom Dickey, managing director of real estate for Hageman, said his company held more than 20 meetings with city officials to come up with an appropriate project that fits with the neighboring residential areas and the higher-density Nickel Plate District.
"We left here a lot of times with our tails between our legs, saying we missed the mark," he said. "It was a humbling process, but one we're proud of today due to this result."
Current designs for Hageman and J.C. Hart's Maple Del neighborhood call for 164 apartment units, 18 town houses and eight paired-patio homes, or duplexes. The property would calls for 352 parking spaces spread across the homes' covered garages, surface lots and on-street parking.
"It's a very residential, village-like feel," Todd May, J.C. Hart's vice president of development, said. "We wanted to bring something very traditional, rich-like in architecture that had a lot of those urban-village qualities."
Baumgartner said additional greenspace and tree cover on the south side of the project aims to respect the existing, lower-density neighborhoods. Design plans show that area could be filled by raised garden beds and a park. Maple Del plans also include a neighborhood pool and a clubhouse.
May said rental rates at Maple Del would be amount to $1.48 per square foot, similar to those nearby at The Depot at Nickel Plate and The Mark at Fishers District luxury apartment complexes. J.C. Hart has developed several other properties in Fishers, including The District at Saxony, The Hamilton and Beachside at Saxony developments.
In addition to requesting $6.1 million in developer-backed bonds, which would be paid by the project's increase in assessed value over the next 25 years, Hageman and J.C. Hart asked that the city's impact fees be waived.
Council member Brad DeReamer, a real estate broker, said he had a problem with waving the impact fees.
"It doesn't make sense to me as an entrepreneur, as the little guy. I've got to pay it, but—sorry to call you out Tom—but the big guy [pays] zero," DeReamer said. "We need the money inside the city for our parks and our roads. I have a problem with any fees being waived. That's what we bring in from developers to help keep our real estate taxes down."
Please enable JavaScript to view this content.