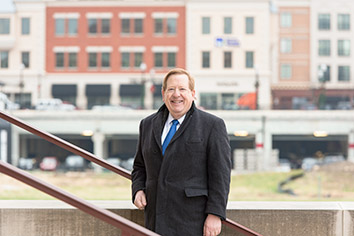 Carmel Mayor Jim Brainard is getting a raise as he heads into his final year in office in 2023.
The Carmel City Council on Monday night voted 8-0 to approve a 5.99% salary increase for Brainard and for City Court Judge Brian Poindexter, Clerk Sue Wolfgang and the city council.
The raise will increase Brainard's annual salary from $157,848.08 to $167,318.84.
Poindexter's salary will increase from $138,884.98 to $147,217.98, and Wolfgang's pay will increase from $116,390,04 to $123,373.38.
Each city council member's paycheck will increase from $22,344.66 to $23,685.22.
All Carmel elected officials who are in office as of Feb. 4, 2023, will also receive a 2% inflation bonus.
Monday's ordinance also provides Brainard with a leased vehicle for personal and/or business use with no limit on annual mileage, or a monthly stipend of $600.
Brainard, 68, announced on Sept. 13 that he will not seek an eighth term as mayor in the 2023 municipal election. His term will end Dec. 31, 2023.
Carmel City Council President Kevin "Woody" Rider announced on Sept. 20 that he will run for mayor. No other candidates have publicly announced their intention to seek the position.
Please enable JavaScript to view this content.