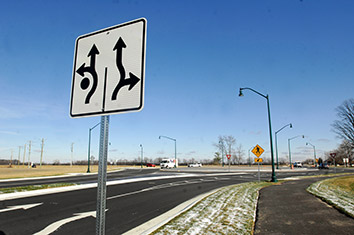 The City of Carmel—already the self-proclaimed "Roundabout Capital of the United States"—on Monday released a list of 11 intersections where it plans to build additional roundabouts over the next two years.
Many of the projects have been previously announced but have been added to the construction schedule beginning this summer and continuing through 2021.
The city also said it plans to repave Keystone Parkway and extend Range Line Road from City Center Drive to Elm Street. The extension will include a new Walnut Street (or 6th Street) roundabout.
Planned roundabouts:
– Carmel Drive and Pennsylvania Street
– 96th Street and Haverstick Road
– 116th Street and Guilford Road
– 116th Street and College Avenue
– 111th Street and Westfield Boulevard
– 111th Street and Lexington Drive
– Illinois Street and Zotec Drive
– Walnut Street and Range Line Road
– 116th Street and Range Line Road
– Medical Drive and Range Line Road
– 111th Street and College Avenue
Carmel said three of the roundabouts are being funded by Clay Township. The remainder are being paid for from other sources, including the city's engineering budget, federal highway sources and bonds previously issued by the city. The city said no new bonds have been issued for the projects.
More information will be provided about the start dates, closures and detours for each project in the future, the city said.
With at least 128 roundabouts, Carmel has more roundabouts than any other city in the United States. The city prefers roundabouts over traffic lights because studies show they decrease serious accidents.
Carmel's five-year average fatality accident rate in 2019 was just 2.136 per 100,000, the city said, compared to 11.585 in Indianapolis, 16.756 in Anderson, 11.358 in Ft. Wayne, 20.379 in Kokomo and 30.058 in Columbus.
Please enable JavaScript to view this content.