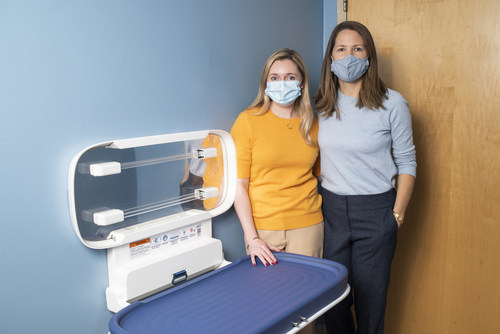 A Cathedral High School graduate has co-founded a startup that makes a product that will make perfect sense to any new parent: the world's first self-sanitizing diaper-changing table.
Pluie, both the name of the table and the Chicago-based company, was founded in 2020 by Brittany Hizer and Addie Gundry. Hizer, an Indiana native and also a 2004 graduate of DePauw University, says the table uses two UVC lightbulbs to deactivate viruses and bacteria.
"These two UVC lightbulbs sanitize the changing surface," Hizer said. "You change your child, you close the table, the light system is triggered on, and then sanitizes within a 60-second cycle."
The company has been installing the tables at locations throughout Indiana, including Conner Prairie in Fishers, the first museum in the country to use the product.
Hizer's career has included designing premium treadmills, cross-trainers and exercise bikes found in health clubs and fitness centers around the world. She also was the president of Crestliner Boats, one of 14 brands which comprise the Boat Group of Brunswick Corp.
She received an MBA from Northwestern University's Kellogg School of Management in 2018. After leaving the corporate world, she was introduced to Gundry, a professional chef who also had a young son.
"(Gundry) had the idea in 2018 when she was changing her son in a public restroom for the first time," said Hizer. "She was really surprised how uncomfortable, inconvenient and unsanitary it seemed and just thought there's got to be a better solution."
The company spent the last year introducing Pluie into the market and installing the first units.
"Diaper changing stations were invented in the 1980s," Hizer said. "So instead of placing your baby on a hard, plastic surface you change your child on a nice foam cushion that's leak proof. The handles are multi-purpose, you can place your purse or diaper bag on the handle instead of the bathroom floor."
Pluie now has 75 tables installed throughout the U.S.
Hizer says the company is partnering with a contract manufacturer to start assembling Pluie in Wisconsin and is preparing to kick-off its next round of seed funding.
Please enable JavaScript to view this content.