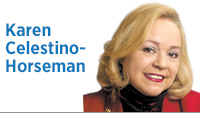 As of this writing, Russia has its nuclear forces on alert, its stock market is closed for a second day, and the ruble is in free fall. By the time you read this, Russia might have taken over Ukraine.
Certainly, at some point, we and the rest of the world are going to have to consider what will be done if Ukraine is swallowed by Russia. China has yet to condemn Russia's invasion of Ukraine, and its own desire to take over Taiwan is known. If China perceives that the price paid by Russia is small in comparison to what it might gain, that will not bode well for Taiwan.
History has taught us that power-hungry dictator-equivalents do not stop with appeasement. In March 1938, Germany absorbed Austria and Adolph Hitler turned his gaze to Czechoslovakia. Hoping appeasement would calm Germany, participants at the 1938 Munich Conference (Germany, Great Britain, France and Italy) transferred Sudetenland, which was part of Czechoslovakia, to Germany. Germany was not calmed and, as we know, Hitler continued to move forward, gobbling up chunks of Europe.
There is one major difference between 1938 and now that overshadows the events of today—dependence on computer technology and nuclear weapons. Victors of war will no longer be determined by the number of troops, the number of planes in the air or the number of battleships on the sea. The weapons of today are nuclear and cyberattacks upon our institutions and our infrastructure. Nine countries hold all 13,000 nuclear weapons in existence. The soldiers with the most powerful weapons are those sitting at computers. Troops on the ground will be the prelude to the worst that might come.
We need allies, and we need to work and think globally. The U.S. sanctions are hurting Russia and Putin because major financial institutions around the world are working together to stop the movement of Russian money. NATO and the United Nations means the United States will not be pushing ahead alone. We are lucky to have a president who can work with our allies.
In World War II, the Greatest Generation was great because people put patriotism before all else. A major political party tweeted that President Biden is in a "weakened position." Unfortunately, it is not the first tweet of its kind since the Russian attacks upon Ukraine began. Well-known elected officials of the same party are on social media with similar messages.
Putin must be delighted by the attacks upon Biden. It is much easier for an enemy to break through when Americans are busy throwing punches at one another rather than standing shoulder-to-shoulder like the Greatest Generation.
Now is not the time to attempt to push Biden over the political edge as we stand on the precipice of an international disaster that could endanger the future of humankind around the world. Stop the specious attacks like those claiming the president has made us dependent upon Russian oil. The United States is the largest consumer of oil in the world, yet Russia provides only 6.6% of our daily consumption. We are hardly dependent upon Russia's oil.
Use social media to let Russia know we are the greatest country on Earth because, like a family, while we might at times disagree, we stand together as Americans.•
__________
Celestino-Horseman is an Indianapolis attorney. Send comments to ibjedit@ibj.com.

Click here for more Forefront columns.
Please enable JavaScript to view this content.