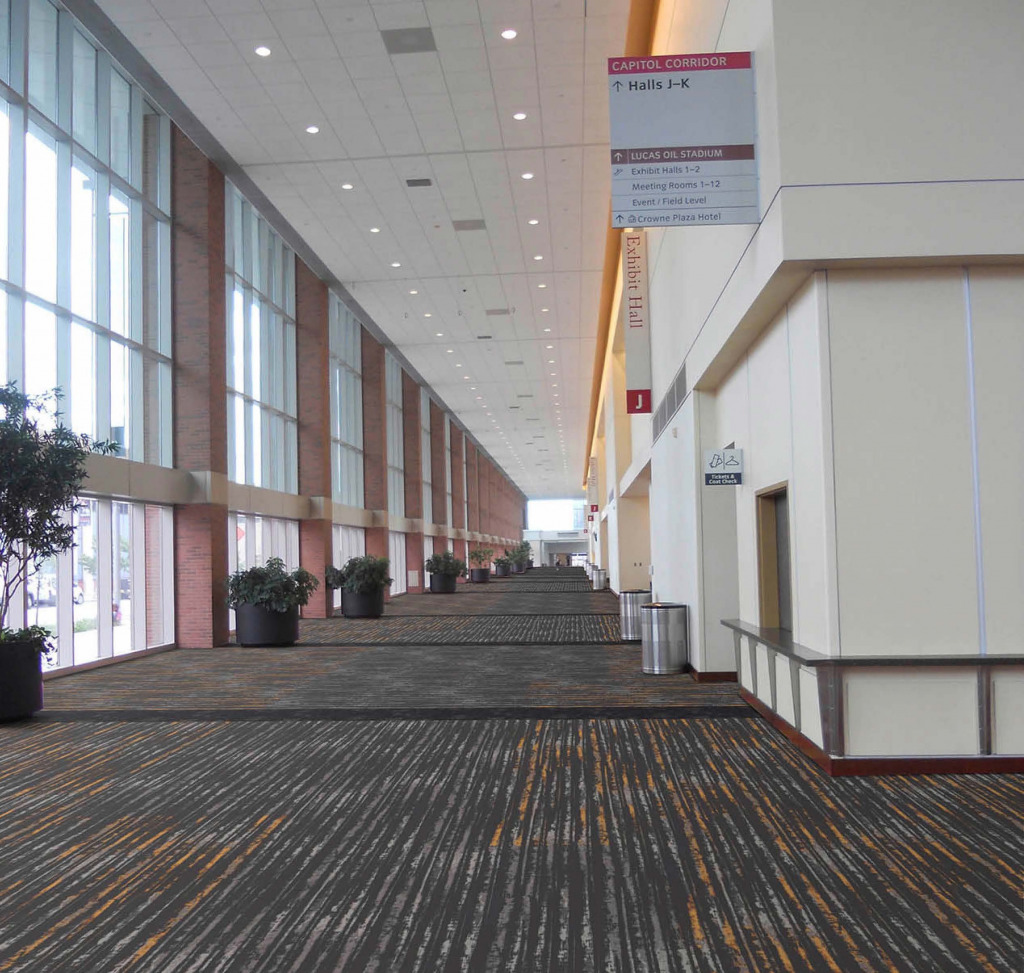 The Capital Improvement Board of Marion County has authorized $3.7 million in spending to replace the carpeting in the Indiana Convention Center next year for the first time in more than a decade.
The move will see the carpeting go from a mix of green, gold, maroon and orange to a more contemporary black and gray design with splashes of gold and blue. The new carpeting will be installed throughout the facility's public spaces, including hallways, ballrooms and meeting rooms.
The CIB expects installation to begin in June and to be finished by the end of the year, a spokesperson told IBJ. More than 500,000 square feet of carpeting is expected to be replaced as part of the project.
The new carpeting should last at least seven to nine years, although the current floor covering has lasted for 11 years and convention center officials are hopeful that performance can be matched with proper maintenance.
The CIB has contracted with Chicago-based carpet installation company Diverzify+ LLC for the project, with a total contract amount of just under $3.71 million. The contractor will use Milliken's Vision Lab line of products for the project.
Facility officials have sought to replace the carpeting for more than three years, with the CIB voting in 2019 to approve spending on the project. But those plans were put on hold due to the pandemic, along with several other improvement projects throughout the convention center.
The CIB's budget for capital projects in 2022 is about $51.6 million, more than triple the figure from 2021. That number included allocations for video board replacements at Lucas Oil Stadium and a contribution for the Gainbridge Fieldhouse Plaza. The carpet project was expected to cost $8 million—more than double the amount the board now expects to spend.
In 2023, the CIB expects to spend about $19.5 million on projects across its facilities. Last week, it also approved about $5.7 million to replace the video production system at Gainbridge Fieldhouse as part of an existing agreement with Pacers Sports & Entertainment.
Other projects on the docket for 2023 include:
– $3.3 million for information technology upgrades, including replacements of closed-circuit TV and phone systems;
– $3 million for lighting and elevator/escalator maintenance and improvements;
– $3 million for parking garage maintenance.
Please enable JavaScript to view this content.