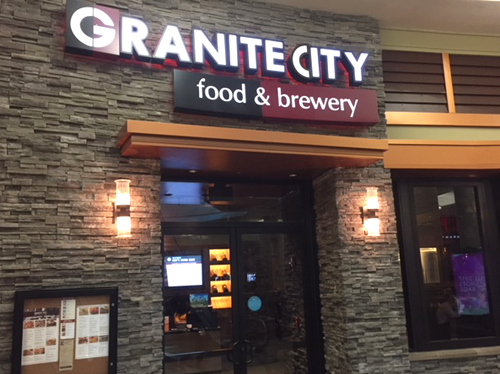 The owner of Circle Centre has filed suit against Granite City Food & Brewery following the restaurant operator's abrupt departure from the downtown shopping center in late August.
In a suit filed Wednesday, Circle Centre Mall LLC says Granite City defaulted on its lease for the 9,603-square-foot ground-floor space it occupied in Circle Centre and owes the mall owner more than $1.2 million.
Minneapolis-based Granite City Food & Brewery Ltd. operates 31 restaurants in 13 states under the Granite City name and another four restaurants in four states under the Cadillac Ranch All-American Bar & Grill brand. It opened its Circle Centre restaurant in mid-2012.
According to the suit, Granite City failed to pay monthly rent and meet other obligations under terms of the lease. The suit does not specify how long Granite City failed to make payments before quietly closing on or around Aug. 21.
A lease document that accompanies the suit says Granite City's lease was effective through June 30, 2023.
It's not the first time Circle Centre has filed legal action against the restaurant company.
In October 2017, the mall sued Granite City in Marion Superior Court, claiming the company owed $67,652 in back rent. When it signed a 10-year lease at the location in June 2012, Granite City agreed to pay $17,500 in monthly rent for the first five years, and $18,454 per month for the next five.
The case was dismissed without prejudice in March 2018.
The company's most recent financial report paints a picture of a company in financial distress.
In the report, the company said it is in default to creditor Citizens Bank and has failed to make all principal payments and most interest payments on its debt with the bank since March 31, 2018.
Granite City also said that its board is "actively exploring strategic options" to improve its financial liquidity, including a possible sale or restructuring, and has hired an investment banking firm to help it explore its strategic and financial alternatives.
For the 26-week period ending June 25, the company posted a loss of $4.3 million on revenue of $65.4 million. During the same period a year earlier, the company posted a $1.8 million loss on revenue of $68.8 million.
Officials at Granite City's Minnesota headquarters did not respond to a phone message left by IBJ late Friday morning.
Granite City has three remaining restaurants in Indiana—in Carmel, Mishawaka and Fort Wayne. At one time Indianapolis had a Cadillac Ranch, in Union Station, but it closed in November 2017.
Please enable JavaScript to view this content.