Pre-construction work on a pair of parking garages at the Community Justice Campus begins Wednesday, a day after a city board awarded the $38 million contract to a three-company team of major players in the Indianapolis construction scene. The amount is subject to further negotiation, but is expected to be finalized next month.
Officials running the justice campus project recommended the city's Public Health and Safety Board choose the proposal from Garmong Construction Services, F.A. Wilhelm Construction and Harmon Construction because of its cost, financing, construction methods and its plan for hiring minority-owned  subcontractors.
The construction team's $38 million proposed contract was the lowest of two finalists' bids. Its financing terms were "reasonably advantageous for the city," and the cast-in-place construction method was good for design flexibility and long-term maintenance, said Scott Chinn, a partner at Faegre Drinker Biddle & Reath and outside counsel for the justice campus project.
As part of the contract, the corporate team will build and finance a 1,000-space garage slated to serve an office building in development by Browning Investments, as well as a 300-space garage to serve court staff. A pedestrian bridge, which will run over Pleasant Run Creek, is also part of the project.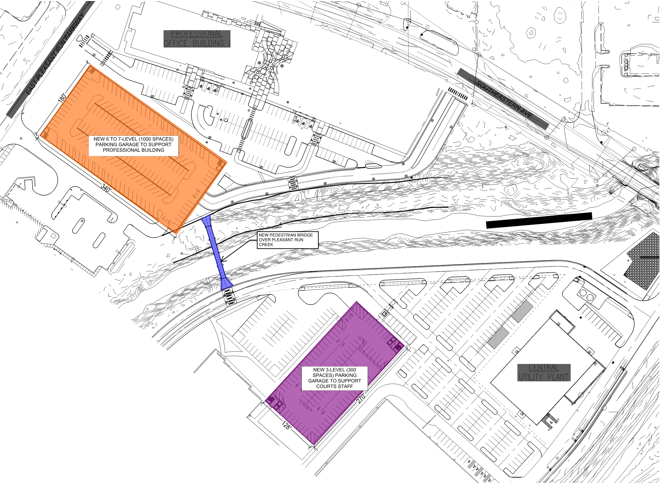 The team will bear the upfront costs in the build-finance-transfer contract. Indianapolis will make annual or semi-annual payments throughout construction, followed by a balloon payment afterward to fully acquire the garages, according to Sarah Riordan, Mayor Joe Hogsett's designee for justice campus project management. Riordan is also executive director and general counsel for The Indianapolis Local Public Improvement Bond Bank.
The contract doesn't initially require City-County Council approval, Riordan said, but eventually would if the city needs to issue debt for the balloon payment.
The board approval cleared the way for a notice to proceed Wednesday, allowing the team to work on planning, subcontracting and other logistics, Riordan said. The contract terms—including the price tag—are expected to be finalized by mid-October.
Denison Parking will manage the garages.
About 2,000 surface parking spots on the justice campus, largely free, are already nearing completion.
Indianapolis wants the Community Justice Campus to serve as a one-stop shop for most things involving local law enforcement and criminal justice. Its core buildings—a new courthouse, jail and Assessment and Intervention Center—are expected to cost $590 million, but buildings for other agencies will add millions more. The AIC opened in December 2020, and the rest of the core is expected to open early next year.
Please enable JavaScript to view this content.