The city of Indianapolis is looking at whether it can secure $72 million in funding for a long-planned Decatur Township road project that supporters say would spark economic activity along one of the county's least-developed corridors.
The 3.6-mile project known as Decatur Direct would connect Ameriplex Parkway with Southport Road, following a path that would include both new road construction and upgrades to existing roads between Kentucky Avenue and the White River. Portions of the proposed route skirt residential areas, but much of it traverses land that's now agricultural or undeveloped.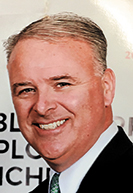 To date, the city has paid engineering firm DLZ Corp. $1.1 million for preliminary planning, including cost estimates and the selection of a preferred route. Columbus, Ohio-based DLZ presented its findings at a public meeting this month, and now it's up to the city to decide whether it can afford to move forward with the project.
Decatur Direct would be the largest new-construction road project the city has undertaken since Ameriplex Parkway, which was built from 1997 to 2003 in the AmeriPlex industrial park south of the Indianapolis International Airport.
"The next steps are really for us to sort of put pen to paper and figure out, how do we cobble together the financing?" said Dan Parker, director of the Indianapolis Department of Public Works. "Building a new road takes a lot."
Because of the size of the project, Parker said, the city will seek to tap multiple funding sources that could include federal funds, a bond sale and tax-increment financing. "There's all kind of different things that we may have to look at."
Another option would be to build the project in phases over multiple years rather than all at once, he said, though that option would likely cost more overall.
According to the schedule laid out by DLZ, right-of-way acquisition would take about two years followed by two years of construction, and the entire project could be done in late 2025.
Parker called that timeline "pretty aggressive," saying it is built on the assumption that the project has funding in hand.
He said the city will spend this year examining its funding options and deciding whether to proceed.
DLZ's design shows roads with two lanes in each direction, a landscaped median in some areas, plus sidewalks and bicycle/pedestrian paths. Maximum speed limits would be 40 mph in nonresidential areas and 35 mph in residential areas.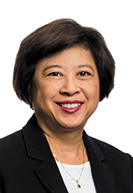 The current thoroughfares between Kentucky Avenue and Southport Road are generally narrow two-lane roads with little to no shoulder.
DLZ's preferred route would include potential relocations of six homes and involve a total of 102 acres of new right-of-way, though the exact impact on specific parcels is still being worked out.
It's also uncertain yet whether the route would include roundabouts at intersections.
"As we zero in on the details over the next six months or a year, we will have a much better idea," said Decatur Direct Project Manager Cris Klika, an engineer in DLZ's Indianapolis office.
If the project does happen, observers say it could boost development in Decatur Township.
One obvious outcome: The project would create wider access to the south end of the 1,500-acre AmeriPlex industrial park, developed by South Bend-based Holladay Properties. Currently, the southern portion of Ameriplex Parkway ends at Kentucky Avenue.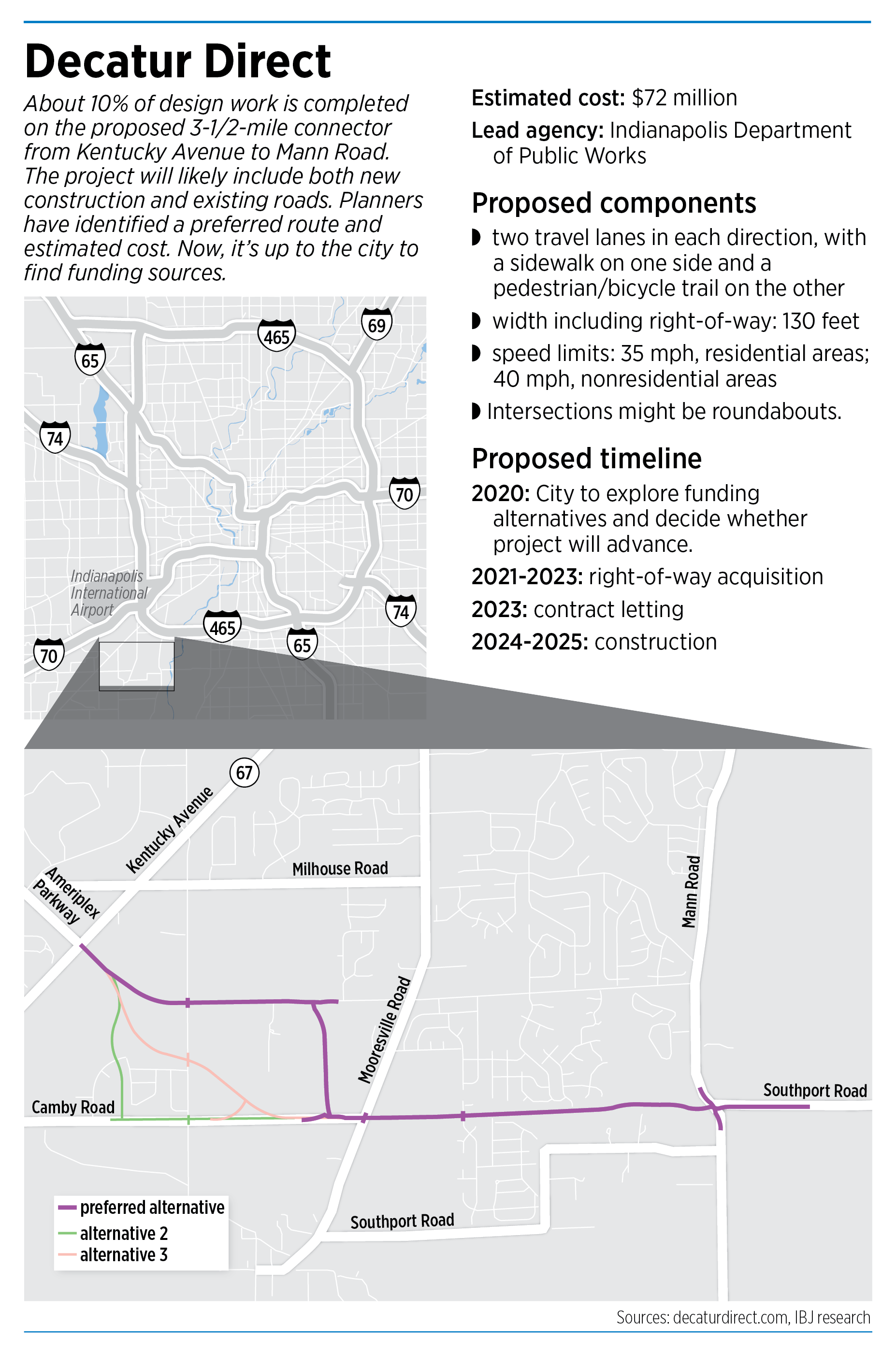 "We view it as a very, very positive development for the community," said David Holt, Holladay Properties senior vice president of development and community affairs. "It'll help open up Decatur Township."
Most of AmeriPlex is in Decatur Township. Holt works in Holladay's Indianapolis office.
The project also could spur other types of development in the township, which is bordered by the White River on the east and the Marion County line on the west and south. The area north and west of Kentucky Avenue/State Road 67 includes both AmeriPlex and part of the airport, but the other side of the highway is largely a mix of rural and residential.
"It's really kind of an island in a lot of regards," said Indianapolis City-County Councilor Jason Holliday, a Republican whose district lies partly in Decatur Township. "Decatur lacks some support and resources, particularly retail development, to support the community."
As one indication of the area's lack of commercial activity: In 2017, the most recent year for which data is available, only 40 commercial building permits were issued for Decatur Township projects—the lowest in Marion County.
In comparison, Franklin Township had the second-lowest number, at 67. Center Township, which includes downtown, had the most—536, according to data from the Polis Center at IUPUI.
Holliday said he's hopeful Decatur Direct would spur additional retail and service businesses—maybe restaurants, dry cleaners, a barber, nail salon or day spa.
He thinks the area also needs housing options for empty-nesters as well as entertainment options for youth—maybe a movie theater or skating rink.
Larry Gigerich, executive managing director at Fishers-based economic development firm Ginovus LLC, said large-scale retail development like a big-box retail project is "definitely not very likely to happen," given the current landscape for brick-and-mortar retail.
But smaller retail projects like strip centers with five or six tenants are a realistic possibility, Gigerich said. He also said flexible office space—maybe for use as a call center or customer-service center—could be a good fit.
"It's one of the few places left [in Indianapolis] where there's still an abundance of land that can be developed," he said. "It creates a real opportunity, for sure."•
Please enable JavaScript to view this content.