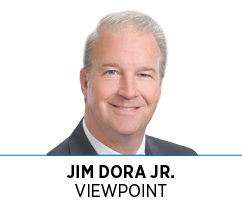 I fear our city and our economy are at a tipping point.
Our COVID-related quarantine, combined with violent destruction throughout the Mile Square, has decimated our national, state and local economies while businesses at every level shutter their doors due to pressures not experienced since the Great Depression.
For Indianapolis to return to economic normalcy, we must work harder than ever to mend our differences, address long-neglected problems and coalesce around an inclusive, strategic plan for renewed growth.
My family has been in the hospitality business for more than 50 years. Our company, General Hotels, has grown as the city and state have grown. In normal times, we employ more than a thousand people and serve tens of thousands more every year.
Indianapolis is a convention city, and the people who make the decisions where to hold conventions are watching us. They have so many options; we need to make sure Indianapolis remains one of them. If not, we will have entered the winter of our economic discontent.
Looking back through the past several decades, Indianapolis' response to severe economic crises has brimmed with confidence. We as a city and a people don't shrink from challenges; no, we face them decisively and boldly.
In the mid-1970s, when the economy was reeling from energy and political turmoil, Mayor Richard Lugar built Market Square Arena and brought the Indiana Pacers downtown. When Mayor Bill Hudnut decided to build the Hoosier Dome in the early 1980s, interest rates and unemployment were both above 10%. It was during the Great Recession that Mayor Greg Ballard launched Rebuild Indy and poured hundreds of millions of dollars into local infrastructure.
To recover from our current economic crisis, we will need this same level of boldness and investment. A strategic approach, rooted in positivity and fueled by the brilliance and talent of our fellow Hoosiers, will bring people back to our hotels, restaurants and gathering places.
Concomitantly, we are witnessing an assault on our shared spirit of community that only a profound crisis can create. The history of modern Indianapolis, while certainly not perfect, is a history of linking both hearts and hands to create one of the most uniquely welcoming cities in the world.
As a reserve IMPD officer for nearly 30 years, I have seen innumerable acts of kindness among my fellow Hoosiers. One of the reasons I became a police officer was because I wanted to serve the greater community; the vast majority of interactions with my fellow citizens have been kind, calm and cordial.
The peaceful protesting and dialogue we witnessed during the last week in May truly gives me hope. We cannot turn a blind eye to injustice, nor can we close these same eyes and hope it will go away.
Looking to the future, we also cannot fail to provide the critical leadership that will spur economic growth while addressing the inequities articulated during this time of discussion and reflection.
Quite simply, we must have action.
Our current turmoil doesn't define us, and neither will it deter us. I am hopeful that we can all convene with confidence as one so we can continue to prosper as a city.•
__________
Dora, a reserve IMPD officer since 1991, is president and CEO of General Hotels Corp. and a member of the Capital Improvement Board and the Visit Indy board.
Please enable JavaScript to view this content.