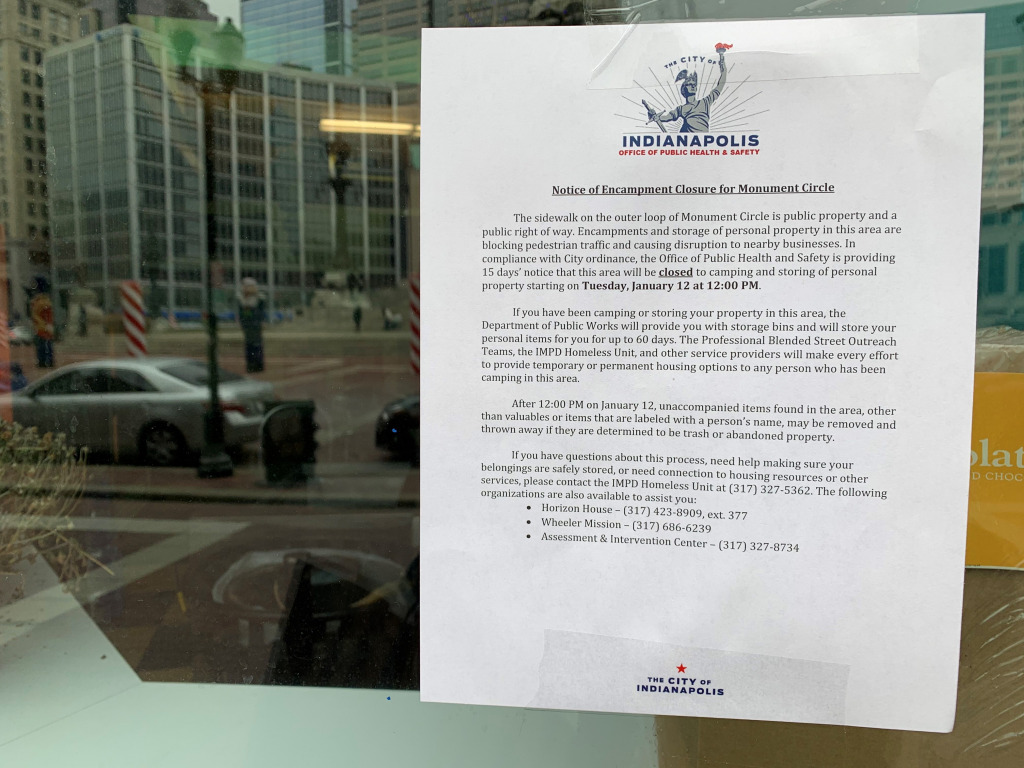 The city's Office of Public Health and Safety is closing Monument Circle to homeless encampments, giving residents who've been sleeping and living in and around the monument until Jan. 12 to clear their personal items from the area.
The move comes as nearby business owners have complained for months about an increase in homeless activity around the Circle. It also comes as homeless shelters have seen an increase in the number of people seeking emergency shelter.
On Monday, the city posted notices around Monument Circle alerting residents to the deadline. The notice states that the sidewalk on the outer loop of Monument Circle is public property and a public right of way and that starting at noon Jan. 12, the area will be closed to camping and storage of personal property.
Mark Bode, deputy communications director for Mayor Joe Hogsett, said the impetus behind the notice is that "encampments and storage of personal property in the Circle are blocking pedestrian traffic and causing disruption to nearby businesses."
The city's Homeless Bill of Rights ordinance requires the city to give homeless residents 15 days' notice before displacing them from a camp. It also requires the city to store their belongings for 60 days and connect people with services.
The notice states that the Department of Public Works will provide the homeless with storage bins and will store their belongings for up to 60 days and that the Professional Blended Street Outreach Teams, the IMPD Homeless Unit and other service providers "will make every effort" to provide temporary or permanent housing options to anyone who has been camping in the area.
After noon on Jan. 12, unaccompanied items found in the area—other than valuables or items that are labeled with a person's name—can be removed or thrown away if they are determined to be trash or abandoned property.
Please enable JavaScript to view this content.