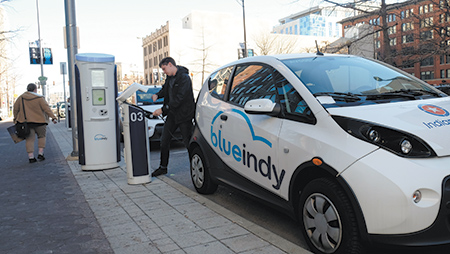 The city of Indianapolis will have up to 90 days after Blue Indy ceases operations to decide whether to purchase the electric-car-sharing service's assets, which means it could be August before the fate of the service's charging stations is clear.
Last month, Blue Indy announced it was pulling the plug on its Indianapolis fleet, just more than four years after launching in the city in September 2015.
The company said it would remain in operation until May 21, but would gradually reduce the number of cars it has operating beginning in March.
As of August, Blue Indy had 92 stations and 200 cars across the city, including at the airport and some of the universities. Many of them are downtown and some are in neighborhoods.
Thomas Cook, Mayor Joe Hogsett's chief of staff, told media Wednesday morning that the city will have a 90-day period after Blue Indy is done operating to determine whether it will exercise a purchase option for assets as laid out in an agreement with the company.
The contract requires the city to pay the "fair market value" for the assets, which would be determined through two or more appraisals.
Cook said while Blue Indy's decision to cease operations was not shocking to city officials, it did come with no warning. For now, the city is focused on meetings with key stakeholders before making any decision, he said.
If the city chooses not to purchase the stations, Blue Indy would be required to remove the assets.
Blue Indy and its charging stations have created some controversy in Indianapolis. Besides questioning a city investment of $6 million in the service, some critics took issue with the amount of prime public parking Blue Indy stations and cars took up for the charging stations, especially downtown.
In return for its $6 million investment, Blue Indy promised to share profits with the city—once its own $40 million investment was recouped and Indianapolis Power & Light recovered 125% of the more than $3 million in ratepayer hikes that made the charging stations possible. IPL initially filed a $12.3 million cost-recovery request to pay for installations but the request was denied by the Indiana Utility Regulatory Commission.
The Blue Indy deal was reached at the end of former Republican Mayor Greg Ballard's administration and spurred a lawsuit from the Marion County auditor, a Democrat, that was eventually dismissed.
The service for years struggled to reach membership goals.
When the Paris-based company backed by French billionaire Vincent Bollore launched in Indianapolis, it predicted that it would be operating profitably by this year, with at least 15,000 members, 200 stations and 500 cars. As of August, it had just 3,000 active members.
Please enable JavaScript to view this content.