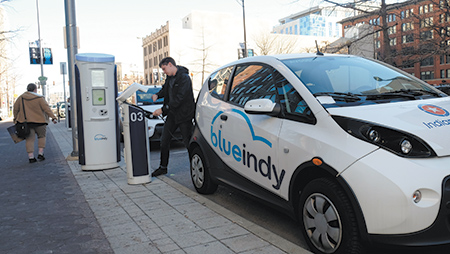 The city of Indianapolis will not exercise its option to purchase the assets of BlueIndy, Mayor Joe Hogsett's administration announced Monday.
After issuing a request for information and performing an infrastructure analysis, the city said it found that the existing charging stations "perform at a level below what is considered viable for reuse" and that the "established connections to power offer numerous possibilities for reuse of the locations on a case-by-case basis."
Instead of purchasing the BlueIndy charging stations, the city said it would "embark on a thorough public engagement process" to invite resident input on the ideas proposed through the RFI through neighborhood engagement, surveys and site-based information gathering.
The city received 21 responses to its RFI, and only one suggested reusing the existing charges, said Mackenzie Higgins, lead policy director for Mayor Joe Hogsett.
Most of the responses instead called on using the existing underground infrastructure (the electric and communication lines installed by Indianapolis Power & Light). Some ideas proposed included public charging for scooters and electric bikes, public charging for electric vehicles, shared transit services (such as car sharing services to connect existing public transit to underserved areas of the city) and placemaking.
The public engagement process is expected to begin next month and last through the end of the year. Then, the city will develop plans for future uses at each site and issue a request for proposals for specific concepts in early 2021. It's likely there will be multiple concepts deployed to ensure the best use for each site.
Implementation is expected for fall 2021.
There are 80 charging stations in the public right of way throughout the city and nine on private roadways, such as at the airport and at universities.
The decision comes months after Republican members of the City-County Council in March proposed a resolution asking the city to waive its option to buy the assets and return the spaces that BlueIndy cars once occupied to public parking. The proposal was turned down by the majority-Democrat council.
Thomas Cook, the mayor's chief of staff, said the administration is not interested in reverting all the spaces to public parking.
BlueIndy in December announced it would be pulling its electric car-sharing service from Indianapolis after it failed to reach membership goals. The company launched in Indianapolis in 2015.
As part of a contract with BlueIndy established under former Mayor Greg Ballard's administration that included $6 million of city funds being spent on the venture, the city has the option to purchase left-behind BlueIndy's assets.
Indianapolis Power & Light spent $3 million establishing the below-ground electric and communication infrastructure that powered the service, which remains in place.
As part of the contract, BlueIndy has until the end of the year to remove the charging stations and other assets from the right of way at its own expense.
Please enable JavaScript to view this content.