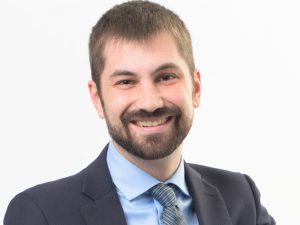 Thomas Cook, who stepped down at the end of 2020 after five years as chief deputy mayor for Indianapolis Mayor Joe Hogsett, has joined law firm Bose McKinney & Evans LLP as a partner.
The Indianapolis-based law firm said Cook will join its Site Selection & Economic Incentives Group, where he'll assist clients with economic development deals, site selection, financing, workforce and development incentives, and public-private partnerships. He is expected to represent  clients in industries including technology, hospitality, agribusiness and sports.
Prior to his departure, Cook had been Hogsett's only chief of staff since the mayor was first elected in 2015. He served as Hogsett's campaign manager in 2015 and worked for the mayor when he was U.S. attorney, and previously was deputy chief of staff for the city of Lawrence and as a communications director for the Indiana Democratic Party.
The city said Cook helped negotiate more than $1 billion in public and private partnerships and mixed-use developments during his tenure, including Bottleworks, the new Infosys corporate campus and efforts to redevelop the former GM Stamping Plant.
He also led the office's strategic planning for sports and tourism, an effort that helped result in the Indiana General Assembly's 2019 passage of Senate Bill 7, a 25-year contract extension with the Indiana Pacers. And he was a key player in the city's effort to expand the convention center and redevelop Pan Am Plaza.
"We are thrilled to add Thomas to our Site Selection & Economic Incentives Group," said Jeffrey Gaither, managing partner of Bose McKinney & Evans. "He brings a deep knowledge of the Indiana economic development landscape, and a proven track record, which will be invaluable as we work toward even greater success for our valued clients."
Bose McKinney, founded in 1955, is the city's fifth-largest law firm, with 93 local attorneys. It also has offices in Fort Wayne and Washington, D.C.
Cook was replaced as chief of staff and chief deputy mayor on Jan. 1 by Taylor Schaffer, former deputy chief of staff.
Please enable JavaScript to view this content.