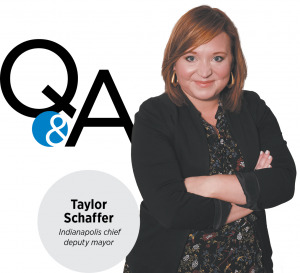 Taylor Schaffer, 31, became Mayor Joe Hogsett's chief of staff and chief deputy mayor on Jan. 1, replacing longtime Hogsett aide Thomas Cook.
Schaffer got her start with Hogsett as a volunteer—and eventually a full-time staffer—on his first mayoral campaign and became his communications director when he took office in 2016.
Tell us how you initially got involved in government—is it something you were always interested in?
I've always been interested in government and politics. … I always imagined that would be a hobby and not a job. And then in late 2014 … I met Thomas and Tim [Moriarty, special counsel to the mayor] for the first time at the Elbow Room and continued to volunteer on the campaign.
And then by mid- to late summer, I had this realization that Election Night wouldn't feel the same if I wasn't actually part of the team, and that mattered to me. So, I joined the campaign full time.
Were you nervous leaving your full-time job for a campaign?
It was a bit scary, but I was very convinced that that was the right thing to do. … Mom was horrified.
What are you most proud of during your time with the city?
I would have a hard time not saying the deployment of CARES Act funding over the last year. It was probably the purest form of government mobilization that I could have possibly imagined. Being on calls in those early days, trying to figure out where there was the most need and where we could do the most good, especially as those needs evolved. It is crazy to me that, at one point in this process, we were so concerned that people wouldn't have masks. And right at this point, I assume I have seven masks on me.
For the average person who may not know much about the job, describe what you'll be doing as chief of staff.
At the core, my job is to ensure that Mayor Hogsett's vision and initiatives are accomplished, and the lucky part for me is that I have incredibly talented people that serve as deputy mayors, that serve as department directors all across city government, that are doing the same thing.
But there's got to be someone keeping the trains on the tracks and keeping track of all of those disparate pieces, because, at the end of the day, it is a large enough enterprise that, unless there's sort of a consistency of a global vision, it's really easy to get bogged down in sort of the minutia or to lose track of what other entities and agencies are doing.
What do you like to do when you're not working?
I really love exploring Indianapolis. When I was younger, I thought that the coolest job in the world would be the concierge because they knew everything, and they knew where the places were and they could give people recommendations. And I think that I kept a little bit of that mentality. I love poring over my Indianapolis Monthly and figuring out where I need to try the fried chicken from or what the newest place to open is. Whatever that looks like, that is very much my hobby.
What's your favorite place in Indy?
Probably the Cultural Trail. I live just north of downtown, and the sheer amount of time that I spend on it—and at the connecting restaurants and stores and bars—is probably more time than I spend anywhere outside of the office. In my mind, it is the connector to whatever it is I want to go do.•
Please enable JavaScript to view this content.