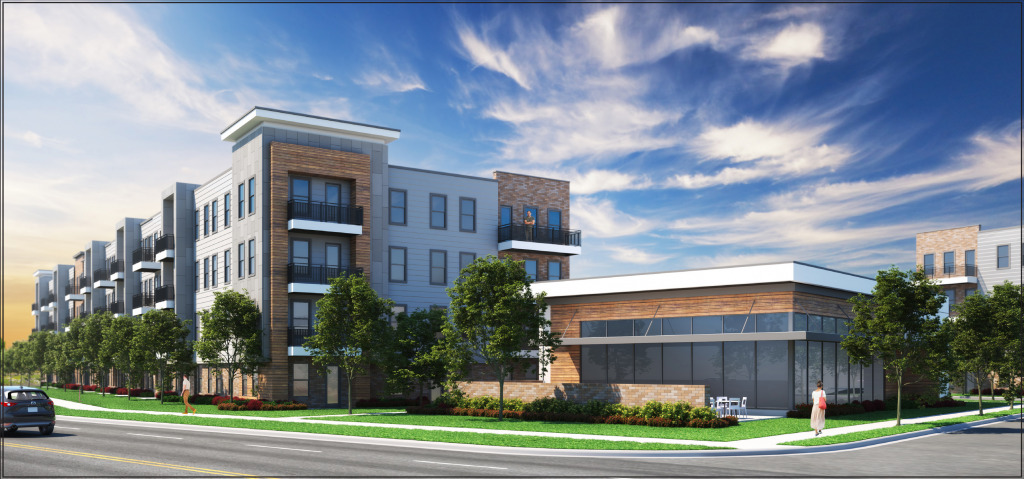 Cityscape Residential unveiled additional details this week about its planned $53 million apartment and office project on the site of a former Marsh Supermarket in Noblesville.
The Noblesville City Council reviewed the Indianapolis-based developer's concept plan for the development to be called Nexus to see how the proposed 287 luxury apartments across five buildings and 30,000-square-feet of office space might fill the roughly 10-acre property along River Road and State Road 32. Sarah Reed, the city's director of community and economic development, also introduced the developer's request for $8 million in tax increment finance bonds.
"We've seen a few different proposed uses for this site. I know we're all going to agree it was a good decision to go back to the drawing board," Reed said. "Nexus will provide an employment base for Noblesville with a significant economic impact of dollars spent here locally."
Reed said her department estimates the project will increase the amount spent on local goods and services by roughly $5.6 million, annually.
"Essentially, we're building in the market demand to help sustain downtown as the heart of Noblesville well in to the future, for all generations," she said.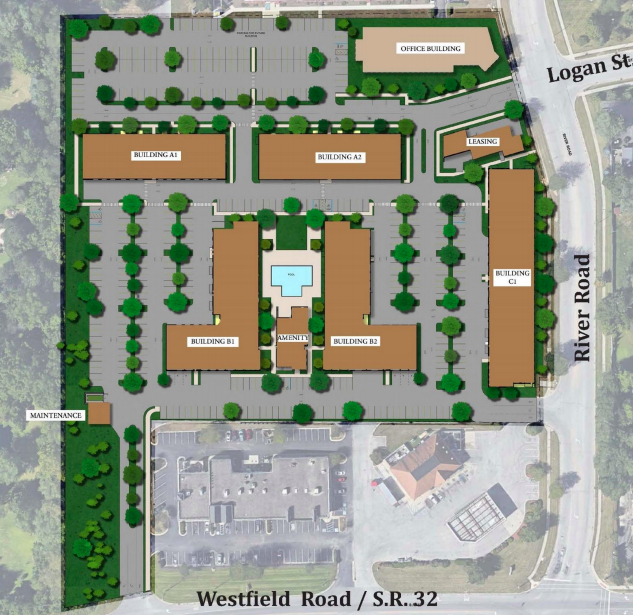 If approved, the project will replace a former Marsh store developed on the site in 1992 and 1993, which was vacated in 2017 when Marsh went out of business. The overall retail center still includes a few restaurants that would possibly need to relocate for the redevelopment.
Last year, a proposal to redevelop the property with a self-storage facility, offices and retail was turned down by Noblesville officials.
Under the public-private partnership, at least 10% of the 287 luxury apartments will have to be made available as workforce housing based on 80% of the area median income.
The city will consider an $8 million, 25-year, developer-backed bond to support the residential portion of the project. Nexus is expected to increase the assessed value of the property from its current value of roughly $3.4 million to approximately $33 million.
As part of the agreement, Cityscape will issue a payment in addition to taxes to the city of $15,000 per year for 20 years, starting in year 5. Demolition on that 8-acre portion of the site could begin later this year or in early 2021, and construction could start in late 2021.
Cityscape's planned 30,000-square-foot, 3-story office building on the northeastern side of the property is on its own timeline. Reed said Cityscape was able to commit to building that structure by the end of 2025, and if isn't built, the city will have the first option to purchase that roughly 2-acre parcel of land.
The Noblesville Plan Commission will provide additional review of the project and its associated agreements on Sept. 21, before it returns to the council next month.
Please enable JavaScript to view this content.