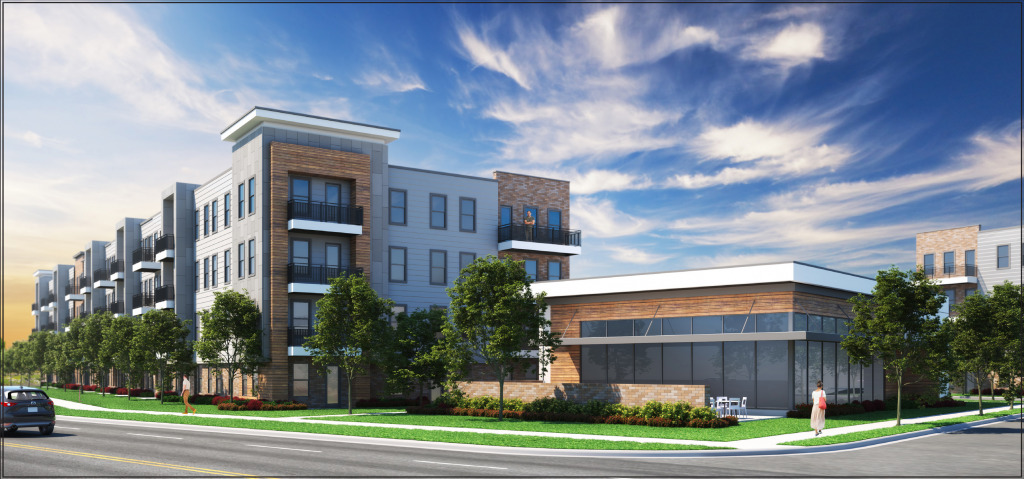 Indianapolis-based Cityscape Residential LLC is planning to develop a $52.8 million apartment and office complex on the site of a former Marsh Supermarkets store in Noblesville.
The city of Noblesville announced late Friday that it will propose a public-private partnership with Cityscape at its next Common Council meeting on Sept. 15. The project will involve rezoning the 9-acre property on the west side of the White River, along River Road and State Road 32.
If the project is approved, construction at at 17901 River Road could start next spring and be completed in 2022. The site is across the river from Noblesville's historic downtown.
"Our goal with this project is to drive economic development to our western anchor of the downtown area and bring vibrancy to a currently blighted location," Noblesville Mayor Chris Jensen said in a written statement.
The project also might include amenities such as co-working areas, a bike room for maintenance and repair, a saltwater pool, pet spa, and trail access to the White River Greenway, Forest Park and Morse Reservoir.
The Marsh store was developed in 1992 and 1993 and was vacated in 2017 when Marsh went out of business. Marsh had leased the space. The overall retail center still includes a few restaurants that would possibly need to relocate for the redevelopment.
"It's a shame to have an underutilized space so close to the heart of our downtown, and we would like to turn that around by investing in quality of life and sense of place," Jensen said. "Adding residential development to the west side of the river will attract a diverse workforce while adding density and energy to that area."
Last year, a proposal to redevelop the property with a self-storage facility, offices and retail was turned down by Noblesville officials.
"We've had a few proposals that included plans to reuse the current building, but the city felt that those plans weren't the right fit for our community," Jensen said. "This proposal brings us a market-rate multifamily development that supports businesses by injecting additional energy into the momentum we are already building downtown, which is a key economic driver."
Cityscape Residential's most recent project includes The Standard at Fort Ben, a 261-unit luxury apartment development to be built just north of Otis Avenue and west of Lee Road.
Marsh vacated an abundance of real estate when it went out of business, but several of properties have been redeveloped, with new users including a church, a preschool, apartments and fitness center.
Please enable JavaScript to view this content.