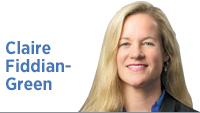 COVID-19 continues to profoundly impact our world, from deaths to increasing rates of poor mental health and substance-use disorder.
A new Pew Research study finds that one-fifth of American adults are experiencing high levels of psychological distress due to the pandemic.
Provisional data from the Centers for Disease Control and Prevention shows U.S. overdose deaths in 2020 could exceed 90,000—an alarming 27% increase from 2019.
We don't yet know the extent of the learning loss our school-age children will experience and how this will affect their futures. And while there is light at the end of the pandemic tunnel, the crisis in Brazil provides a cautionary tale that it is too soon to declare victory over COVID-19.
And yet, within this bleak landscape, stories of people banding together to confront common challenges provide us with inspiration and hope. Indiana has been a prime example of what's possible when we unite around a shared goal.
From the start of the crisis, people and organizations throughout our state have worked together to feed the hungry, address the shortage of personal protective equipment, establish coronavirus testing sites, develop solutions to internet-connectivity disparities, help people find jobs, and more.
Two recent examples of strategic collaboration offer especially hopeful signs that we are starting to turn the corner in this pandemic. They include the March Madness events downtown, and the all-hands-on-deck approach to vaccinations.
These examples of can-do attitudes and togetherness are especially powerful in countering other recent instances of divisiveness and hate, such as critiques about evidence-based approaches to slowing the spread of COVID-19, invectives directed toward people peacefully protesting racism, and—most recently—anti-Asian discrimination.
It is not surprising that the pandemic has helped fuel these divisions. Conflict dates back to the dawn of the human race, and hatred derives from the fear of things perceived as different from us or threatening to our way of life.
The anxiety wrought by the pandemic have created fertile soil for conflict and hate.
But there are also uplifting examples throughout history of societies uniting in the face of a common foe, like a pandemic, or to solve a complex challenge, like sending humans to the moon.
We have demonstrated that we—as individuals and as nations—can rise above the human race's tendencies to fear change and engage in conflict.
This takes the courage to reach across the metaphorical aisle and forge relationships with people with whom we disagree, or whom we view as different from ourselves.
As we continue to navigate the pandemic, and as leaders in our city and state make decisions using imperfect information, we must curb the impulse to cast aspersions on those whose beliefs differ from our own.
Instead, let's build on our history of Hoosier hospitality and the can-do spirit so many have demonstrated over the past year, and work together to address the urgent challenges facing too many people in Indiana.
The Greek writer Aesop created his enduring fables in 2,600 BCE, about the same time as human history's first recorded war.
In "The Four Oxen and the Lion," the oxen—who failed to band together—were individually attacked and eaten by the lion. Aesop's moral was simple: "United we stand; divided we fall."
These ancient words serve as a clarion call. Let's have the courage and grace to give one another the benefit of the doubt and unite to face our common foes.•
__________
Fiddian-Green is president and CEO of the Richard M. Fairbanks Foundation, whose mission is to advance the vitality of Indianapolis and the well-being of its people. Send comments to ibjedit@ibj.com.

Click here for more Forefront columns.
Please enable JavaScript to view this content.