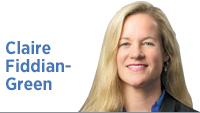 As we begin 2022, educators, families and public officials will continue to address the lingering impact of COVID-19 on student learning. Part of the solution lies in developing better tools to measure students' K-12 academic progress and preparation for postsecondary education and employment. Late last year, the Indiana State Board of Education took a major step toward that end.
On Dec. 15, the board adopted Indiana Graduates Prepared to Succeed (called Indiana GPS), a school performance dashboard developed by the Indiana Department of Education with input from educators and community stakeholders. The initial iteration of Indiana GPS will launch this fall.
The dashboard builds upon the state's focus on measuring academic proficiency, learning growth, and college- and career-readiness, each of which remain core pillars of school performance. It also reflects the characteristics Hoosier students must develop to ensure they are ready for life after high school in our increasingly global, technology-driven economy—including communication, work ethic and digital literacy, to name a few.
Importantly, Indiana GPS recognizes the reality that learning is a continuum that begins in early childhood and extends beyond K-12 education into college and the workplace. This reorientation means the state will measure and track a combination of leading and lagging indicators, such as kindergarten readiness and median income for high school graduates.
By gathering this kind of information, we will develop a clearer understanding of how state education resources should be allocated and which policies and programs work. This will help not only students and schools, but also taxpayers, since K-12 education spending accounts for 50% of the state's $37 billion budget.
While all Indiana GPS indicators are important, two of the most critical are early literacy and median income.
The latest results from IREAD-3, a test designed to measure foundational reading skills by grade 3, find that nearly one in five Indiana third-grade students—19%—did not achieve reading proficiency. The results also reveal a large and widening literacy gap by race, ethnicity and family income, as well as for special education and English-learner students.
Why does this matter?
Research shows that students who cannot read proficiently by the end of third grade are four times more likely to drop out of high school than are proficient readers, which has a significant and deleterious impact on these students' ability to earn a livable wage as adults.
Collecting and tracking median income data for Indiana's high school graduates also is important. A recent analysis finds that, in Indiana, adults with only a high school diploma earn annual median wages of just $29,000, while those with a bachelor's degree earn median wages of $48,000. Wages also differ by type of degree or credential earned.
Having easy access to this kind of information will help inform families what comes next for their children after high school graduation. It will also help schools provide clearer guidance to students about the kinds of degrees and credentials they should be preparing for, starting as early as middle school. For example, does a student want to become an engineer? If so, they will need to take a sufficient number of math courses in high school to qualify for college engineering programs.
Indiana GPS is a critical step toward ensuring all students are set up for academic success and better preparing them for work and life in our global economy. Let's work together to ensure the successful implementation of this new school performance dashboard statewide.•
__________
Fiddian-Green is president and CEO of the Richard M. Fairbanks Foundation, whose mission is to advance
the vitality of Indianapolis and the well-being of its people.

Click here for more Forefront columns.
Please enable JavaScript to view this content.