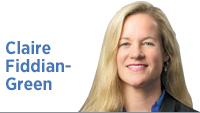 It's a new year, traditionally a time to make resolutions that help us focus on improving aspects of our lives. One area in dire need of improvement is the ability for U.S. children to read. While much of today's attention in K-12 education is focused on grappling with the pandemic, we should add one more priority to our plates in 2021: reading skills.
Consider that, in response to the pandemic, scientists have developed a vaccine with greater than 90% efficacy in less than a year. We should apply the same sense of urgency to our nation's youth-reading crisis and demand a similarly successful outcome.
We should all be concerned about the inability of our nation's youth to read. The most recent results from the National Assessment of Educational Progress found that average reading scores of U.S. students declined from prior NAEP assessments and remain troublingly low.
Overall, only 35% of fourth-grade students, 34% of eighth-grade students and 37% of 12th-grade students performed at or above the proficient level in reading. The latest NAEP results are similar to Indiana's pre-pandemic 2019 ILearn scores, which found that 46% of fourth-graders and 51% of eighth–graders are proficient in English Language Arts.
These national and state assessment results highlight the urgent need to ensure that children can read. Without this fundamental ability, students will struggle to succeed in school and as adults. Two new reports identify root causes for the problem that, if addressed, could help improve reading outcomes for America's students.
First, we need to examine how teachers-in-training are being prepared to instruct children on how to read. The National Council on Teacher Quality's 2020 Teacher Prep Review report found that, nationwide, only 51% of traditional elementary-school teacher-preparation programs cover the five cornerstones of early reading: phonemic awareness, phonics, fluency, vocabulary and comprehension.
In Indiana, just 16 of our state's 34 teacher-preparation programs scored an A or B on NCTQ's rubric for early-reading instruction for aspiring teachers. Shouldn't our state ensure all teacher-prep programs are aligned with evidence-based practices when it comes to preparing teachers how to instruct young children to read? This is a critical question parents, schools, employers and other community stakeholders should be asking.
Second, we should ensure teachers have the flexibility to experiment with how they use their classroom time. A recent study from the Thomas B. Fordham Institute found that the common practice of incorporating a two-hour "literacy block" into schools' daily schedules has not translated into better reading outcomes for students. Instead, increased instructional time in social studies—not extra time spent on ELA—is associated with improved reading ability.
While the Fordham study is not causal, it does make the important point that what we have been doing thus far hasn't moved the needle on student reading outcomes. This begs the question: Shouldn't we make room for innovation, measure the impact of new approaches and see what the data tell us about optimal ways to ensure children can read?
Today, we are appropriately focused on grappling with COVID-19. However, we can't lose sight of Indiana's poor reading outcomes, which are likely to worsen during the pandemic. Let's apply the same sense of urgency to ensuring students learn to read as we have to producing a coronavirus vaccine.
How about this for a New Year's resolution? Let's implement "Operation All Hoosiers Can Read" in 2021.•
__________
Fiddian-Green is president and CEO of the Richard M. Fairbanks Foundation, whose mission is to advance the vitality of Indianapolis and the well-being of its people.

Click here for more Forefront columns.
Please enable JavaScript to view this content.