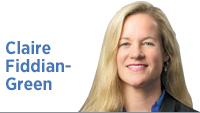 My father died six years ago in February, after collapsing on a street in London. I was grief-stricken but also numb, in part because he had been ill for many years. His funeral took place on a snowy Valentine's Day in New York.
It wasn't until this winter that I could bring myself to sort through my father's personal papers. In them, the story of his life unfolded: medical school in South Africa, a fellowship and residency in England and the United States, and emigrating from South Africa to Michigan in search of a better life for his young family.
He was a gastrointestinal surgeon and professor of surgery who sometimes operated on patients for 12 hours during his shifts, and who took work home almost every night and on weekends. He cared deeply about his children's education and emphasized the importance of school. On Sundays, after visiting his patients, he spent time with his family: going for long walks, playing card games, listening to music, and always teasing.
Reading through my father's papers, I saw clearly what he valued: career, providing his children with the best education possible, and—despite a demanding schedule—making time for family. These values made a lasting impact on me.
Shortly after sorting through my father's papers, another role model, Harvard Business School professor Clayton Christensen, died. Early in my career, I worked for a consulting firm that partnered with Christensen after the release of his groundbreaking book, "The Innovator's Dilemma."
I was assigned to work with Christensen and helped pen a short article on his theory of disruptive innovation. The consummate teacher, instead of answering the questions I posed, he would respond with questions designed to help me puzzle out my own solutions.
Christensen had an enormous impact on how I think about making change in the world. I often find myself pondering: What services or products will address unmet needs by introducing solutions that operate outside of established systems, are easy to use, and are accessible to many people—especially people being underserved or overlooked by existing institutions?
But what sticks with me most is not Christensen's business theories, but rather his approach to personal relationships. I read his speech to Harvard Business School's class of 2010, "How Will You Measure Your Life?", at the start of every year. In the speech, Christensen relays his thoughts on how to be happy in your career and also ensure that relationships with your family are an "enduring source of happiness."
Success starts with asking yourself: What is my purpose, and how can I allocate my energy to achieve it? Am I spending my time on the activities that actually matter to me?
It's often easier to prioritize your career, because it's simpler to track success at the office than it is to measure success with your relationships. Christensen notes: "People … have this unconscious propensity to underinvest in their families and overinvest in their careers—even though intimate and loving relationships with their families are the most powerful and enduring source of happiness."
Although I frequently fall short of achieving the right balance between my personal and professional priorities, I strive to live my life guided by the lessons from my father and from Christensen: Define your purpose in life. Work hard to achieve it. Invest in your personal relationships. Because, at the end of the day, these relationships will be your most important legacy.•
__________
Fiddian-Green is president and CEO of the Richard M. Fairbanks Foundation, whose mission is to advance the vitality of Indianapolis and the well-being of its people. Send comments to ibjedit@ibj.com.

Click here for more Forefront columns.
Please enable JavaScript to view this content.