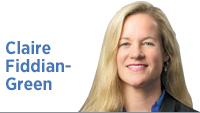 Indiana's 2021 ILEARN results were released last month, and—as expected—they reflected the dramatic damage of the global pandemic on K-12 learning outcomes. While all students were hurt, the scores highlighted a troubling reality: there are staggeringly large gaps in student proficiency levels by race.
Indiana's education officials have warned that addressing the impact of COVID-19 and helping students get back on track academically will take extraordinary and sustained efforts. In Indianapolis, this is especially true for Black and Hispanic children.
Fewer than one in three students statewide in grades 3 through 8 passed both the English and math portions of the most recent state assessment. Disaggregating these results by race reveals glaring disparities: Only 8% of Black and 16% of Hispanic students passed both tests, compared with 35% of white students. That's a shocking difference of 27 percentage points between Black and white students and 19 percentage points between Hispanic and white students.
Marion County's 11 school districts have equally troubling racial disparities. The Metropolitan School District of Washington Township had the largest equity gaps, with 8% of Black and 9% of Hispanic students in grades 3 through 8 passing both the English and math ILEARN tests, compared with 52% of white students. While the other 10 districts had smaller equity gaps, their proficiency scores were often lower. In Indianapolis Public Schools, for example, only 3% of Black and 5% of Hispanic students earned passing scores on both tests, compared with 27% of white students.
These equity gaps didn't appear overnight. Nor were they caused by the pandemic. They have persisted for years, despite the incredibly hard work of highly talented and dedicated educators and our state's allocation of billions of dollars toward K-12 education each year.
Isn't it time we acknowledge that what we have been doing to close K-12 equity gaps isn't working and recognize we need a fundamentally different approach? If ever there were a time to do so, it's now, as Indiana is awash in federal stimulus funding that—in combination with state education dollars—could be strategically allocated toward addressing long-standing education inequities.
One approach to addressing this challenge is to create a statewide, time-limited commission with representation from the public and private sectors and arm the commission with detailed data on equity gaps by school and ZIP code. The commission could examine the issue from multiple angles, starting with early childhood education and including important non-school factors like access to the internet, mental health supports, and gun violence.
It also could identify priority needs by county and neighborhood and take a hard look at how we have been allocating our resources to date. If the billions of dollars we have been spending in education each year isn't moving the needle when it comes to closing equity gaps, let's stop supporting what doesn't work so we can allocate more of our finite resources to the action steps that will have the biggest impact.
The commission also would need to develop a transparent, public-facing data dashboard consisting of leading and lagging indicators to track progress over time. That would allow all of us—families, educators, business and community leaders, taxpayers—to know if we are making progress, and help us know when to change course.
COVID-19 has highlighted large and persistent racial-equity gaps in education. It's time to treat these gaps like the emergency they are—and take bold, swift and data-driven action to close them once and for all.•
__________
Fiddian-Green is president and CEO of the Richard M. Fairbanks Foundation, whose mission is to advance the vitality of Indianapolis and the well-being of its people. Send comments to ibjedit@ibj.com.

Click here for more Forefront columns.
Please enable JavaScript to view this content.