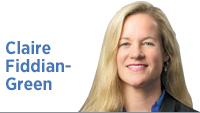 As COVID-19 vaccinations become available across age groups and we begin to see positivity rates decline, Hoosiers can start to refocus their attention on addressing other intractable health challenges. Smoking and vaping should top the list of priorities in Indiana.
Our state's adult smoking rate has declined slightly since 2015, but it remains higher than the national average (19.8% versus 15.5%), and the pandemic made matters worse. New data from the Centers for Disease Control and Prevention finds that cigarette sales rose in 2020 for the first time in two decades. This worrisome uptick is attributed to the stress and anxiety associated with the pandemic.
Nicotine use is of particular concern for women and children. In 2021, Indiana ranked 50th in the nation for e-cigarette use among women, 40th for women who smoke, and 41st for women who smoke during pregnancy. The state ranked somewhat better for youth smoking, at 30th, but this was a steep increase from our ranking of 11th for youth smoking in 2020.
Addressing smoking and vaping rates will require large-scale systemic changes. But as we head into the holiday season, there's something all of us can do to make a difference: support family and friends who struggle with nicotine addiction. One easy step is to help connect them with free resources like Quit Now Indiana (1-800-QUIT-NOW). Quitting cigarettes and other nicotine products is hard, but it is achievable through proven cessation tools.
Progress in reducing smoking rates among specific groups of Hoosiers over the last decade shows that making a dent in the smoking problem is possible. For example, in 2011, the smoking rate for Black Hoosier adults was 6.4 percentage points higher than the rate for white Hoosier adults (31.4% compared to 25.0%). In 2020, the smoking rates for Black and white Hoosier adults were nearly the same (20.3% and 19.9%, respectively).
But we must do better when it comes to this highly addictive and deadly drug and aim for even lower rates of smoking and e-cigarette use. We know what works when it comes to addressing tobacco use, which remains the leading cause of preventable disease, disability and death, killing thousands of Hoosiers each year. It also costs our state tens of millions of dollars in tax-funded health care.
First, we must prevent young people from experimenting with tobacco and vaping products. Young people who vape are more likely to smoke, and it is all too easy to become addicted to cigarettes.
Second, we need to make it harder for adults who smoke to purchase cigarettes. The most effective way to do this is to raise the price of cigarettes. Decades of data from states across America show that cigarette price hikes translate into lower smoking rates.
Third, we should connect smokers with proven tobacco-cessation medications and counseling. Supports exist to help nicotine users take meaningful steps toward freedom from their addiction. That's where each of us can make an impact.
Quitting is hard. According to the CDC, fewer than one in 10 adult cigarette smokers succeeds in quitting each year. So, let's provide support and understanding to our family and friends who smoke or vape and encourage them to seek help. It's never too late to get started on a journey toward better health.•
__________
Fiddian-Green is president and CEO of the Richard M. Fairbanks Foundation, whose mission is to advance the vitality of Indianapolis and the well-being of its people. Send comments to ibjedit@ibj.com.

Click here for more Forefront columns.
Please enable JavaScript to view this content.