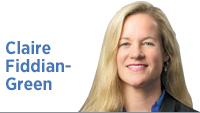 Against a backdrop of encouraging news about COVID-19 vaccines and the excitement surrounding March Madness events downtown, a new report was released by the National Security Commission on Artificial Intelligence (NSCAI).
We can't let this report get lost in the shuffle of today's headline news. NSCAI's findings make it abundantly clear that our country must take immediate action to significantly improve science, technology, engineering and mathematics education in America to help maintain our global economic competitiveness.
The NSCAI report echoes some key conclusions included in the newly released Central Indiana Corporate Partnership (CICP) Indiana GPS Project report, which underscores that Indiana is the state most susceptible to disruptive economic effects from automation and artificial intelligence (AI) technologies.
One reason for this vulnerability is insufficient digital investment. Indiana ranks just 37th among states in both our advanced-sector and annual per-employee IT investment. A second reason is that many Hoosiers lack the requisite skills and credentials required by employers, leaving good jobs unfilled and forcing companies to look for talent outside of Indiana.
Our national economy increasingly depends on the innovation economy, which in turn depends on automation and AI. What's more, America faces competition from other nations, particularly China. This means states like Indiana can no longer compare our economic performance with those of neighboring states or the national average. Instead, we must broaden our lens and assess our performance within a global framework.
NSCAI concludes that a key factor in shoring up America's global competitiveness is our domestically produced talent. For example, the United States lags China in producing enough STEM talent. From 2000 to 2014, China's university system increased its number of STEM graduates 360%. By comparison, the number of STEM graduates from U.S. universities grew only 54%—and many of these graduates were international students.
One focus recommended by NSCAI is overhauling America's K-12 system. According to the latest National Assessment of Educational Progress scores, only 34% of American eighth-graders are proficient in math and science. Indiana's pre-COVID-19 ILEARN scores tell a similar story: Only 38% of eighth-graders are proficient in math and 49% of sixth-graders in science.
At both a state and national level, there is significant room for improvement in how we prepare students for a world that is increasingly dependent on STEM skills. Below are two steps Indiana can take.
First, research finds that developing numeracy skills in early childhood is critical for school-age mathematical learning. Indiana's pre-K programs should place equal emphasis on teaching early numeracy and early literacy skills and ensure that preschool teachers are trained to do this.
Second, benchmarking with countries such as China and Canada shows these students significantly outperform U.S. students in math and science. One contributing factor is that the teacher preparation programs in these countries are highly selective and, for elementary school teachers, require rigorous coursework in math and science as well as clinical teaching experiences akin to the training doctors receive in medical school. Indiana's teacher training programs should implement similar practices.
A future in which automation and AI impact every sector of our economy is just a few short years away. As we start to emerge from the worst of the pandemic, we must work with urgency to address the STEM talent challenges facing Indiana. Let's start by focusing on the front end of our talent pipeline and ensuring the majority of Hoosier students enter middle school proficient in both math and science.•
__________
Fiddian-Green is president and CEO of the Richard M. Fairbanks Foundation, whose mission is to advance the vitality of Indianapolis and the well-being of its people. Send comments to ibjedit@ibj.com.

Click here for more Forefront columns.
Please enable JavaScript to view this content.