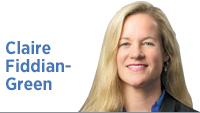 As 2020 draws to a close, Marion County schools are operating virtually through Jan. 15—and potentially longer, depending on COVID-19's status in early 2021. This comes after months of sporadic in-person instruction for many schools beginning last March.
We find ourselves in the midst of a national experiment on the impact of extended, wide-scale remote learning on students' academic achievement and social-emotional well-being. While there is much we don't yet know, early signs point to worrisome learning loss that could have negative consequences for years to come.
We must start planning now to remedy this loss, or our entire nation will pay the price.
A McKinsey study on learning loss due to COVID-19 projects that students could lose an average of three to 11 months, depending on the quality and duration of e-learning.
Results from a widely used assessment administered at the start of this school year found that U.S. students were almost on track for reading but were behind in math, although declines were lower than expected. An important caveat is that 25% of students tested last year weren't tested this fall, which could reflect lower enrollment, a move to home-schooling or private schools, or a complete disconnect from school. This means the test results likely understate the full extent of learning loss. They also don't reflect the impact from continued remote learning this fall.
Whatever the final tally, lost learning could have long-term ramifications. A new OECD report finds that COVID-related learning loss could permanently damage the economy. The typical U.S. student could see 3% to 6% lower lifetime career earnings, translating into an estimated 1.5% loss in the nation's gross domestic product.
We must act now to counter these potential effects for Indiana students who have predominantly engaged in remote learning in 2020. How do we do this?
First, we must have a consistent measure of student learning across schools to guide targeted interventions. This means schools should administer Indiana's standardized test, ILEARN, next spring, so our state can quickly identify which students need support. Accountability consequences tied to ILEARN could be suspended so that our sole focus is upon diagnosing learning loss.
Second, we should expand and provide resources for innovative models launched during the pandemic, such as learning pods that offer tutoring for children. These pods—which should be publicly funded and free for families—could provide summer programming and after-school tutoring to help children catch up to grade-level standards.
Other new resources include the statewide Indiana eLearning Lab, a free virtual hub providing tools for teachers by grade level and content area to support effective e-learning, as well as support for adults assisting children as they learn at home.
Third, we must reimagine the school calendar. If ILEARN shows that students perform well below grade level, it is unfair to those students and their teachers to promote them to the next grade. Repeating a year of school might be recommended for some students but is not a universal solution. We should consider adding Saturday classes or extending the length of the school year once in-person instruction can safely resume.
Much about the future remains uncertain, but it has become increasingly clear that K-12 student learning outcomes will be affected by COVID-19. We must prepare now so that, once our lives normalize, we can move swiftly to help Hoosier students overcome learning loss and set them on a path to success.•
__________
Fiddian-Green is president and CEO of the Richard M. Fairbanks Foundation, whose mission is to advance the vitality of Indianapolis and the well-being of its people. Send comments to ibjedit@ibj.com.

Click here for more Forefront columns.
Please enable JavaScript to view this content.