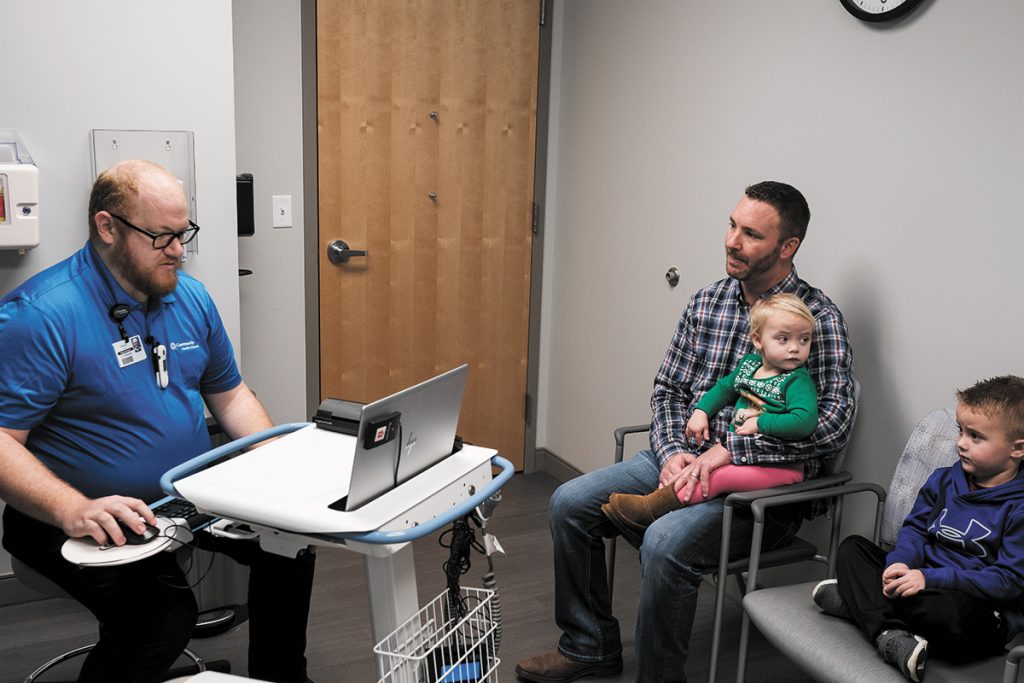 When Justin Grimes needed his two young children's ears examined a few weeks ago, he didn't take them to the pediatrician's office, a hospital, or even a walk-in clinic near his home in northern Fishers.
Instead, he drove an extra few miles to Community Health Network's newest location, MedCheck Fishers at East 116th Street and Lantern Road in the heart of Fishers' trendy Nickel Plate District.
The office—a combination urgent-care center and clinic for physical therapy, occupational health and employer groups—was building a reputation for short wait times and consumer-friendly features, with a kiosk self-check-in and a concierge greeter.
If Grimes and his children had to wait, they could browse in a nearby coffee shop, a smoothie shop, an adventure-game room or a children's clothing boutique, all on the same block, while waiting for a text alert that it's time to head into the exam room. But they didn't actually need to check out the other shops.
"The wait time to back to the exam room was less than two minutes," Grimes said. "I think we were in and out with both of my kids within a half-hour."
Upscale, fast service, with lots of consumer touches: It's a growing model for retail health care in Indiana and around the nation. Patients are increasingly expecting to make an appointment online, get convenient parking, and have a few fun things to do if they have to wait.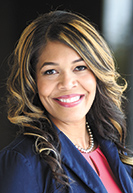 It's far from the days of the first-come, first-served environment of urgent care clinics, and cooling your heels in a waiting room with a stack of old magazines until your name is called.
These days, some health care providers are measuring themselves against the nation's leading retailers for access, convenience and even some doting.
"In a traditional retail setting, convenience is king, price transparency is important, and access is important," said Nichole Wilson, vice president of retail health services for Community Health Network. "So how can we, in the health care setting, be more like Amazon Prime or Apple when patients access us?"
Large health care systems in central Indiana say they are all investing heavily in consumer-friendly walk-in clinics, and are seeing the number of visits grow. Indiana University Health, for example, has opened three urgent care centers in the last few months, for a total of eight. The latest opened Jan. 6 in the former Mo'joe Coffeehouse at 222 W. Michigan St., just a stone's throw from several upscale apartment complexes.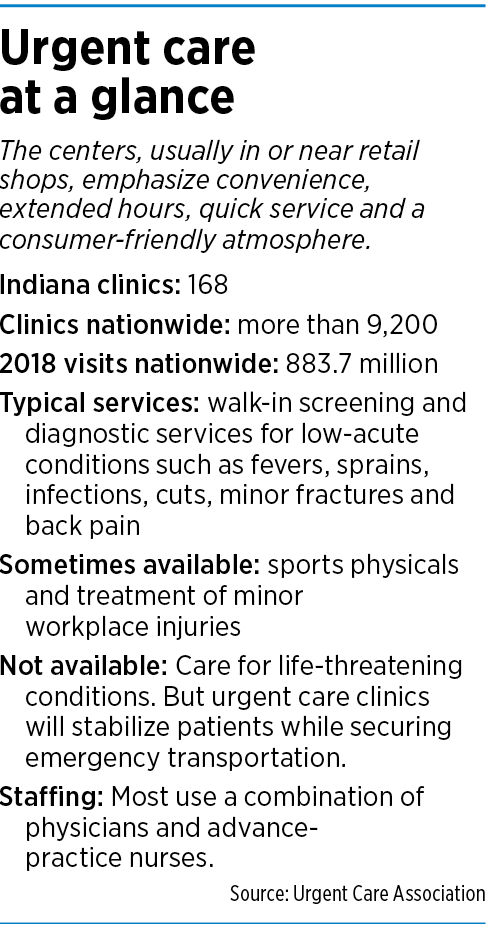 The Indianapolis-based health system expects to open at least two more retail clinics this year, and says same-clinic patient volume has grown 30% in the past two years. All the clinics allow patients to reserve a spot online and get text messages about their position in the queue. So far, about 20% of patients at IU Health urgent care centers use the "Save a Spot" feature.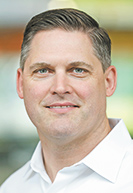 "Historically, urgent care has been a walk-in environment, and first come, first served," said David Kogan, vice president of retail services at IU Health. "Now, once you save a spot in line and share your cell phone, we will text you updates ahead of your time to let you know when to start heading our way."
Pressure is on
There's little question that people want more consumer-friendly health care—or that health systems are racing to deliver it. In a study last year by Kaufman Hall, a Chicago-based consulting firm, 90% of hospitals and health systems surveyed said improving the customer experience was a top priority. But 70% either had not begun, or were in the very early stages of their "consumerism" efforts.
About half said their consumer-driven projects had been more reactionary and focused on a specific need, instead of part of an overall plan to become more consumer-friendly. Part of the problem is that, for decades, health care providers have been able to set the terms of engagement, including hours, locations and overall experience. As a result, they are notoriously slow to adapt.
"Folks are finding it really hard to understand the consumer," Dan Clarin, senior vice president in Kaufman Hall's strategic and financial planning practice, told FierceHealthCare, an industry newsletter, in an interview last year.
Yet some consulting firms and professional publications have been warning the industry for some time to get in the game before they get left behind. A report by PwC that looked at forces that would have the most influence in 2019 said many patients are looking for the health care equivalent of Southwest Airlines—a consumer-friendly model that does away with the old patterns.
The American Journal of Managed Care published a report a year ago with the headline: "Is 2019 the year health care becomes consumer friendly?"
"No matter whether you call this trend consumer engagement, consumer centricity, or something else, various forces are combining to make this a reality," the journal said.
Those forces include more educated consumers, more choices and a retail world that increasingly is serving up what customers want, when they want it—including pharmacies and independent immediate-care clinics that offer some of the same walk-in services, from flu shots to sports physicals.
For the moment, urgent care centers seem to be the place in health care that offer the most convenience and accessibility. The clinics diagnose and treat non-life-threatening injuries and illness, such as ear infections, sprains, cuts and vomiting. They are usually in high-visibility retail centers and offer extended hours, including on weekends.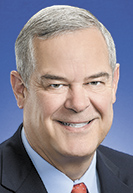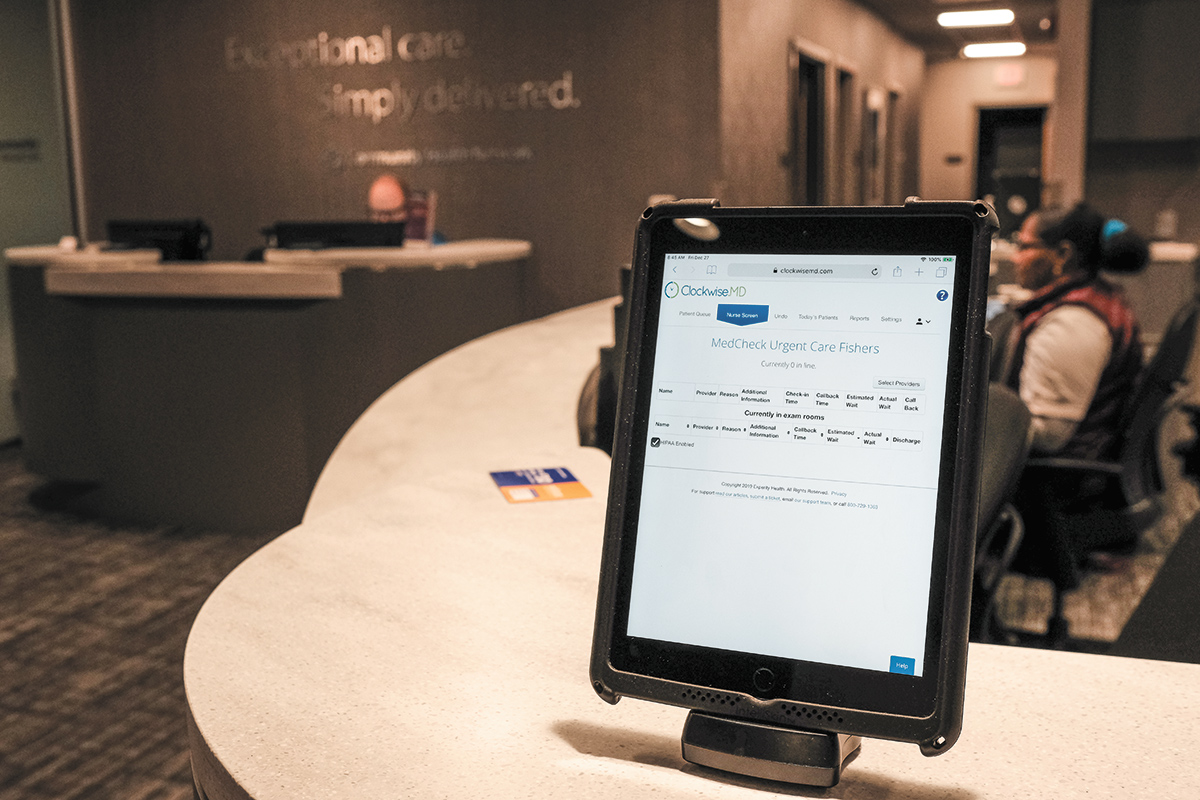 Local scramble
Indiana is home to 168 urgent care centers, up 26% from just two years ago, according to the Urgent Care Association, a Chicago-based trade organization. Many of the buildings are retail storefronts that cater to a mix of walk-in traffic—and lately, to call-ahead appointments.
"Forty years ago, when I started in this business, health care was driven by big buildings called hospitals," said Ed Abel, director of health care practice at Indianapolis-based Blue & Co., an accounting and consulting firm. "Now there are more locations that deliver health care than sell gasoline, it seems."
And many of them are scrambling to open locations in trendy, new locations, surrounded by lots of retail and mixed-use. Last year, Franciscan Health opened an ExpressCare urgent care center in the CityWay apartment-and-retail complex just south of Bankers Life Fieldhouse, with parking spaces up against the building reserved for patients.
"You park within 10 or 20 feet of the door," said Christopher DiGiusto, Franciscan's vice president of retail services. "A big selling point is convenience."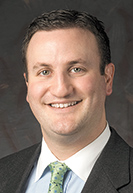 Another selling point is access: The clinic is open 16 hours a day, from 7 a.m. to 11 p.m., and is equipped with "call-ahead seating" on its website. Franciscan has three other urgent care centers—in Center Grove, Beech Grove and Greenwood—and last year treated 100,000 patients.
Ascension St. Vincent operates more than a dozen urgent care centers, and says they are part of a larger menu of "consumer friendly offerings" that include online care, concierge services at hospitals, and online scheduling and check-in.
"Through such efforts, we're working to create more access points that open the front door to our services so patients can get the compassionate and personalized care they need, when they need it most," Dr. Aaron Shoemaker, chief medical officer of Ascension Medical Group Indiana, said in a written statement.
Yet, some of the urgent care clinics have not performed up to expectation and shut their doors after just a year or two. Franciscan moved an underperforming Nora clinic to Castleton, then later converted the Castleton site into an administrative office. IU Health has closed urgent care centers in Zionsville, Plainfield and Lawrence.
Some of them just didn't get enough visits to justify staying open, or weren't in good enough locations to make visits easy, Kogan said.
"Consumers in general are continuing to sort of escalate their expectations for service and convenience," he said. "Health care is ever evolving to be part of that expectation.
Community Health has eight MedCheck urgent care centers from Anderson to Speedway, but the Fishers location—which opened in September—is the first with a self-check-in kiosk and a desk concierge, who greets patients and directs them into the exam room, or suggests nearby activities if wait times get unexpectedly long.
Community Health officials compare the experience to an Apple store, known for its passionate customers and knowledgeable staffers. Even Community Health's waiting room in Fishers has a tech feel, with lounge furniture and lots of connections for laptops and phones. They say it's a deliberate move, to show patients they matter and should be catered to, like any other retailer would do.
"It's just good customer service," Wilson said. "It's what consumers expect and get outside of health care all the time."•
Please enable JavaScript to view this content.