When Sajjad Shah grew up in Fishers, he felt like he was living a double life—one at home with his Muslim family and one at school with his majority-white classmates. While he was in college at Butler University, he started an Instagram account inspired by photoblog Humans of New York that he named Muslims of the World. It pictures Muslims living their everyday lives.
The account, begun in 2014, gained followers fast—it's now at nearly 700,000—and has led to millions in charitable donations to causes promoted on the site. It also led to a book deal in 2018. In May 2021, Shah opened a coffee shop to create a meeting space celebrating his culture in Indianapolis. MOTW Pastries & Coffee now has two locations—at 4873 W. 38th St. in Indianapolis and 8235 E. 116th St. in Fishers—and is opening a third in Castleton by the end of this year.
The specialty lattes and Yemeni pastries at the shop—which Shah, now 31, owns with his wife—have been a hit. So much so that Yelp named MOTW No. 89 in a list of the 100 best coffee shops in the nation.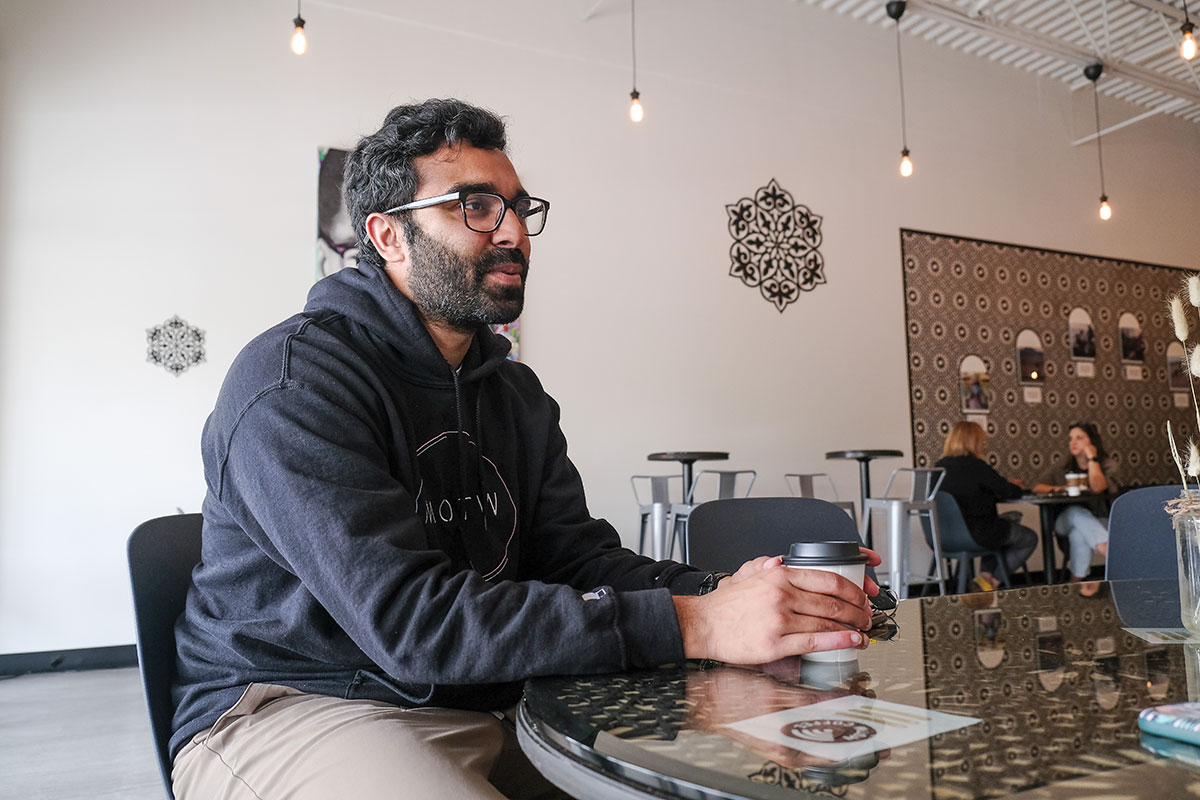 When you first opened the shop, was there any concern about how people would respond to it?
The name of the coffee shop is M-O-T-W. It's Muslims of the World. And we didn't know how people would react to that. To be honest, we thought it would be mostly Muslims coming here. And actually, what happened is, like, barely any Muslims come. It's mostly … people that you would see at any other coffee shop.
We feel like, if you treat people well, it doesn't matter who you are; people will appreciate it. And then it kind of took off.
Do you think this kind of representation would have been important to you growing up?
One hundred percent. Like, if I had the ability to see Fishers, Indiana, today, compared to where it was 20 years ago, I think it's a night-and-day difference. This used to be cornfields. You didn't really have much diversity at all.
Now, if you go down 116th Street, there's a mural hanging on the wall of a Muslim woman, and it's, like, a huge mural. You would never have thought that Fishers would be like this at one point. But here we are today, and it's a super-diverse community.
And you know, we built a $12 million mosque right around the corner. … I think that it's a testament to how amazing Fishers is but also a testament to just the overall open-mindedness of people here in Indiana.
And you're seeing people be very receptive to it?
Yes. I think, just genuinely, people want to learn about different cultures, different faiths. And this is a unique coffee shop that can provide that to people, whereas a lot of other coffee shops don't provide that kind of diversity.
It's only been a year and a half, and you're already planning your third shop. What's next?
Our goal is to eventually have a MOTW coffee shop in every big city, like Chicago and New York. We want to be everywhere. We want to be in different countries. We want to take this concept and share it with the world. And it's gonna be a long road, but for three coffee shops in a year and a half, I think we're off to a good start. And we hope that we can keep that momentum and grow that momentum.•
Please enable JavaScript to view this content.